Why Ten Hag desparately needs Frenkie de Jong at Old Trafford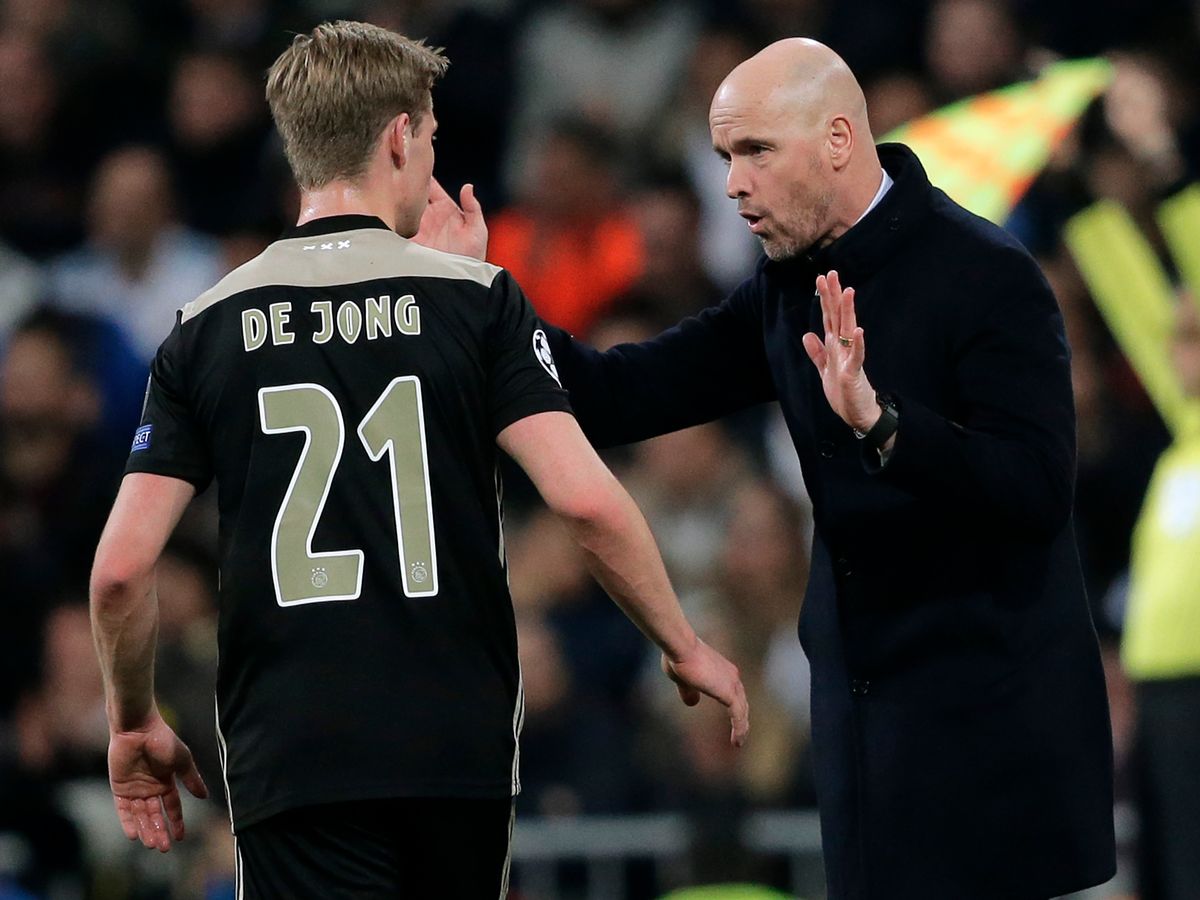 Last season, Manchester United had the least possession of any Premier League season

New Man United coach Erik ten Hag has made Frenkie de Jong his top priority

In terms of ball retention, De Jong outperforms United's current midfield
It is evident from the attempts that ten Hag is certain he needs Barcelona star, Frenkie De Jong. The Manchester United boss is on a serious mission to restore the great Man United to its previous glory.
Last season, the midfielder was ten Hag's remedy to bring order to a chaotic team.
The manager craves control in games, which the three midfielders, Bruno Fernandes, Fred, Scott McTominay, and Donny van de Beek, haven't yet and may not be able to offer.
According to stats, United had only 52% possession last campaign, the club's poorest percentage in Premier League history.
It mirrored Fred and McTominay's inability to keep the ball in tight areas, as well as Fernandes' extravagance and error-strewn performances.
As United's season deteriorated, it looked that the team's eagerness to succeed led to more errors.
There was a desire to play in the United style with storming counter-attacks, but there was a lack of skill to implement that approach. But Possession was lost as the ball surged ahead.
De Jong excels in this area. 
Nemanja Matic has already left the club, and Christian Eriksen, who has signed a three-year contract after passing his physical, is the club's backup option. It is De Jong who is the primary man.
Scanning is De Jong'shidden weapon, adding to his technical brilliance. He looks for dangers and chances, so he understands where defenders and fellow players are before receiving the ball. He leverages that expertise to play one-touch.
These skills are invaluable in gaining control of a game, and De Jong uses them to secure territory and possession and create chances for his team to score goals, 
Compared to United's midfield last season, De Jong delivered more passes accurately under pressure than any of his possible teammates.
Meanwhile, Barcelona was reported to have a debt of €1.3 billion last year. Lionel Messi was required to leave Barcelona the previous year owing to the club's financial problems, and newcomers such as Aguero and Memphis Depay arrived on free transfers.
Barcelona competed in the Europa League last season, and it appeared that it would take some time for the team to regain its real power, given its financial difficulties. However, they startled the transfer market this summer by going out swinging.
De Jong is regarded as a replaceable asset at Camp Nou, and the funds from his sale are sorely needed, which is a positive thing for Manchester United, who have been pursuing the unwilling player for over a month now.
Barcelona has been experiencing financial challenges for some time, compounded by the Covid-19 Pandemic.
De Jong undertook a wage reduction to assist the club during covid 19, understanding that he would return to earning his initial salary in the following seasons.
 This meant that means that in case he leaves the club this summer, the Dutch international would still be entitled to the money he was promised.
This has complicated the situation, so there haven't been current advances to report. De Jong is currently on a pre-season tour with the club, but it appears the club is attempting to force him away, despite what they say publicly.
Barcelona faced Real Madrid on Sunday, and the Dutchman was substituted at halftime. At the end of the match, Xavi was asked about De Jong, and he said:
"We've had private conversations that are very important and that I will not reveal here," he said.
"He's a key player, but then there's the economic situation and Financial Fair Play. I'm not sending messages to anyone. I like him a lot as a player.
If De Jong joins United this summer, it is unlikely that he would ever play at centre-back at Old Trafford, but his skill set explains why Ten Hag desperately needs him above a typical defensive midfielder.
The United manager wants to control games with possession, and he sees De Jong as crucial to reaching that goal.
Although starting another season with no defensive midfielder is risky, Ten Hag is willing to take a chance on De Jong.