Kenya's Okutoyi makes Grandslam history at Wimbledon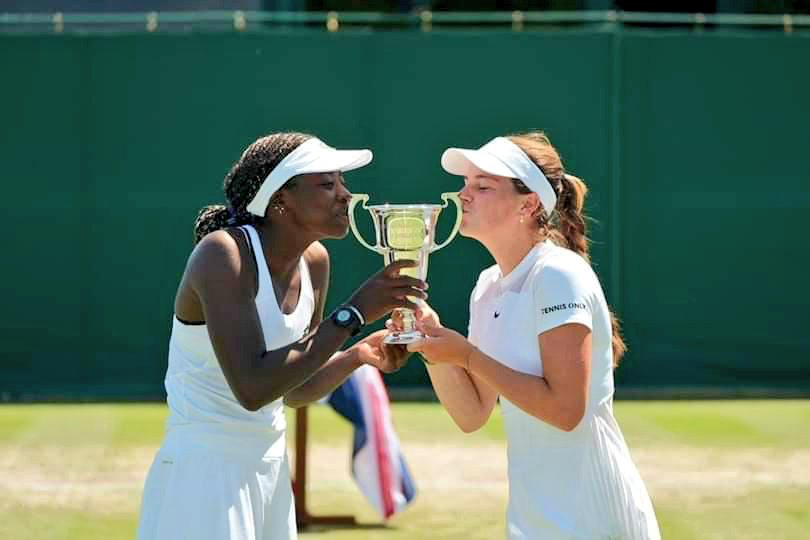 Okutoyi is playing in her third Grandslam
She had dropped out of the singles in round one
Her victory has placed her in history books as the first ever Kenyan winner
Tennis teen sensation Angela Okutoyi became the first ever Kenyan to win a Grandslam, after the 18-year old clinched the Girls' doubles title at Wimbledon with her Dutch partner Rose Marie Nijkamp.
Okutoyi and Nijkamp beat the Canadian duo of Kayla Cross and Victoria Mboko by two sets to one to clinch the history setting victory in London.
The duo started the match on a low with the Canadian girls taking the first set 6-3 in 27 minutes.
Okutoyi and Nijkamp however fought back and in 32 minutes forced a tie breaker with a 6-4 victory in the second set.
They were not easily pushed off the lead and won the tie breaker 11-9 to not only win the match and the title, but also walk majestically on the road of history.
"I am really excited. This is more than a dream come true. It has been a tough competition but coming all the way to win is something massive for me and Marie. We are really really excited and words can't even explain," said Okutoyi, speaking to SportsLeo from London.
Okutoyi dedicates victory to Kenyans
She added; "I want to dedicate this victory to all Kenyans and to everyone who has supported me. It is a victory to show that you can achieve anything if you believe. We have also shown that we have so much talent in Africa."
Among those who sent congratulatory messages to Okutoyi was Head of State, President Uhuru Kenyatta.
"President Kenyatta hailed Okutoyi's historic victory as a momentous achievement that has not only lifted Kenya's profile in world tennis but that will also inspire a generation of young players to excel in the sport," a Tweet from State House Kenya read.
Okutoyi was delighted with her feat in Wimbledon, which also saw another African set history. Despite losing in the women's singles, Tunisia's Ons Jabeuer had made history, becoming the first ever African to play a grandslam final.
For Okutoyi, she beamed in the glory of being the Kenyan history setter.
Christian Vitulli and Paul Wekesa are the two other Kenyans to have competed in Wimbledon. VItulli went till the quarter finals of the junior doubles in 2006 while Wekesa failed to get past the men's singles in 1996.
Okutoyi has continually made history this year. In January, she became the first ever Kenyan to reach the third round of a Grand Slam when she competed in the third round of the Australian Open. Last month, she also competed at the French Open, where she reached the second round.
Focus now shifts to US Open
Her target now is set on the US Open which will be staged next month and she hopes she can do better in both the singles and doubles.
The 18-year old started playing tennis at the tender age of 16 and was part of the International Tennis Federation (ITF) Tennis Camp in Burundi at the age of 10. At 14, she was already winning regional and continental titles and at 17 was crowned the African junior champion.
OKutoyi comes from a humble upbringing and has been raised by her grandmother alongside her twin sister who also plays tennis. Their mother died while giving birth to them.
The teen sensation says she is determined to make it in tennis and lift the living standards of her grandmother and her family by large, as she also wants to become the next Serena Williams.