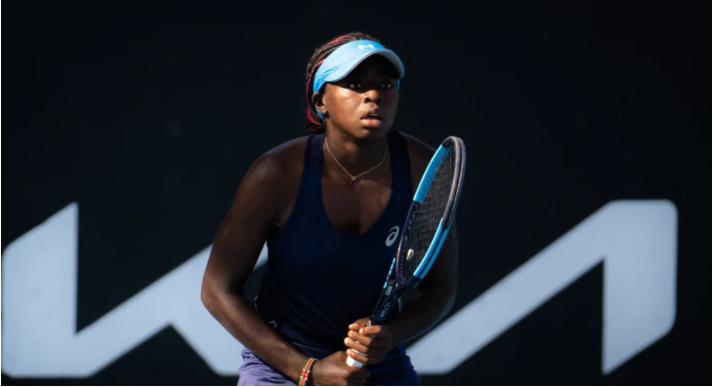 Okutoyi will be playing in her second ever Grand Slam
She reached the third round at the Australian Open
She has been training in Italy for three weeks
Kenyan tennis teen sensation Angela Okutoyi says she is ready to perform well at her second ever Grand Slam appearance when she lines up at the Junior French Open this week.
Okutoyi made her debut at the Australian Open Junior event in January where she made history by becoming the first ever Kenyan to reach the third round of a grand slam. And now, the 18-year old plans to make even more history with her eyes primed on at least a quarter final slot at the Roland Garros.
"I want to do better than I did in the Australian Open and if that means I go all the way to the final, why not? But my target is to try and at least reach the quarter finals and I will give my best to see to it that I achieve that," she said.
"I know it will not be easy but I will do my best," further adds Okutoyi.
She has been training in Italy for the past three weeks, sharpening her skills and working on her weak areas as she eyes a good performance. She says the three weeks in Italy have been great and she looks forward to actualizing what she has done in practice on court.
"It has been a great time definitely. I have tried working on a few areas that I think I needed to be better on and I was also building my confidence. I believe everything is okay now and I am ready to battle with the rest of the girls," she added.
Okutoyi is among the 46 players seeded for the Main Draw on Sunday and will not need to go through the qualifying rounds which served off on Friday.
She will be heavily relying on the experience picked up from Australia to put in a masterful performance in France.
"Being there gave me the hunger to want to be where they (top players) are and that's what I am doing now. Slowly by slowly but I know one day will be there."
"I am excited heading to the Roland Garros and now I will not just go to enjoy. Well of course I will enjoy, but right now I have a goal. I want to do better than I did in Australia and pass the third round. I will do all I can to give in a good performance," she says.
At the Australian Open, Okutoyi won her first two matches two sets to one against Italian Frederica Urgesi 2-1 (6-4, 7-6, 6-3). She went on to blow off home girl Zara Larke in a similar score (7-6, 5-7, 6-1) to progress to the third round where her journey came to an end.
One of her coaches, Francis Rugui is hopeful that she will do well in France and has tipped her to surpass her performance from Australia.
"At Roland Garros we are looking to see if she can go beyond what she did in Australia. If she gets in the final we will be here jumping and celebrating," said the tactician.
He says during her training in Kenya, she worked a lot around her backhand hitting and baseline defending, saying she needs to do more to take advantage of her strength in the big serves.