Rovanpera takes lead in grueling Day Two at Safari Rally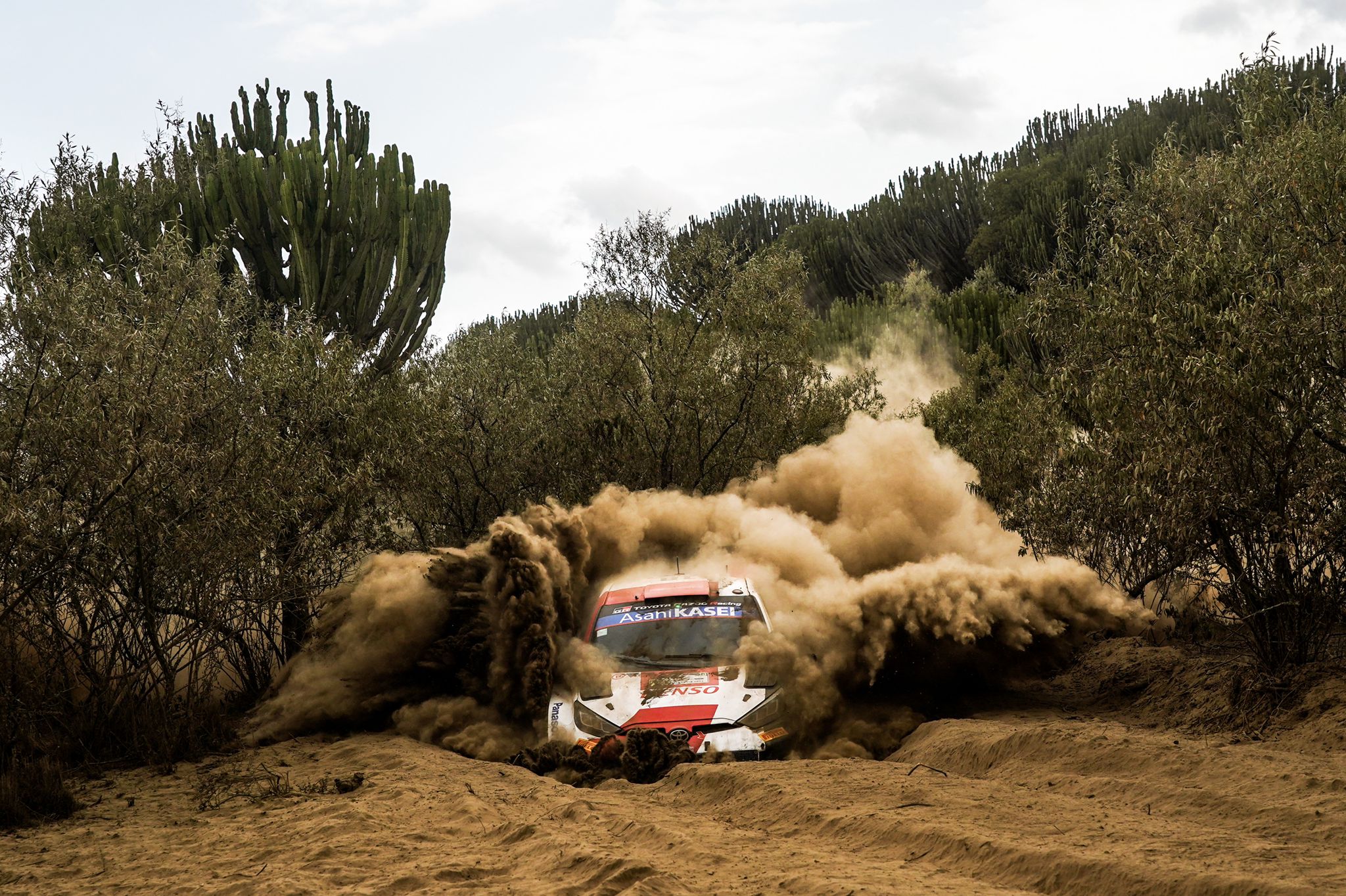 The Kedong stage proved a hard nut to crack for the drivers.
Nine-time World Champion Sebastian Loeb retired early
Carl Tundo was the best placed Kenyan after Day two
Nine-time World Rally Champion Sebastian Loeb was the biggest casualty on Day Two of the WRC Safari Rally as the tough and demanding 'fesh fesh' Kedong Stage in Naivasha forced him to retire early as overall log leader Kalle Rovanpera took the overnight lead.
The M-Sport Rally driver Loeb had to retire after his engine caught a bit of a fire and had to call his day off, on his return to the Rally he won back in 1999.
Loeb retired on the transport road section after Kedong 1 and will incur a 10-minute penalty per every stage missed on loop two should his M-Sport mechanics manage to fix the damage well in time for the second day on Saturday.
"It is really frustrating honestly you tend to feel that it is a lot of work for nothing. It was a really challenging phase and not to finish the day is a huge heartbreak. But it is the sport, we can't do much. We just look to see whether we can return on Day Three but as it is we will be out of competition because of the penalties," said Loeb, disappointed after his early bow.
Loeb's teammates Adrien Fourmaux and Craig Breen also retired, handing M-Sport a major blow in their quest for the coveted Safari constructor's title.
The Kedong stage, was a challenge to drivers due to the fesh fesh. This in rally terms mean a stage on the route which has so much loose soil until it covers object under the road and usually sinks the car when going in.
While most of the cars including the Fords struggled to break through the stage, it was a day for the Toyota Gazoo Rallying team which persevered through the stage.
"Our cars are quite low and that is why the fesh fesh gives us a lot of problem. We are inside but literally soaked in dust!" exclaimed Loeb.
Toyota's Rovanpera meanwhile enjoyed a good lead. The Finn carried a 22.4second lead heading into the third day.
"I think we did a good job. The plan was to be fast and safe and we are in a good position now, but tomorrow will be very challenging. I've never really experienced anything like this before. Last year we didn't have this many soft sections of road, so that was something a bit new," Rovanpera said.
He added; "Of course, it's always challenging here. There was still some road cleaning on the second pass, but other than that we have enjoyed the stages – except the last one – I think we all felt relieved to finish that."
The Finn racked up his third stage win of the day at Kedong 2 where Ogier returned 8th fastest behind the wheel of a GR Yaris Rally1.
Kalle wrapped up his day with a 22.4seconds advantage over Elfyn Evans while Ott Tanak settled for third, 25.3 seconds behind the leader.
Defending champion Sebastian Ogier who had started the day well winning the day's opening stage in Loldia finished the day sixth with the Toyota duo of Evans and Rovanpera enjoying the lead while Tanak's Hyundai was third followed by another Toyota Yarris, driven Japanese driver Katsuta Takamoto. Ogier had been the fastest on the opening day at the Kasarani SS1 stage.
Meanwhile, Carl Tundo finished the day as the top placed Kenyan in 13th, goingpast Kenya National Rally Championship (KNRC) leader Karan Patel who retired after facing problems with his car. Aakif Virani leads the WRC2 Category while Maxine Wahome led a depleted WRC3 field which was marred by a series of retirements.
Making her WRC3 debut on home soil, Wahome topped the all-Ford Fiesta Rally3 field by 35.6sec ahead of FIA Junior WRC regular and fellow Kenyan Mcrae Kimathi.
DAY TWO-LEADERBOARD
#69 (FIN) K. ROVANPERÄ   (GR Yaris Rally1)         1:20:58.1
#33 (GBR) E. EVANS           (GR Yaris Rally1)         1:21:20.5
#8 (EST ) O. TÄNAK          (i20 N Rally1)              1:21:23.4
#18 (JPN) T. KATSUTA        (GR Yaris Rally1)          1:21:24.7
#11 (BEL) T. NEUVILLE       ( i20 N Rally1I)             1:21:55.6
#1 (FRA) S. OGIER            ( GR Yaris Rally1)         1:23:06.3
#2 (SWE) O. SOLBERG      ( i20 N Rally1)              1:25:25.2
#20 (POL) K. KAJETANOWICZ         ( Fabia Evo)     1:30:49.2
#42 (IRL) C. BREEN            (Puma Rally1)              1:31:22.7
#22 (USA) S. JOHNSTON                                        1:32:02.7