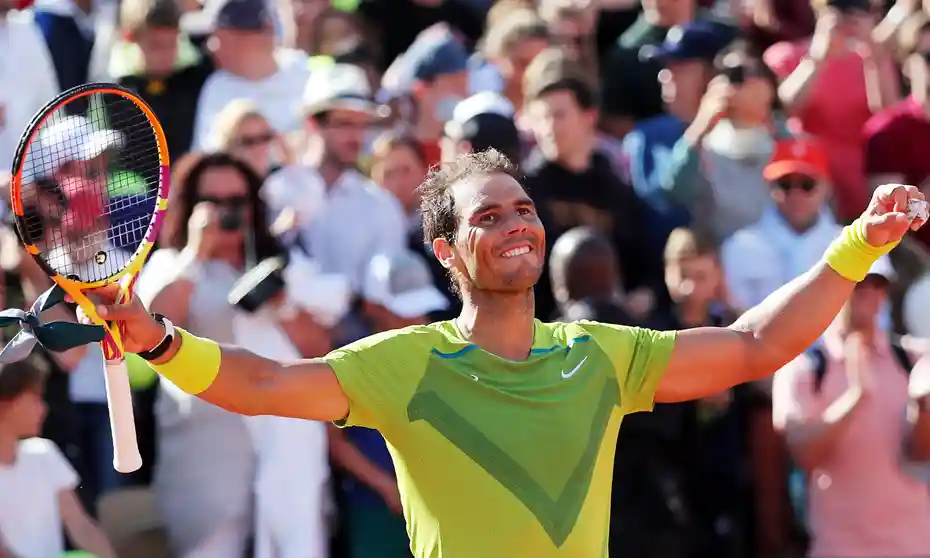 The victory at Roland Garros is Nadal's 22nd Grand Slam title; he defeated young Norwegian Casper Ruud 6-3, 6-3, 6-0

Ruud who is a Nadal Academy trainee, had a horrible start at Roland Garros and the Norwegian considers Nadal his idol

This is the 14th time Nadal is claiming the French Open title
King of clay Rafael Nadal won his 14th French Open title on Sunday afternoon, defeating Casper Ruud 6-3, 6-3, 6-0.
Nadal now has a total of 22 Grand Slam singles titles in the men's all-time race, two more than his great tennis rivals Novak Djokovic and Roger Federer.
It is also the first time in Rafael Nadal's career that he has won both the Australian and the French Open in the same year.
As he walked out onto Court Philippe-Chatrier, Nadal received cheers from the crowd he will probably never forget, with talk of him foreseeably retiring twisting due to his long-lasting injury challenges.
Still, he showed no signs of pain during his dominant win in two hours and 18 minutes.
In his first French Open final, a Nadal Academy trainee, Ruud, had a horrible start against the king of clay, who he deems his childhood idol.
In the second game of the match, Nadal's Norwegian trainee was destroyed. Nadal took the lead with a stunning cross-court winner off his forehand.
But Nadal then delivered one of his lamest service games at Roland-Garros.
Nadal's two consecutive double faults gave Ruud two break points, the second of which he converted when the Spaniard hit a tame forehand unforced error into the net.
Ruud's spate of unforced errors in the next game garnered Nadal another break point, which saw him move into a 3-1 lead when the Norwegian's forehand struggled to make the net.
Ruud fought bravely, but Nadal held his final three service games to take the first set in 48 minutes.
The No. 8 seed was hanging on in the first game of the second set and had three break points, but a cross-court forehand winner at obvious benefit secured a crucial hold.
With soccer stars like Marco Verratti and Robert Lewandowski in the crowd, Ruud shocked the crowd inside Philippe-Chatrier by breaking Nadal's serve to love to take a 3-1 lead. Nadal double-faulted at triple break point, giving Ruud the advantage.
Nadal then broke Ruud's serve to take a 4-3 lead. Ruud's tried lob with Nadal at the net went just long at the breaking point.
Umpire James Keothavong checked the mark to confirm it was out, ensuring Nadal's third game in a row.
Ruud's unforced errors were increasing as a twitching Nadal continued to apply pressure with his fierce forehand.
Nadal earned a double set point after ripping a cross-court winner on Ruud's serve at 5-3. Ruud saved three set points, but Nadal won the fourth with a double fault.
 For the third set, Nadal was unstoppable. On Ruud's serve, he penalised his opponent's unlucky shot off the net cord with a ruthless forehand winner before securing the break and the seventh game in a row with a crisp cross-court backhand.
Ruud was at a loss at the time. Nadal extended his lead to 3-0 before Ruud volleyed into the net to complete the double break and his ninth game in a row. Nadal cruised through the fifth game on his serve, with Ruud looking defeated.
On the Norwegian's serve, Nadal won his third title in Paris. Nadal sealed a historic victory with a backhand winner down the line after an intense cross-court winner gave him two championship points.