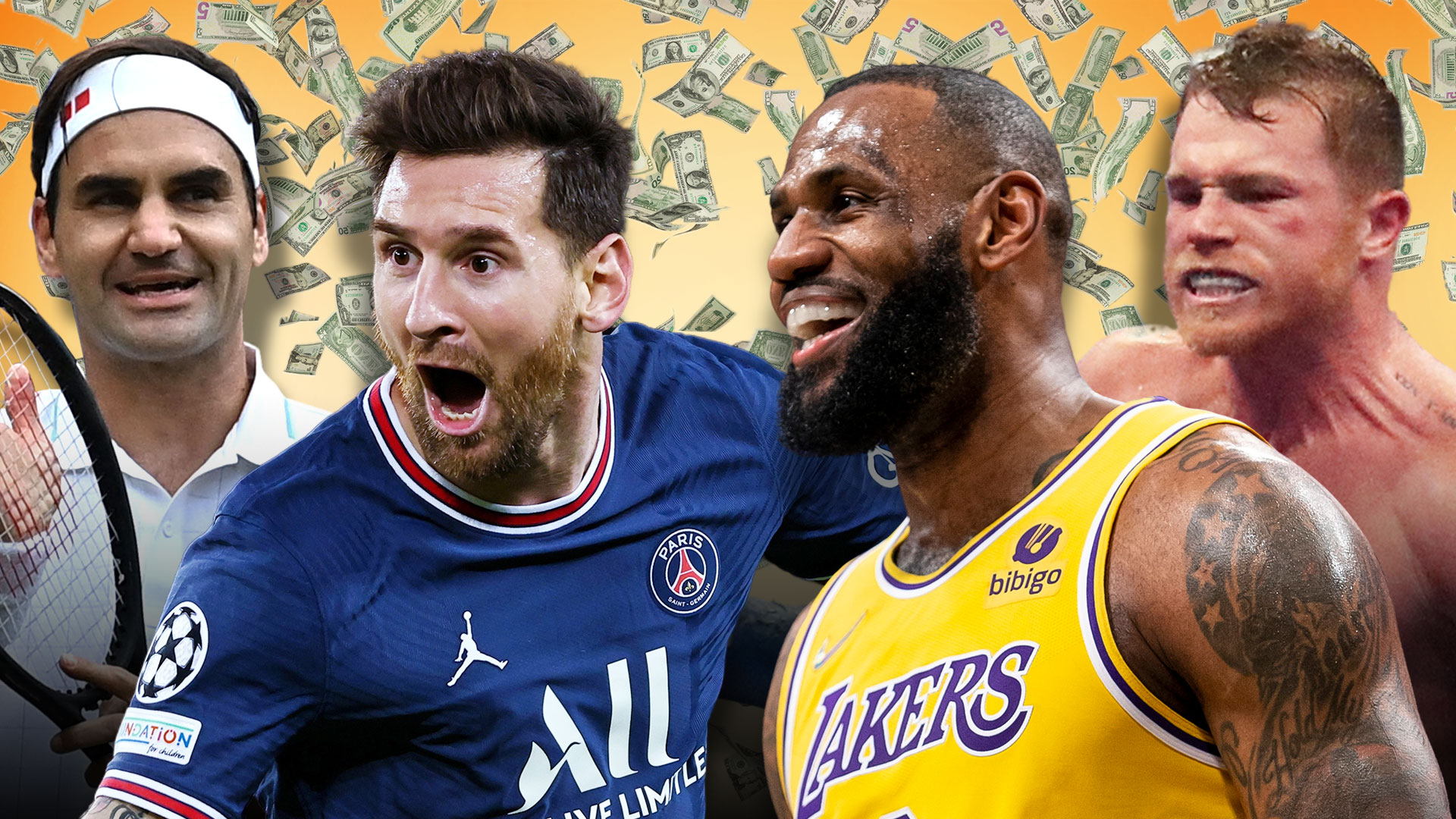 Sportico has released its annual list of the world's top 100 highest-paid athletes and
LeBron James tops the list
International soccer stars Lionel Messi ($122 million) and Cristiano Ronaldo ($115 million) came in second and third place, respectively

 Basketball stars such as Kevin Durant, Stephen Curry, and Giannis Antetokounmpo dominate the list

And this list wouldn't be complete without the great NFL Tom Brady, who is ranked in position nine
 LeBron James has been ranked the highest-paid athlete in 2022 by Sportico.
Messi finished second in 2021 behind UFC star Conor McGregor and third in 2020 behind tennis great Roger Federer and football rival Cristiano Ronaldo and he remains in the same position
The Argentine superstar topped the list in 2019. NBA superstar LeBron James comes in second, followed by Cristiano in the third position
Sportico examined the athletes' salaries, prize money, and endorsements over the previous year to determine the highest-paid athletes in 2022.
10. Giannis Antetokounmpo – $80.9 million
Antetokounmpo is the list's youngest athlete. The 27-year-old is a two-time MVP who signed a five-year, $228 million contract with the Milwaukee Bucks last December.
That is the largest contract in NBA history in terms of value.
Antetokounmpo has also made moves in the digital space, signing a licensing agreement with NFTSTAR. He has also agreed to endorse Whatsapp and the Google Pixel 6 phone.
9 Tom Brady – $83.9 million
Tom Brady sat out for about six weeks before deciding to return to the game. He had a fantastic season with the Tampa Bay Buccaneers in 2021 at 43.
Thanks to a lucrative contract, he will join Fox Sports as a commentator when he retires.
Earlier this year, Brady signed a content deal with Skydance Sports through his production company, Religion of Sports. He also launched a new clothing line called BRADY and is working on a road trip film called '80 for Brady.'
Last year, he co-founded the NFT platform Autograph, which raised $170 million in a Series B funding round.
8. Roger Federer-85.7Million
Due to injuries, Roger Federer has only competed in six tournaments in the last two years. Although he has yet to return to the court, he has amassed nearly $100 million in earnings.
Endorsement deals with brands such as Uniqlo and Rolex have helped to make the tennis legend one of the world's highest-paid athletes.
Federer is now an investor in the Swiss shoe company 'On.' The company has now gone public, raising over $600 million.
7. Canelo Alvarez – $90 million
Canelo Alvarez is possibly the most prominent boxer in the world right now. He earned $40 million from his two pay-per-view victories in May and November last year.
Alvarez is the proud owner of a taco restaurant in Mexico and plans to open gas stations.
Canelo Promotions is also rising, with the stable planning several fights in Mexico. For this, he has signed partnership agreements with Matchroom Boxing and DAZN.
Alvarez has a lucrative deal with Hennessy as well.7 Roger Federer – $90.7 million
6. Kevin Durant – $92.1 million
Kevin Durant currently has the world's second-most lucrative sneaker deal. He earns $28 million from Nike and has endorsement deals with NBA Top Shot, Weedmaps, and Coinbase.
The Brooklyn Nets star has invested in Open Sea, an NFT platform. He has also invested in Future, a digital fitness startup.
5. Stephen Curry – $92.8 million
is the highest-paid NBA player this season in terms of salary. Last August, he signed a new four-year, $215 million contract with the Golden State Warriors.
He also signed an endorsement deal with cryptocurrency exchange FTX. The transaction included an equity stake. Curry's production company, Unanimous M
4. Neymar Jr. – $95 million
Due to injuries, Neymar Jr. missed much of the 2021-22 season. The Brazil international also incited the wrath of the Paris Saint-Germain fans as they were eliminated from the Champions League in the Round of 16.
But he has since put in some impressive performances for his team, leading them to another Ligue 1 title. He remains one of the world's most recognizable and marketable footballers.
Neymar has lucrative endorsement deals with Puma and Red Bull, and his football career is the subject of the 2022 Netflix documentary series Neymar: The Perfect Chaos.' He has also ventured into the NFT space, signing a deal with NFTSTAR.
3. Cristiano Ronaldo – $115 million
Cristiano Ronaldo made a triumphant return to his former club Manchester United last summer. Although the Portuguese talisman is still going strong at 37, the Red Devils have had an unforgettable season.
Ronaldo has the most followers on Instagram. His social media presence has helped him become one of the world's highest-paid athletes.
Ronaldo has lucrative endorsement deals with companies such as Nike, Herbalife, and Clear Shampoo.
Ronaldo has also invested in Talel restaurants, a new location in Beverly Hills.
2. Lionel Messi – $122 million
Lionel Messi will won his seventh Ballon d'Or in 2021. Messi has been thriving off the field despite an underwhelming season by his lofty standards.
He has endorsement deals with Adidas, Budweiser, PepsiCo, and Socios. In June of last year, Messi was named Hard Rock International's brand ambassador, making him the first athlete to do so.
The deal helped him equal his long-time rival Cristiano Ronaldo in terms of off-field earnings.
1. LeBron James- $127 Million
This season, LeBron James did not make the playoffs. But his influence outside of the court is growing. James appeared in Space Jam: A New Legacy in 2021 and has moved his HBO talk show 'The Shop' to YouTube.
He invested in SpringHill, which produced both of those projects. He also sold a $725 million minority stake in the company in October 2021.
James signed an endorsement deal with Crypto.com earlier this year and invested in Tonal, a home gym company, and Status PRO, a sports tech startup.
Also Read: 5 top athletes on a vegan diet