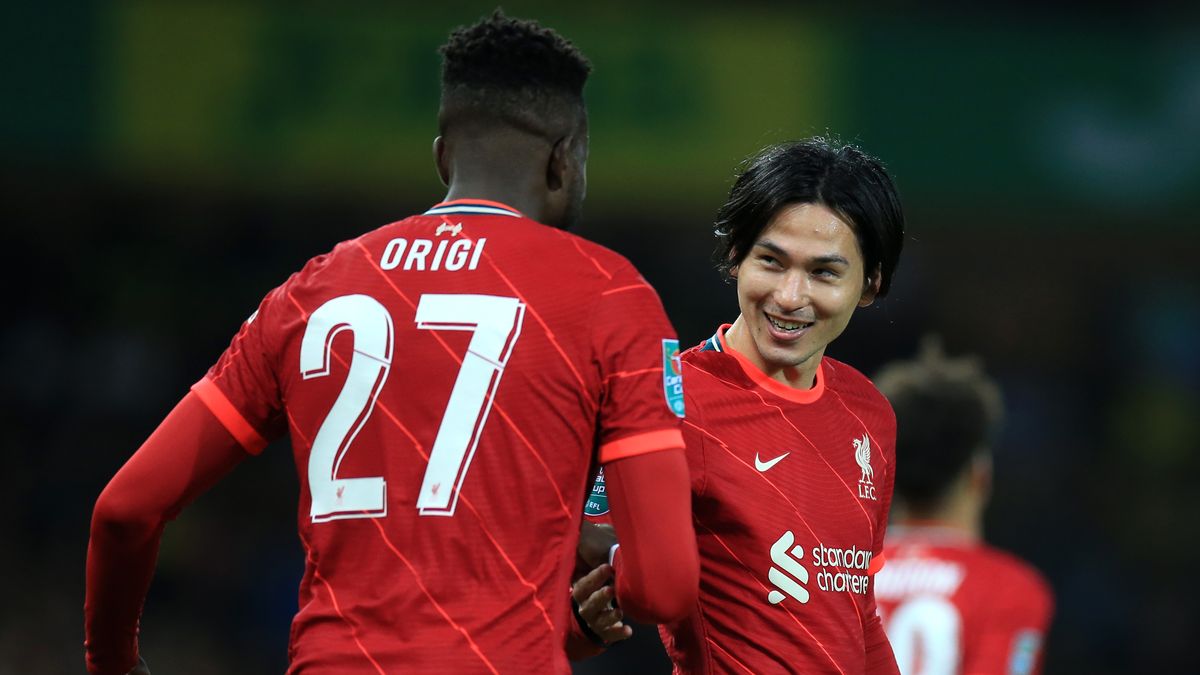 Jurgen Klopp made nine changes to his Liverpool team for the win at Southampton., Fringe players got the job done

Takumi Minamino scored once, and Curtis Jones shone in midfield while Belgian striker Divock Origi continues to score crucial goals

Chamberlain and Joe Gomez would undoubtedly like to see more action; Klopp later referred to his lesser-known players as "Ferraris in the garage"
Jurgen Klopp referred to them as his 'Ferraris in the garage,' referring to players who are fuelled and fired up for when the occasion calls for it.
They are the marginalized first-teamers and younger players who have stepped up to power Liverpool through what will be a gruelling 63-game pursuit of an unprecedented Quadruple.
Klopp decided to make nine changes to his starting line-up from the FA Cup final the previous weekend on Tuesday night, and his team still beat Southampton 2-1 to sustain their Premier League title hopes alive.
Takumi Minamino and Joel Matip scored to pull the Reds within a point of leaders Manchester City ahead of the final round on Sunday. They will keep hoping their title rivals mess up against Aston Villa.
With the Carabao Cup and FA Cup already in the trophy cabinet at Anfield and the Champions League final against Real Madrid on May 28, Liverpool is still in contention for four trophies in an incredible season.
We look at Klopp's 'Ferrari collection,' their valuable contribution this season, to see if they're content with a supporting role.
CURTIS JONES
Jones, a 21-year-old midfielder who plays semi-regularly, has played in 27 games and started 18 in all matches this season.
He sat out the cup final, but Klopp started him in Liverpool's last two league games in various combinations of his midfield trio.
Jones is undoubtedly more important in Klopp's plans than Minamino and Elliott, but he is not regular.
Indeed, he'd been an unused substitute in five consecutive league games before his two most recent league starts.
His season was cut short due to an eye injury sustained during a training session described by the doctor as a "freak" collision.
On Sky Sports, Jamie Redknapp praised him for his performance against Southampton, calling him "wonderful" and praising him for "buying into everything Klopp wants him to do."
Jones, who has a contract with Liverpool until 2025, will almost certainly become a regular in midfield eventually and is a talent.
DIVOCK ORIGI
We all know that Origi is the greatest fringe player who consistently scores treasured goals.
He scored against Barcelona to send Liverpool to the 2019 Champions League final, and he also scored against Tottenham in that tournament.
Origi has scored several times in the Merseyside derby, and one of his six goals this season came in a 2-0 win over Everton last month.
Another memorable goal came in the 94th minute against Wolves in December.
The Belgian has been with Liverpool since 2015 and has rarely been the first-choice forward pick.
And yet, he's still there, apparently content to sit on the bench or even at home if he will not make the squad and contribute in small ways when he can.
Origi did come off the bench for 25 minutes against Southampton, his first league appearance since scoring against Everton.
TAKUMI MINAMINO
There's no better place to begin than with Liverpool's goal at St Mary's, and what a strike it was, an incredibly powerful rocket into the top corner from a relatively narrow-angle.
Klopp later admitted that it's a 'crime' that the Japanese forward isn't getting more regular playing time.
Given Liverpool's strong attack, he would always play a supporting role, and he's only started one Premier League game this season.
Minamino hadn't played since March, and he hasn't even made the Liverpool starting lineup on most occasions since then.
And consider this: despite scoring four goals in the early rounds of Liverpool's Carabao Cup run, he did not appear in the final.
He was also their FA Cup top scorer, with three goals, but he did not play in either the semi-final against Manchester City or the final against Chelsea.
He was linked with a move to Leeds United in January, but Klopp dropped the possibility.
ALEX OXLADE-CHAMBERLAIN
Since his debut in the FA Cup quarter-final against Forest, Chamberlain hasn't played .
Given the long periods of inactivity, it's easy to forget that Oxlade-Chamberlain, 28, is still a Liverpool player, let alone he's been there since 2017.
Despite this, he has appeared in 29 of Liverpool's games this season, starting 17 of them, with his appearances heavily weighted toward the first half of the season.
Oxlade-Chamberlain, for example, started Liverpool's final three Champions League group games against AC Millan, Porto and Atletico Madrid but never appeared in the knockout rounds.
Liverpool's midfield is well-stocked, and the former England international has dropped down the chain of importance.
Oxlade-Chamberlain is out of contract in 2023 and has yet to hear from the club about a new contract, implying a sale this summer.
JOE GOMEZ
Liverpool's defence usually chooses itself, and right now, that selection excludes Joe Gomez.
That wasn't the case at Southampton, where Gomez filled in at right-back to give Alexander-Arnold a rest.
Unfortunately, Gomez was forced to leave the game before halftime after suffering an injury to his leg.
Klopp later stated that Gomez was 'in a good mood and hoped the problem was not too serious.
 Gomez saw more action, but he has only made 11 starts this season and spent a lot of time warming the bench.