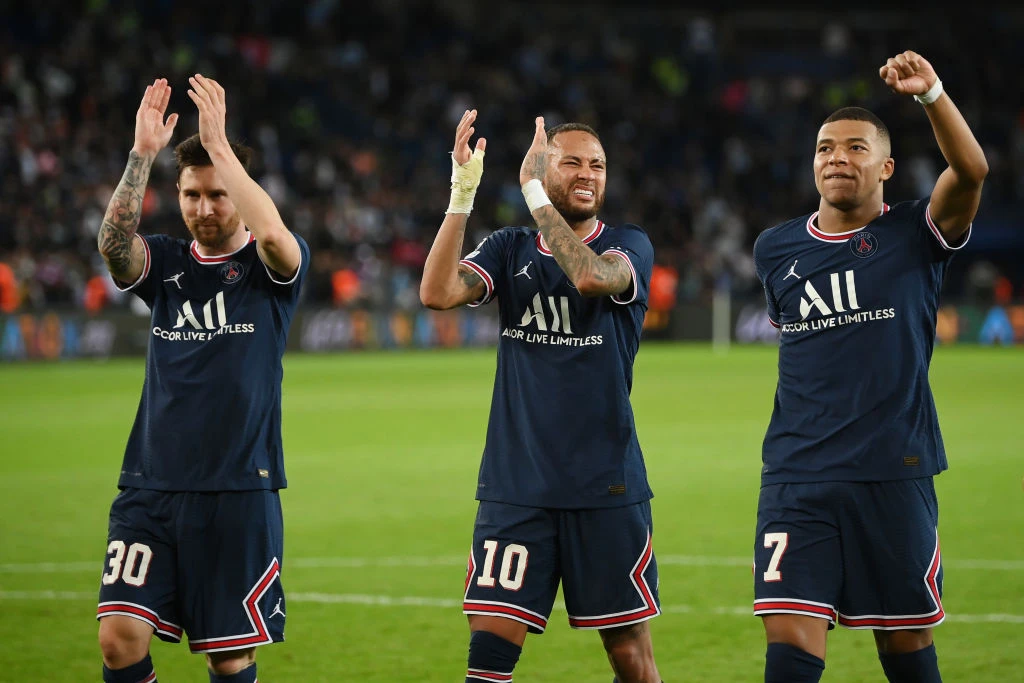 Kylian Mbappe's new contract with PSG shocked the football world, with the club going to the extremes to keep the soccer star

In the recent past, top clubs have offered lucrative deals to soccer stars to lure them to their clubs

Neymar, Gareth Bale, Ronaldo and Messi are among the top player who the top clubs make insane deals to sign or retain them

Cristiano Ronaldo took a pay cut to come back to Man United
Kylian Mbappe dumbfounded the football world by agreeing to renew his contract with Paris Saint-Germain.
According to several major media outlets, Mbappe was on his way to Santiago Bernabeu on a free transfer at the end of the 2021/22 season, with arrangements said to be in place.
PSG's determination to keep their super gifted Frenchman beyond the end of his contract was never hidden.
When reports emerged that they had proposed an outrageously high offer to keep Mbappe, doubts were cast on his move to Madrid.
 Mbappe's new contract
According to sky Sports, Mbappe's new contract will pay him close to $1million per week, with a signing-on bonus of around $126 million. 
That's not even taking into account performance-based bonuses or image rights.
What this implies for Mbappe in the big scheme of things remains certain. At only 23, and with his talent, the world is still his ultimate choice.
However, that future almost undoubtedly lies in Paris in the short term, which is upsetting for Los Blancos supporters.
The saga is over, but that hasn't stopped the football world from being curious to know what Mbappe must have been offered to sign a renewal contract and how his huge deal compares to football's most outrageous wages.
With Mbappe's new contract making headlines, what better time than now to look back at some of the most lucrative contracts signed over the years?
The most lucrative contracts in football
Jack Grealish – $377,000-per-week (Manchester City)
A British record $ 127100 million transfer to one of football's wealthiest clubs certainly doesn't happen without guaranteeing a matching salary.
Sources differ on how much Grealish earns at City, with some sources reporting that he earns 'more than $251,000-per-week,' while others insist that he earns $377,000 per week. 
Lionel Messi – $147million per season (Barcelona)
It wasn't hard to imagine Messi – probably the finest player of all time – earning a wage that conveyed this in an era of incredibly inflated sums. Let's face it, he wasn't going to work for a minimum hourly wage, was he?
According to El Mundo, Messi signed his last Barcelona contract extension in 2017 for $147 million per season.
And that's before you factor in the bonuses. It's no surprise that La Blaugrana is in such financial trouble.
Neymar – $33.6m per year (Paris Saint-Germain)
Somehow, the judge is still out on a player for who PSG paid a world-record $251.4 million transfer fee in 2017. That is inappropriate.
While Neymar has left a lot to be desired at times, to say he was a failure or squandered his career in Paris is ridiculous.
His statistics are incredible, and his contract extension in 2021 reflects that.
The Daily Star reports that Neymar's new contract is worth $33 million every year, or $68 per minute.
Gareth Bale – $692,000-per-week (Real Madrid)
Gareth Bale was definitely worth the cash Real Madrid compensated him for quite some time, in a deal that gets more hate for Real Madrid with each week's wage slips being sent out.
Bale joined Los Blancos in 2013 amid much fanfare and has since become a Champions League four times winner in Madrid, putting in several of the magnificent performances.
However, his relationship with the club has been bitter in recent years, with Madrid freezing him out while he works out a $692,000-per-week deal that expires in 2022, 
Lionel Messi –$27.3m per year (Paris Saint-Germain)
PSG was nearly the only club in Europe's top five leagues that could afford to fulfil the soccer star's demands, which had to be reduced slightly due to Barcelona's financial difficulties in 2021.
According to L'Equipe, Lionel Messi earned $32.3 million during his first season, which will rise to $42.8 million in his second season, plus a £12.8 million loyalty bonus
Cristiano Ronaldo – $565,000-per-week (Manchester United)
Cristiano Ronaldo's stunning return to Man Utd was one of the year's most exciting and unpredicted stories.
While the sentimentality pop was enjoyable, it came at a high cost for the Red Devils.
 Reports suggest that Ronaldo earns $565,000 per week at Old Trafford, implying that he took a significant pay cut to come back to Old Trafford from Juve.
Kevin de Bruyne – $400,000-per-week (Manchester City)
When City decided to keep their star player in 2021, they knew it would come with a cost, given how they'd seen De Bruyne develop into unquestionably the best midfielder.
As per the Mirror, his new contract, which now extends until 2025, is worth approximately $500,000 per week, making him the club's highest earner.
However, compared to their financial power, that is simply a drop in the bucket.
Cristiano Ronaldo -$617,000-per-week (Juventus)
While still on the subject, let's look at Juventus's contract to lure Ronaldo away from Real Madrid in 2018.
The five-time Ballon d'Or winner left Real Madrid for a weekly wage of $617,000 in Turin with a four-year contract.
Juventus paid a heavy price for such a gamble, having failed to win the Champions League and experiencing financial hardship due to cracking their wage bill for Ronaldo.