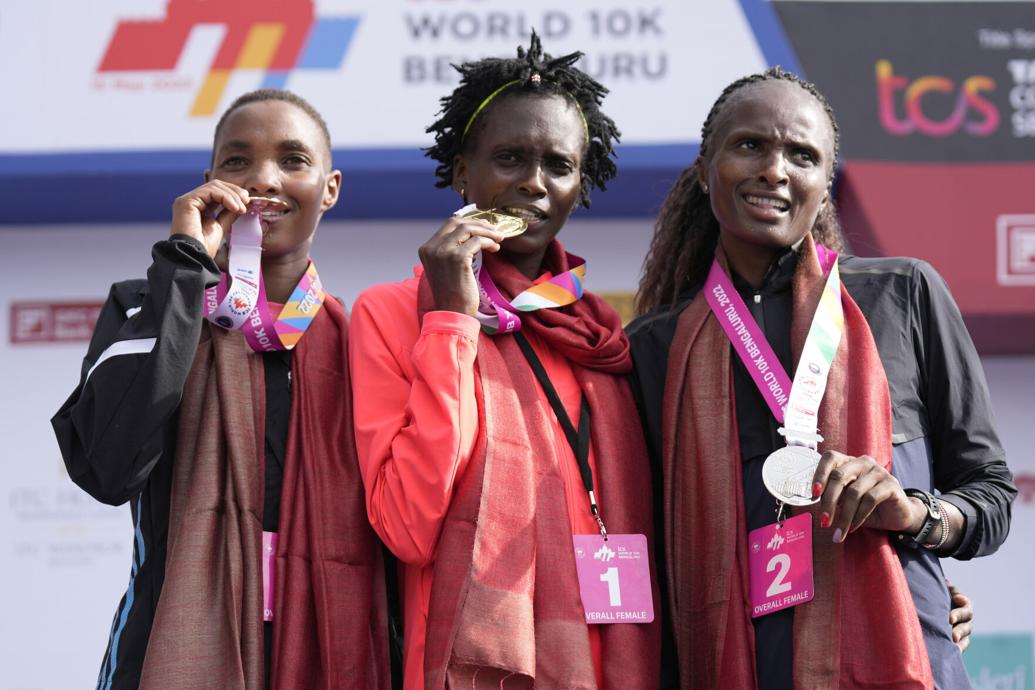 Irene Cheptai and Nicholas Kimeli set Course Records in India
Noah Kibet dazzles in Diamond League
Kenyan athletics shifts focus to Commonwealth Games trials
Kenyan athletes continued to impress with good performances across different meets over the weekend, with Irene Cheptai and Nicholas Kimeli being the toast after running Course Records at the Bengaluru 10km run in India.
Cheptai beat multiple world champion Hellen Obiri and took 44 seconds off the women's course record which had stood to the late Agnes Tirop at 31:19 since 2018.
"When we raced through an inclined patch on the route [just after 7km], I felt like Hellen's pace reduced, that's when I tried harder to take lead. But even when I entered the stadium for the final lap, I was fearing Hellen and kept pushing my speed to win," Cheptai said after the win.
In an exciting and fast pace, Obiri led the race for most of the start, going through 6km in 18:23 and 7km in 21:32, before Cheptai took her turn to push at the front for a kilometre as Obiri briefly went through a bad patch.
However, Obiri soon recovered her poise and regained the lead just after embarking on the penultimate kilometre.
The Kenyan pair carried on their enthralling head-to-head battle, but with just 250 metres to go Cheptai darted past Obiri and was never headed before crossing the line in a personal best of 30:35, her first time inside 31 minutes.
Obiri eased off once she knew the race was lost but still came home in an outstanding 30:44, also inside Tirop's former course record, while Tele was a distant third in 31:47 to complete an all-Kenyan podium.
In the men's race, Kimeli took the lead with a kilometre to go and pulled away from Ethiopia's world U20 10,000m champion Tadese Worku to reduce the men's course record by six seconds from the previous mark set by his compatriot Geoffrey Kamworor in 2014.
Worku also finished inside the old record with 27:43 while the Kenyan pre-race favourite, and former world half marathon record-holder, Kibiwott Kandie made up three places in the final two kilometres and came through for third in 27:57.
"Honestly, I was not expecting to get the course record. When we reached 5K, we didn't think we will get the course record, in fact, even when we crossed the 7K-mark, I didn't think we will make the record. But only when Worku pushed ahead, I picked up pace towards the end," Kimeli said.
Meanwhile, youngster Noah Kibet was the toast of Kenyan athletes at the season-opening Doha leg of the Diamond League after a stunning victory in the 800m.
Kibet sat uptop in the leading pack for most of the race and put on some clean sprint to win the race in a time of 1min 49.08secs.
"It feels so good to win. I didn't expect it. Special thanks to my manager for this opportunity. I'm so happy to see many Kenyans here supporting me, and I look forward to the world championships in Eugene," the youngster stated after the race.
Elsewhere in the 1500m, world champion Timothy Cheruiyot was beaten by Abel Kipsang in another sprint finish, Kipsang building on his win at the Kip Keino Classic last weekend with another emphatic finish.
Kipsang struck his finishing kick with Cheruiyot trying to chase him down at the home straight, managing to clock 3:35.70 in winning the race.
In the women's 3,000m, double Olympic champion Faith Kipyegon lsot to Burundian Francis Niyonsaba in a sprint finish. Niyonsaba clocked a world leading time of 8:37.70 as Kipyegon who stepped up double her traditional distance clocked 8:38.05.