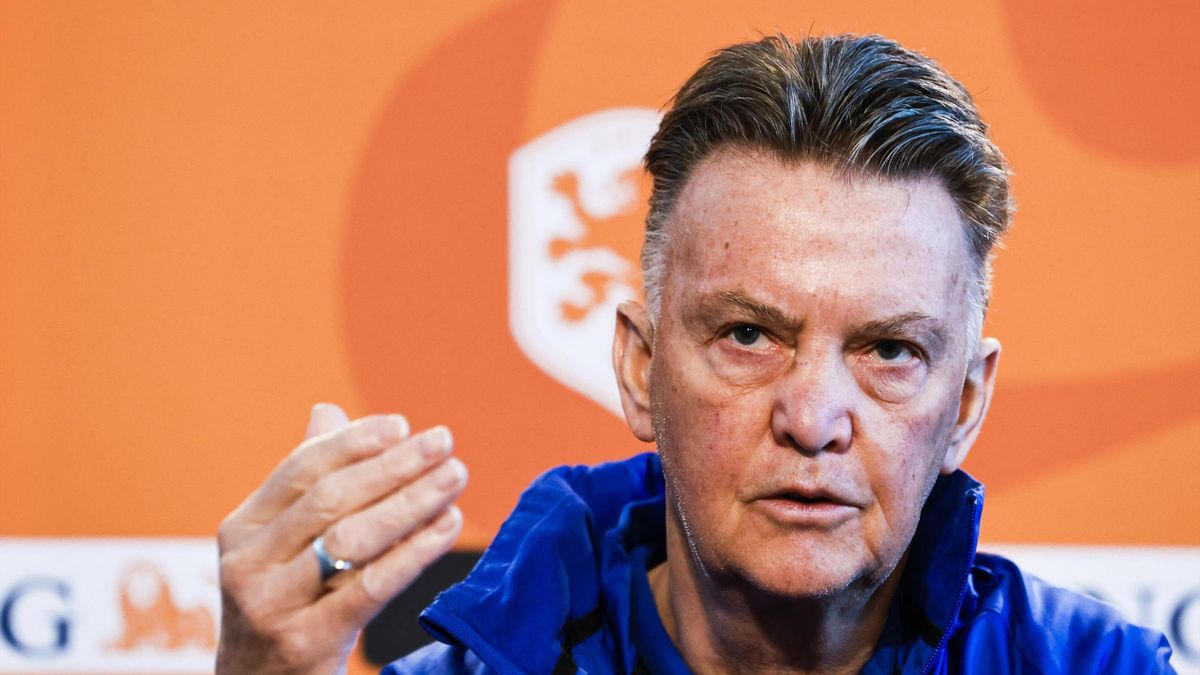 Louis van Gaal is a Dutch football coach, and former footballer
Now 70, he recently disclosed he is battling an aggressive form of prostate cancer
He is upbeat that he will beat it and coach his Netherland national team
The football world was left in shock after former Manchester United manager Louis van Gaal opened up on his battle with prostate cancer.
Speaking recently to RTL TV show Humberto in the Netherlands, Gaal, 70, said he has been fighting an aggressive form of prostate cancer.
Now The Netherlands coach, Van Gaal also managed Bundesliga giants, Bayern Munich and Ajax before retiring.
Gaal hadn't informed his players of his medical condition, he says. When asked about his ambitions for this year's World Cup with his country, he indicated he intends to continue guiding the Dutch team.
"I think you don't tell people you work with like that because it might influence their choices, their decisiveness, so I thought they shouldn't know," said the Dutch coach.
"You don't die from prostate cancer, at least not in 90% of the cases. It is usually other underlying diseases that kill you. But I had a pretty aggressive form, got irradiated 25 times. Then you have a lot of management to do in order to get through life."
But, who is this man with three stints at the helm of coaching the national team? The man who led The Netherlands to third place in the 201'4 World Cup before taking over as a manager at Manchester United the same year?
WHO IS LOUIS VAN GAAL?
Louis Van Gaal was born on August 8, 1951, in Amsterdam. He began playing for RKSV de Meer, an amateur club in Amsterdam when he was just a kid.
Johan Cruyff and Johan Neeskens were both in the Ajax first-team midfield when he was just 20 years old, but he was never given a chance to play alongside them.
In 1974 and 1975, while on loan at Royal Antwerp in Belgium's First Level under Guy Thys, he finished second in the Belgian top division.
In 1986, Van Gaal joined Arizona as an assistant coach and stayed there for the rest of his career. On his return to Ajax, he was appointed as Leo Beenhakker's assistant.
He was then appointed Ajax's manager in 1991 when Beenhakker stepped down.
LOUIS VAN GAAL'S MANAGEMENT CAREER
Van Gaal has a chequered football career since the 90s when he took over as head coach for Ajax. Here is his career history
AJAX COACH (1991 – 1997)
From 1991 to 1997, Van Gaal served as the head coach of Ajax, a position he held to great success. He led Ajax to three Eredivisie titles in 1994, 1995, and 1996.
He had an unprecedented unbeaten season in both league and Champions League competitions.
Van Gaal led Ajax to victory in the KNVB Cu in 1993, as well as the Johan Cruyff Shield three times.
Ajax won the UEFA Cup in 1992 and the UEFA Champions League in 1995, both times defeating AC Milan in the championship match.
BARCELONA (1997 – 2000)
In 1997, he replaced Bobby Robson as manager of FC Barcelona and went on to win two La Liga championships – 1997/1998 and 1998/1999.
He also led the club to win the Copa del Rey once. However, despite his accomplishments, he had altercated with the press and was criticized.
Barcelona's cultural differences made it difficult to adopt his football philosophy, and some players were unwilling to follow his lead.
NETHERLANDS NATIONAL TEAM (2000–2002)
The Netherlands began their 2002 World Cup qualification campaign poorly under Van Gaal. With 20 minutes left, an injury-plagued side from Group 2 managed only a 2–2 draw against the Republic of Ireland. Then came a 2–0 loss to Portugal after a 4–0 triumph over Cyprus
Van Gaal claimed his team was so talented that even Irish fans wanted them to win. However, he resigned and returned to Barcelona.
BARCELONA (2002 – 2003)
Louis Van Gaal returned to Barcelona on a deal that would last until June 2005, but his performance wasn't the best. Again, he walked away.
AJAX (2004)
He returned to Ajax as technical director in 2004, only to depart later that year after a rift with Ronald Koeman.
AZ (2005–2009)
On July 1, 2005, Van Gaal will take over as manager of AZ, replacing Co Adriaanse. Van Gaal guided AZ to a second-place finish in the 2006–07 KNVB Cup and a 4–2 aggregate loss to Ajax in the 2007–08 Champions League play-off.
After AZ finished 11th in the Eredivisie in 2007–08, Van Gaal stated that he would quit the club at the end of the season.
But when several AZ players expressed they wanted him to stay, which he did for one more season and left.
BAYERN MUNICH (2009–2011)
Bayern Munich's new coach, Louis van Gaal, began his tenure on July 1, 2009. He had a rough start, winning only one of his first four games in charge and leading the team to a Champions League group stage exit after two defeats to Bordeaux.
However, the team improved and saw their form improve with two Champions League wins.
Bayern Munich were named Bundesliga champions on 8 May 2010 after a 3–1 victory at Hertha BSC, becoming Van Gaal the first-ever Dutch coach to win the Bundesliga.
He left Bayern and returned to the Netherlands team.
MANCHESTER UNITED (2014 – 2016)
On May 19, 2014, it was officially announced that Louis van Gaal would succeed David Moyes as Manchester United manager. After the 2014 World Cup, he signed a three-year contract with the team.
He left in 2016 and took a five-year hiatus until 2021 when he returned to manage his home country's national team.