The Uganda Netball League (UNL) is destined to see more competition after winners and excellent players in last year's league were awarded for the first time, at the dinner that saw many sponsors and well-wishers offer what they could.
The Uganda Netball League (UNL) is destined to see more competition after winners and excellent players in last year's league were awarded for the first time, at the dinner that saw many sponsors and well-wishers offer what they could.
NIC and Kampala University tactician Vincent Kiwanuka was awarded the best coach as Makindye Weyonje's duo of Shakirah Nassaka and Asinah Kabendela emerged Most Valuable player and best shooter respectively among others.
Bashir Matovu of the SMASH men's netball team was also awarded the MVP accolade.
Kabendela who was having her first stint in the national netball league believes awarding excellence is a motivational attempt by the federation.
"It is my first time in the league and this award serves to give me a more competitive heart and vigour to see that I improve myself," she said.
Likewise, Nassaka who was all smiles, carrying her air ticket to Mombasa gifted by the Uganda Airlines, as well as awaiting her Shs1m cash promised by one of the guests Susan Makula Bugingo, says this achievement will drive her to greater heights in the sport.
"This award and gifts mean a lot to me, this endeavour is going to create more competition in the league because many people want to win," she said.
Meanwhile, Sports State Minister Hamson Obua commended UNF for its great achievements.
"I congratulate UNF because we have a big tourney coming up and that is the Commonwealth Games in Birmingham. Our national team has made history as champions of Africa on various occasions," he said.
Solo Efforts. Other winners included the KCCA duo of Sandra Nambirige and Shadiah Nassanga who were awarded the promising and most improved player of the year respectively. The best in different positions including Stella Oyella –GA, Shaffie Nalwanja – GK, Maggie Bagala – C, Viola Asingo – WD, and Norah Lunkuse – WA were also awarded. The Fair play award was given to the Air Force team.
AWARDS
League winners
Women's first division: NIC
Second division: Busia
Greater Lions
Men's league: Kampala
University
Women MVP: 
Shakirah Nassaka, Makindye Weyonje
Men's MVP: Bashir Matovu, SMASH
Top Scorer: 
Asinah Kabendela, Makindye Weyonje
The Netball federation plans to construct state of the art permanent home
The Uganda Netball Federation (UNF) intends to construct a permanent home that will house the administrative offices, a resource centre, hostel and training courts.
The baby steps to have this home in place will entail buying around the areas of Kampala city and Wakiso district estimated at around Shs.2 billion.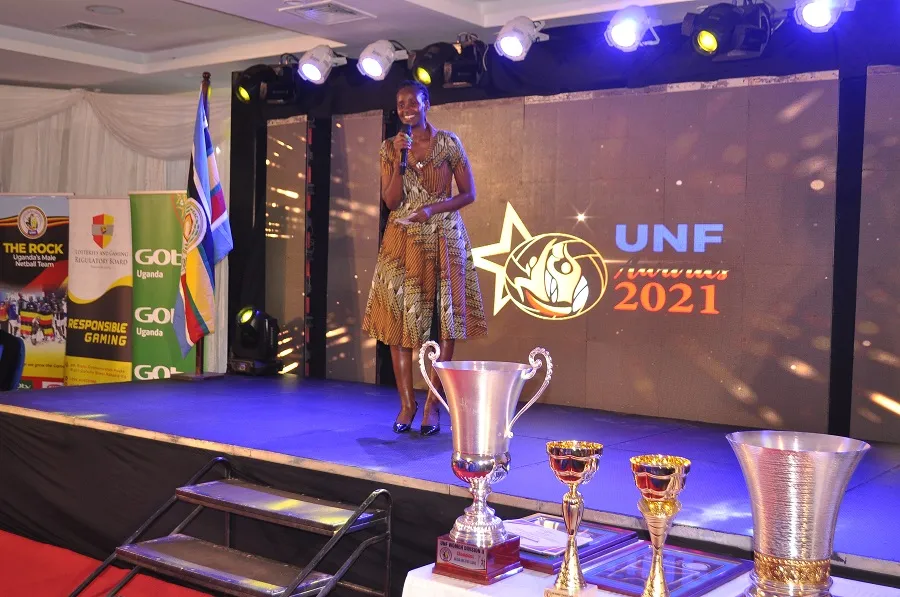 Sarah Babirye Kityo, president of the Uganda Netball Federation. photo/ David Isabirye
It is upon this strong background that the federation has organized a mega fundraiser on 24th June 2022 at Kampala Serena Hotel.
Uganda Netball Federation President Hon. Sarah Breeze Babirye Kityo emphasizes the need for this fundraiser. Uganda Netball Federation executive committee, alongside the board of trustees, confirmed this fundraising drive on the 24th June 2022 at Serena Hotel in Kampala city as a means of raising money to secure our own land where we shall put the offices, residences and several courts. His Excellency President Yoweri Kaguta Museveni is the chief guest at this event"
Hon. Sarah Breeze Babirye Kityo, President Uganda Netball FederationChairperson Board of Trustees Hon. Margaret Nantongo Zziwa asserts this is the step in the right desired direction for netball in Uganda, a sport which is number two in Africa and ranks 6th in the entire world.
Hon. Margaret Nantongo Zziwa, Chairperson Board of Trustees – Uganda Netball Federation
Hon. Nantongo Margaret Zziwa( middle) addressing guests during the event. photo/ John Batanudde
For starters, UNF "graduated" to a bigger rented floor at Old Kampala from a small room at the National Council of Sports (NCS).
The federation has a bold vision of owning its own offices that are not rented to save financial resources.
The planned fundraiser comes after the awards held at Imperial Royale hotel in Kampala where the excelling clubs and personalities smiled home with trophies, medals, certificates and other prizes to reward them for the hard toiled effort.
UNF plans the She Cranes tours to the different regions of Central, Eastern, Western, Northern, North East and West Nile as a way of popularizing this sport and a platform to unearth fresh talented players on board.
Uganda will take part in the Commonwealth Championships in Birmingham, the United Kingdom come 28th July to 8th August 2022.