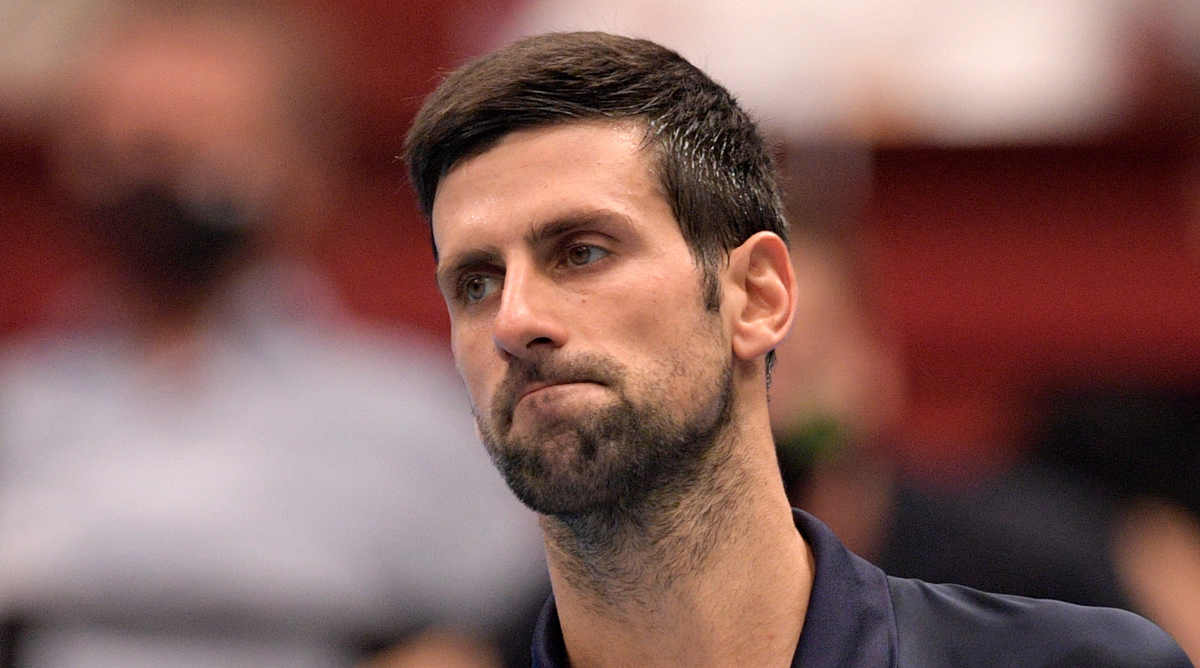 Novak Djokovic will not play in the ATP Master 1000 tournaments in Indian Wells and Miami Open
He cited tough Covid-19 rules published by the CDC
Djokovic had been selected to play at the Indian Wells despite uncertainties surrounding his attendance in the competition
Novak Djokovic will not play at the Miami Open and the Indian Wells tournaments in the US later this year.
In a statement on Wednesday, the Serbian withdrew from Master 1000 tournaments in Indian Wells and Miami citing tough Covid-19 vaccination rules.
He was selected in the Indian Wells draw despite uncertainties surrounding his attendance in the competition. Djokovic was included in the draw since he was on the official entry list, according to the event organizers.
WHY WON'T NOVAK DJOKOVIC PLAY IN US?
"While I was automatically listed in the BNP Paribas Open and Miami Open draw I knew it would be unlikely I'd be able to travel. The CDC has confirmed that regulations won't be changing so I won't be able to play in the US. Good luck to those playing in these great tournaments."
His statement confirmed fears that he would miss the tournaments.
The confusion stemmed from his earlier statement hinting he couldn't fly to the US for the two events due to his Covid-19 vaccination refusal.
"As of today, not. I can't go, can't enter the United States," he said in an interview. "As of today, I'm not able to play, but let's see what happens. I mean, maybe things change in the next few weeks," tennis 365 quotes him.
Vaccination requirements for entry into the United States are rigid. While there were rumblings that they may be modified in the coming weeks, Djokovic's chances of entering the US were slim.
On top of that, Indian Wells officials announced that everyone on-site at their tournament will need to be properly vaccinated against Covid-19.
"In order to enter the Indian Wells Tennis Garden, the 2022 BNP Paribas Open will require all attendees to show valid proof of full vaccination against COVID-19," a statement on Indian Wells official website reads.
"To keep all patrons on-site as safe as possible, no exceptions to the vaccination policy will be allowed. All tournament volunteers, staff, sponsors, media, and vendors will be fully vaccinated in accordance with this policy."
DID MIAMI OPEN INVITE NOVAK DJOKOVIC?
In January, Miami Open Director James Blake invited Djokovic to play in the tournament.
Blake hoped that the 20-time Grand Slam champion would add the ATP Masters 1000 event in Miami to his schedule, running from March 21-28.
There are seven titles up for grabs for the Serbian should he return to the American event, with the previous one being in 2016.
The Miami Open director said that they would love to have Djokovic at the tournament after the Australia saga.
"We'd love to have him, he's one of the greatest champions we've ever had in the sport," Blake told the Miami Herald.
"I believe he will go down as the greatest champion. He still got quite a few more years of being at or near the top of the game. It's a matter of him figuring out how to navigate this time, the protocols, what's safe, what isn't safe?"
Blake has also poked fun at the events that transpired in Australia.
According to reports, Blake said that the matter had been "poorly managed on all fronts".
WHAT DOES NOVAK DJOKOVIC THINK ABOUT COVID-19 VACCINATION?
Speaking recently to BBC in a wide-ranging interview, Djokovic said that as far as immunization goes, he is not opposed to it. However, he won't hesitate to walk away from championships if he is forced to get the Covid-19 vaccination.
He remarked that all he has done is fight for freedom of what goes to his body.
"I was never against vaccination, but I've always supported the freedom to choose what you put in your body," says Djokovic.
He is resolute that he will not defend his Wimbledon and French Open titles this season if he is forced to get vaccinated.
The 20-time Grand Slam Champion explains that everyone must have a right to choose what they feel is appropriate for them.
"The principles of decision making on my body are more important than any title or anything else. I'm trying to be in tune with my body as much as I possibly can."
Despite being deported from Melbourne before the Australian Open last month, Djokovic distanced himself from the anti-vaccination movement.
However, he said he is open-minded about vaccination in the future because he understands the world is looking for a solution to end the pandemic.
"I was never against vaccination. I understand that globally, everyone is trying to put a big effort into handling this virus and seeing, hopefully, an end soon to this virus.