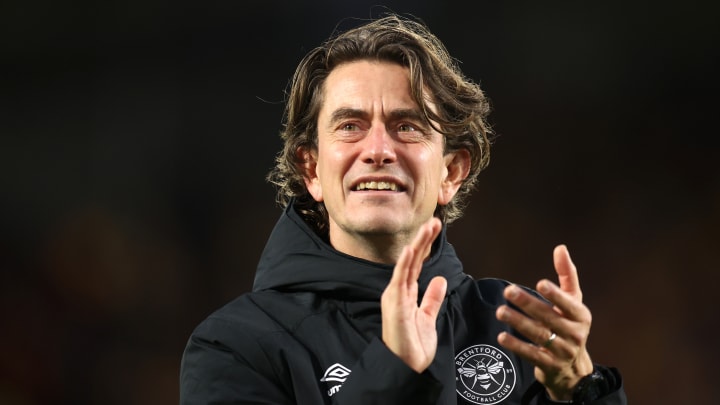 Brentford Football Club has announced that Thomas Frank has signed a new contract that will run until 2025 as the head coach of the Premier League outfit.
The Denmark native had 18 months remaining on his previous contract in west London and the Bees have been keen for Frank to pen fresh terms as he is considered a club hero.
Last week, there were vast reports of Brentford's intentions to get their head coach to sign on, and the club confirmed on Monday morning that Frank and assistant coach Brian Riemer will remain in the capital until 2025 after penning down the new deal.
Brentford director of football Phil Giles said in a statement seen by SportsLeo: "On behalf of everyone at Brentford, I'd like to congratulate Thomas and Brian on their new contracts. First and foremost, they are fantastic people to work with and I'm sure everyone at the Club will be pleased that they have committed to staying with us until 2025.
"They have been integral to the success that we've shared over recent seasons, culminating in achieving our shared target of playing in the Premier League. We want to continue to take Brentford forward, to compete with clubs far bigger than us, and to see how far we can progress. I am sure that we can build on the success that Thomas and Brian have helped deliver along with all of the other staff and players and look forward to what I hope will be a successful conclusion to the season and beyond."
Elsewhere at Brentford, it has now been confirmed that former Tottenham Hotspur and Inter Milan midfielder Christian Eriksen will undergo a lengthy medical this week ahead of a sensational move to the club.
Eriksen, also a Denmark international like Thomas Frank has not been on a football pitch this season after suffering a heart attack in the Euro 2020 played in the summer of 2021. The midfielder collapsed while playing for his country in a match against Finland and was later confirmed to be a heart attack.
After recovery, Eriksen has not been allowed to play in Italy and that is why he has decided to seek a new place in order to play football as the midfielder is determined to get back on to the football pitch once again.