Football
Sadio Mane, Edouard Mendy share flight to Cameroon for AFCON 2022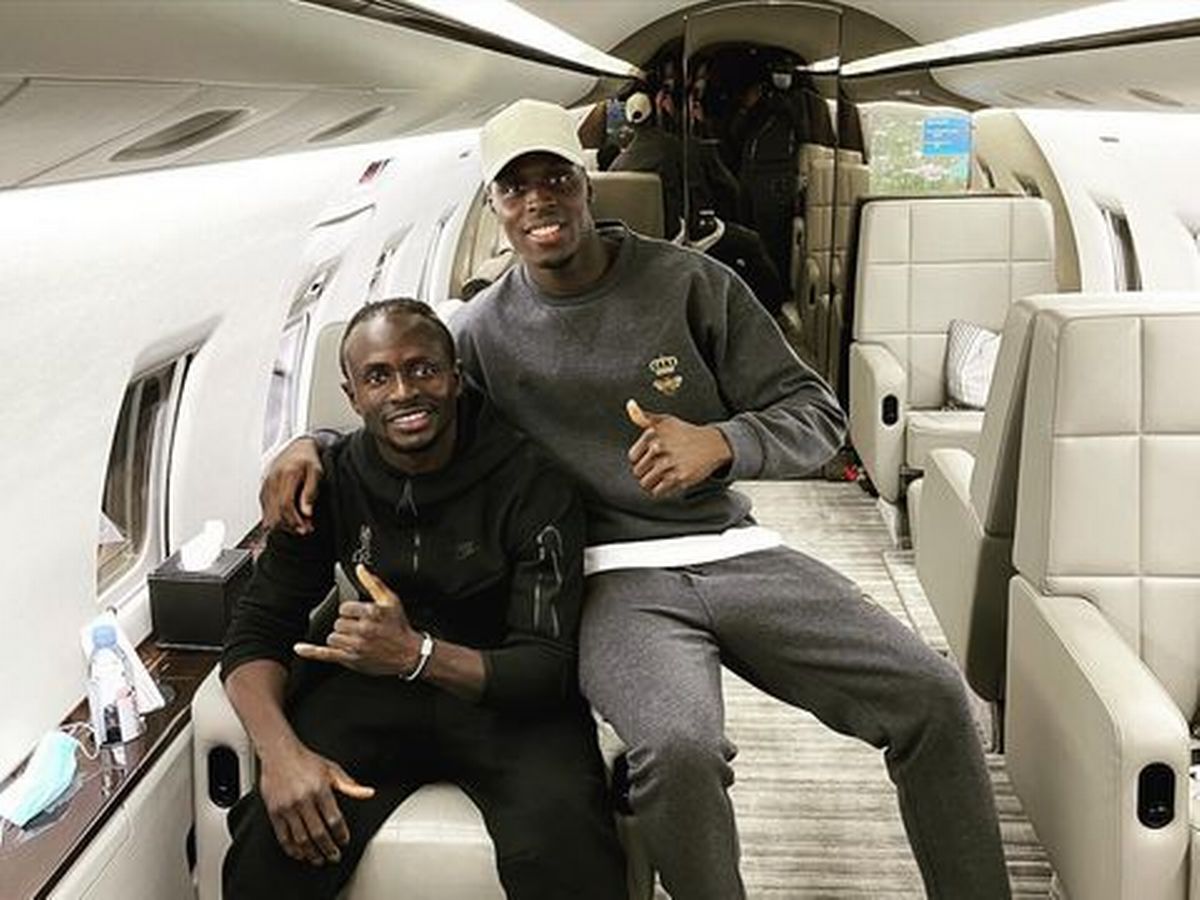 Sadio Mane and Edouard Mendy travelled together as preparations for the Africa Cup of Nations (AFCON) 2022 in Cameroon start.
This was hours after the Chelsea goalkeeper asked for the Liverpool forward to be sent off in a Premier League match against Chelsea on Sunday.
An early red card by referee Anthony Taylor changed the course of the game, but Mendy helped his team come back from 2-0 down to secure a point at Stamford Bridge.
Barely 15 seconds into the game, Mane collided with Cesar Azpilicueta, earning him the Premier League's fastest yellow card and left Thomas Tuchel and Chelsea fans fuming that there wasn't more.
Although Mendy was forthright in his assessment following the match, it is possible that he would have shrugged off the issue if wanted a less difficult private trip ahead of the Cameroon-hosted event.
Speaking to RMC post-match, Mendy described Mane as a compatriot and a brother. However, he insisted that the Liverpool forward should not have played the Sunday match a minute longer
Following that, Mendy published photos of Mane and himself on their shared private plane with his 1.5million Instagram followers in advance of Senegal's Group B matches against Zimbabwe, Guinea, and Malawi.
Senegal, who have been coached by Aliou Cisse since 2015, reached the final of the 2019 event after advancing through the knockout stages with victories over Uganda, Benin, and Tunisia – before falling to Algeria in the final 1-0.
Tuchel lamented Taylor's decision not to show a red card for Mane following a goal by him and another by Salah.
The Chelsea manager said the Blues were given a red card in the first game.
Chelsea and Liverpool played a thrilling 2-2 draw at Stamford Bridge that saw Manchester City emerge as the biggest winners.
Both teams showed immense quality at times, especially in scoring their goals. Nonetheless, it was a match punctuated by numerous weaknesses that simply do not exist at City who are holding torch on top of the chart.
Both teams were missing key players through suspension, injury and/or COVID-19. Others were just dropped for talking too much in the case of Chelsea frontman Romelu Lukaku.
Chelsea has played 13 league games with Lukaku this season and eight without.
Still, on matters AFCON 2022 in Cameroon, a slew of Premier League players will be representing their countries in the month-long competition starting January 8.
The likes Mohamed Salah, and Naby Keita are all present. They will take a vacation from the gruelling Premier League and Champions League battles.
While some Premier League managers, such as Jurgen Klopp, have expressed their displeasure at the loss of some of their best players, others will use the tournament as an opportunity to shape their future transfer strategies.
It is likely that a number of top players may emerge from the tournament with attention from other clubs if they manage to make an impression on the international scene.
And Group B is highly awaited by football fans. The group comprises 2019 losing finalists Senegal, Guinea, Zimbabwe and Malawi. They will play their matches at the Kouekong Stadium which is located in Kouekong, a suburb of Bafoussam, Cameroon.