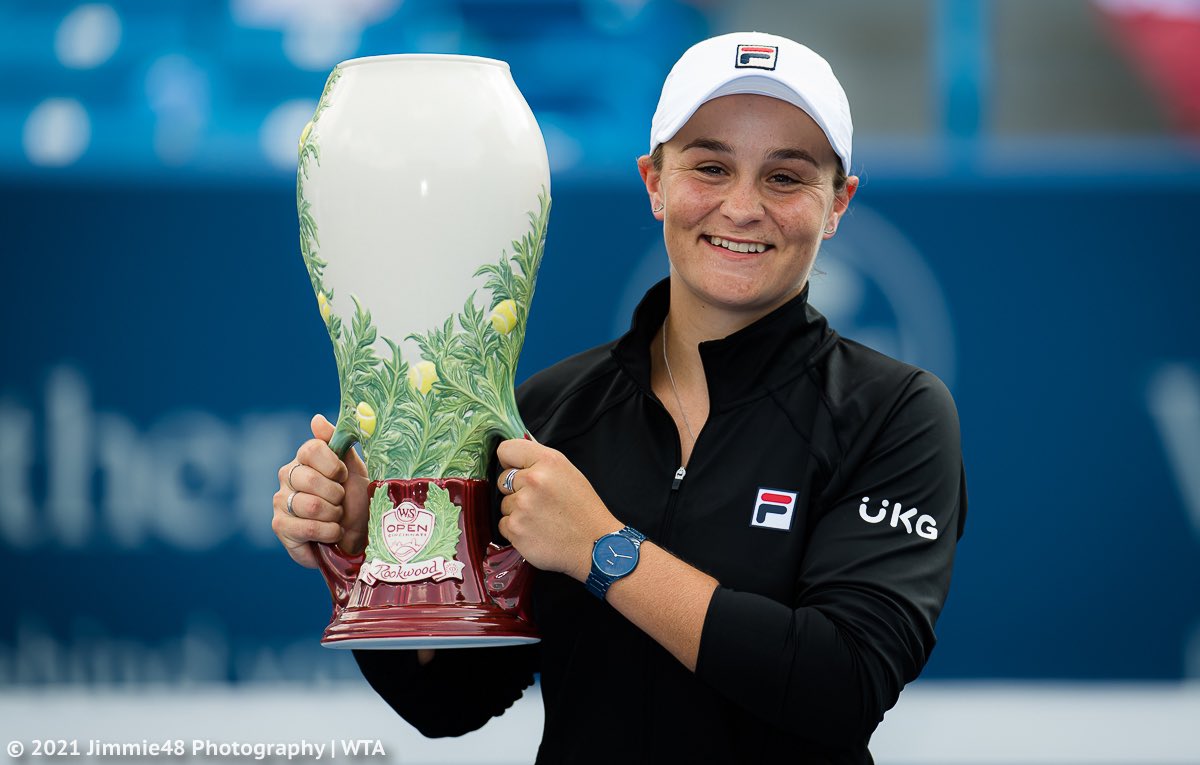 There is no way anyone could guess that Ashleigh Barty recently marked her 100th week as the world No.1 model featured by Vogue Australia.
Despite her success, the Australian is humble and kind in her thanks to her team in her latest Vogue Australia article.
Barty couldn't have imagined what the next 18 months of her career would have looked like back in early 2020 before COVID-19 transformed the world. For each day, she seized the opportunity to live it to the fullest and struck every ball as though it were her last.
She adapted fast and let go of what she could not control. After this, Barty realized that she was enjoying the new norm that came with the pandemic.
And accepting everything for what it was and trying to find a way to enjoy the hard challenges, knowing there were going to be some really fundamental lessons to be learned," she told Vogue.
Last season, the Ipswich native's willingness to take on new tasks was evident. She won five WTA titles, one of which was a memorable run at Wimbledon.
After winning the grass-court major, she let go, breaking her rule of never showing emotion on the court other than a nice grin. Evonne Goolagong Cawley, the first woman to win Wimbledon 50 years ago, had tears in her eyes as she hoisted the Venus Rosewater Dish trophy in a custom-made attire.
Even though her voice was shaking she said that she hoped she made Evonne proud.
Barty discusses the significance of that day in her interview with Vogue, as well as the incredible group of people who surround her on a daily basis.
For sure, there were setbacks along the way, including "moments where I felt it was going to come crashing down," she admitted.
"But I'm fortunate to have a group of people that care about me as a person first and foremost, rather than just a tennis player."
Nevertheless, Barty is back to her winning ways and undefeated this far as she gets back into the swing of things on home soil.
In front of her local crowd, the world No.1 won the WTA 500 tournament in Adelaide, easily defeating Lesia Tsurenko 6-0, 6-1 to open her Australian Open campaign.
After that, she beat Lucia Bronzetti in straight sets, 6-1, 6-1, and advanced to the third round of the Australian Open. She's eager to put on a display for her Australian fans and inspire the next generation after playing much of the 2021 season behind closed doors.
Barty says her world is lit up by seeing the possibility to reach out to young kids during the summer months in Australia. Trying to help young people around the country figure out what they want is something she truly believes in.
"The summer months in Australia are just incredible for me personally and also in that it lights up my world seeing the opportunity [to inspire] young kids. I genuinely think that's what I was put on this planet to do, to try and share my stories and help the young all through the nation in discovering what they want… I can't wait to get out there."