Uganda Cranes defeat Taifa Stars in a friendly Match | Cranes VS Taifa.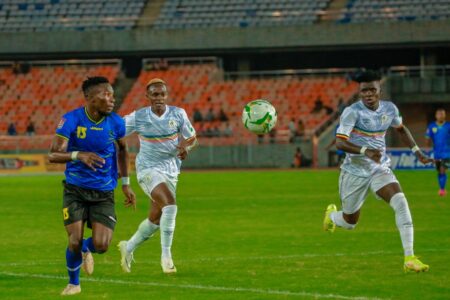 A completely new look Uganda Cranes side edged Tanzania Taifa Stars 2-0 during an international friendly match at the National Stadium in Dar es Salaam on Thursday night.
After a goalless opening 45 minutes, the game was lit up by two second-half goals from debutants Ivan Asaba, of Vipers, and Arua Hill defender Joseph Bright Vuni.
Both scorers were second-half substitutes with Asaba opening the score in the 72nd minute before the second from Vuni just before the final whistle.
Uganda Cranes head coach Milutin Sredojevic assembled a youthful side that was captained by Patrick Henry Kaddu.
Kaddu blended the side with experience having been part of the national team set up for some time now, he scored the first goal for Uganda against DR Congo in the 2019 AFCON group game.
The Uganda Cranes team that started against Tanzania
In the starting team, Express goalkeeper Joel Mutakabuwa commanded the starting slot in between the posts with UPDF's James Begisa on the right flank.
KCCA youngster Ibrahim Juma was deployed at left-back with the towering URA duo of Farouk Katongole and Feisal Najibu playing center half.
BUL captain George Kasonko, John Byamukama, Steven Munguchi, and Frank Mulimi were all in a crowded midfield with former U-15 and U-17 CECAFA MVP Travis Mutyaba as well as Kaddu on the forefront.
It was one of the matches lined up Tanzania 60 years of Independence. In the other match, the Uganda U-20 women team beat their Tanzania counterparts 1-0, with the goal scored by Hadijah Nandago in the 18th minute.
Team Line Ups:
Tanzania: Metacha Mnata (G.K), Oscar Masai, Nickson Kibabage, Abdulmajid Issa, Abdulrazak Mohammed, Sospeter Bajana, Kelvin Nashon, Abdul Selemani, Meshack Abraham, Vitalis Mayanga, Reliants Lusajo
Subs: Mussa Mbisa, Haroun Mandanda, Kelvin Kajiri, Tariq Simba, Hance Masoud, Nathan Chilambo, Rashid Juma
Head coach: Kim Poulsen
Uganda Cranes XI: Joel Mutakubwa (G.K), James Begisa, Ibrahim Juma, Farouk Katongole, Najibu Feisal, George Kasonko, John Byamukama, Steven Munguchi, Frank Mulimi, Travis Mutyaba, Patrick Henry Kaddu (Captain)
Subs: Jack Komakech (G.K), Joseph Bright Vuni, Joseph Akandwanaho, Frank Ssenyondo, Ivan Asaba, Alfred Leku, Samuel Ssenyonjo
Head coach: Milutin Sredejovic
International Build up Matches:
Tanzania U-20 Women 0-1 Uganda U-20 Women
Tanzania Taifa Stars 0-2 Uganda Cranes
Two Uganda national football teams won over their Tanzanian counterparts on the day Tanzania celebrated their national day at the Benjamin Mpaka National Stadium, Dar es salaam.
The Uganda U-20 women team edged the Tanzania Women team 1-0 with Hadijah Nandago scoring the match-winner in the 18th minute.
This was the first of the doubleheader on the day.
Uganda U-20 women team beat Tanzania U-20 team 1-0
In the second game, Uganda Cranes defeated Tanzania Taifa Stars 2-0. The goals came from Ivan Asaba and Joseph Bright Vuni, both second-half substitutes.
Asaba scored in the 72nd minute and Vuni, a defender at Arua Hill netted the second goal in the 90th minute.
These two games were part of the celebrations as Tanzania celebrated its 60th Independence Day.
The Uganda U-20 women team is preparing for the return leg of the FIFA Women U-20 World Cup qualifier against South Africa in Johannesburg.
They will head to South Africa with a slight advantage but what matters now is keeping the team in shape.
Head coach Ayub Khalifan Kiyingi knows that their opponents are not an ordinary ride and must trade cautiously in earnest preparation ahead of the South African encounter.
For the Uganda Cranes, head coach Milutin Sredoejvic used the build-up to widen the pool of players in the national team docket as he assembles the teams for future engagements as CHAN 2022 qualifiers. 
Should a couple of the players impress in the friendlies, perhaps it would open doors for some of them to earn other national caps soon.