Athletics
Peres Jepchirchir, Albert Korir sweep New York Marathon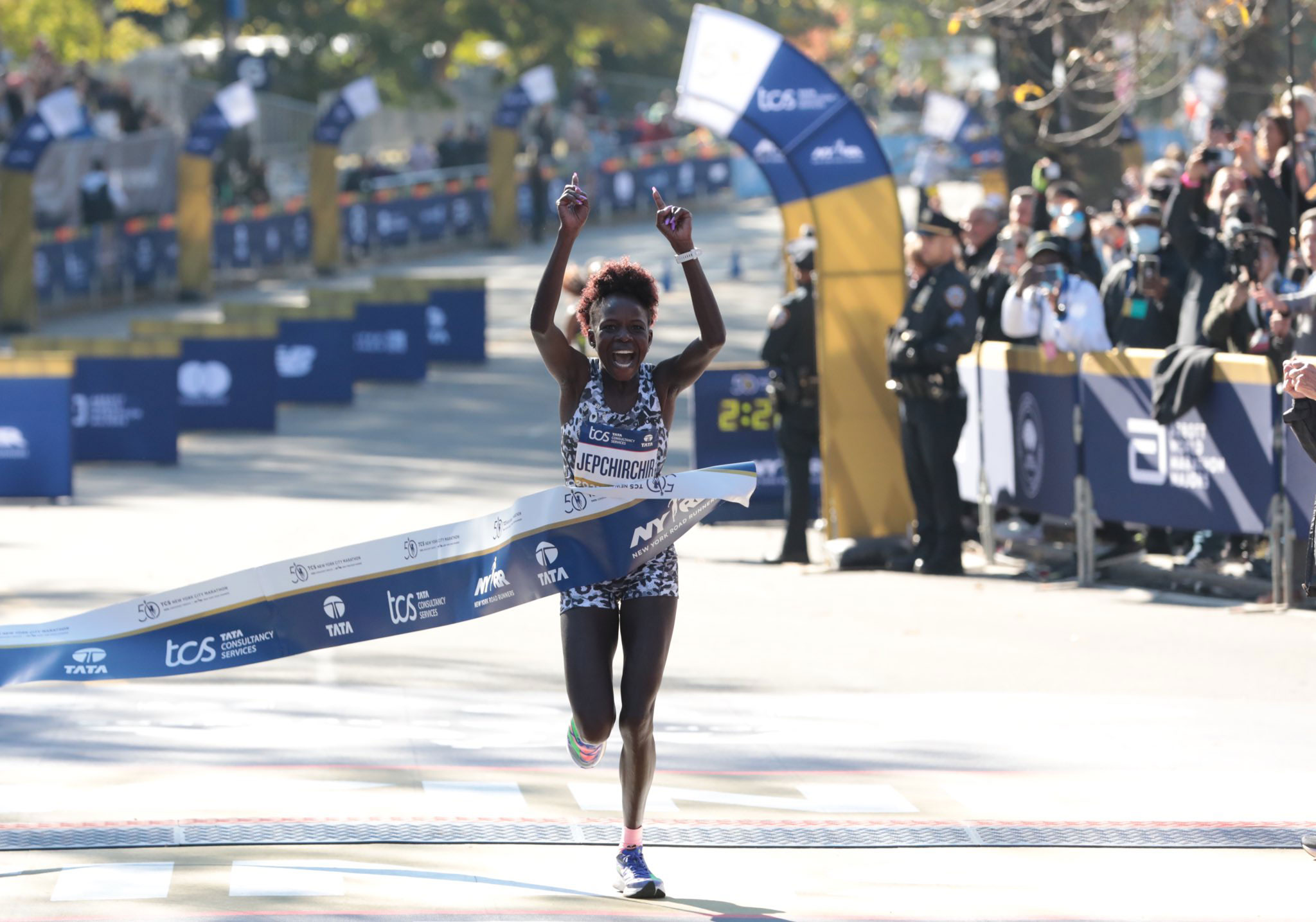 Olympic champion Peres Jepchirchir and Albert Korir completed a Kenyan sweep as they won both the men's and women's races at the New York City Marathon on Sunday.
On her debut, Jepchirchir led a Kenyan one-two finish of the women's race after cutting the tape in 2hrs, 22mins, 39seconds with Viola Lagat coming second in 2hrs, 22mins, 44secs on her marathon debut.
In the men's race, Albert Korir, second in the 2019 race went one better, winning the race in a time of 2hrs, 08mins, 22secs as pre-race favorite Kenenisa Bekele finished out of the top five.
"I didn't imagine that I would win today but it wasn't just a result of today, it began three months before, when I knew that I would be part of the New York City Marathon," said Korir, a former winner of the Vienna, Houston and Ottawa marathons.
"I was not expecting to win today. It is unbelievable and I thank God to have finished the season well. I wasn't expecting but I prepared well though the time was short. I tried my best to complete my preparations and I am so grateful and happy to be standing as a winner," Jepchirchir said after the race.
This was Jepchirchir's third marathon victory in 12 months, having started off with a win at teh Valencia Marathon before going on to dominate and win at the Olympic Games.
Meanwhile, Lagat was making her first marathon race since switching from 1500m and she did ensure it was memorable with a second place finish, one that was celebrated by her elder brother, former world and Olympic track king Bernard Lagat who is now an American citizen.
Lagat who won two world titles in his decorated career was in the commentary booth watching her sister do magic.
Viola dedicated her victory to her departed friend Agnes Tirop. All Adidas athletes had their singlets bear a ribbon with a dedication to Tirop who was murdered last month.
After the race, Lagat posted; "Agnes, I did it for you my angel. You watched over me today and gave me strength when it got tough. I will make sure your legacy lives forever."
In the final 10km of the race it was clear that it was a battle between the two Kenyans and Ethiopia's Ababel Yeshaneh. The three stuck side by side with Peres and Viola constantly exchanging glances and a few words as they strut down the streets of New York.
In the final kilometre though, the Olympic champion decided it was finally time to make her move.
She surged the pace forward and for a moment, Yeshaneh looked to be chasing her down. However, she couldn't hold the pace for long especially in the final uphill sector with Viola following her up.
It had started off as a packed race with a group of nine athletes going through the 21km mark in a time of 1:12:43.
By 27km the pace had picked up and the race was between Jepchirchir, Cheptoo, Yeshaneh and the USA's Olympic bronze medallist Molly Seidel.
As they reached the Bronx, Jepchirchir and Yeshaneh began to break away, but Cheptoo – making her marathon debut – wasn't willing to be left behind.
They stuck together until the Olympic champion pushed the after burners.
Meanwhile in the men's race, Korir, compatriot Kibiwott Kandie, making his debut in the Marathon and USA's Elkanah Kibet formed part of the leading group, which also included Ethiopian running great Kenenisa Bekele and Olympic silver medalist Abdi Negeeye of Netherlands.
They all went through the 30km mark in 1:30:50 before Korir began to move away.
Leaving his rivals behind, the gap increased to 27 seconds over the next 10km and Korir celebrated as he reached the finish line in 2:08:22 for a dominant victory.
Moroccan Mohamed El Aaraby – who had placed 11th at the Olympics – held on for second place, clocking 2:09:06, while Eyob Faniel, 20th in Sapporo, finished third in 2:09:52.
Kibet clocked a PB of 2:11:15 for fourth, as Kandie faded to finish ninth. Nageeye was fifth in 2:11:39 and Bekele, back racing just six weeks after his third place finish in Berlin, was sixth in 2:12:52.