CCTV footage Shows Tirop's Husband at The Crime Scene As Court Orders for mental test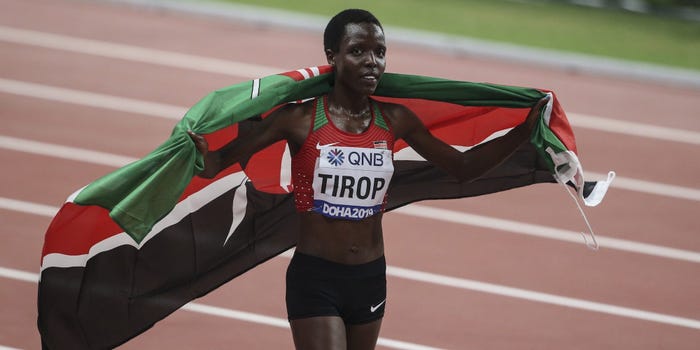 Barely three weeks after the burial of Iten-based athlete Agnes Tirop a Closed Circuit Television (CCTV) footage now shows her husband Ibrahim Rotich at the crime scene in her Iten home, the exact day she was brutally killed.
This is according to Keiyo North sub-county DCIO Andolo Munga in a statement on Tuesday, who also added that the footage also revealed  Tirop was killed on 12th October 2021 afternoon.
"The CCTV footage is self-explanatory and positive after forensic analysis. It has all the evidence of the scene and the actual act. We believe we have an airtight case and we are good to go with the prosecution," said the detective.
Mr. Munga also added that it's now evident what happened and how it was conducted.
"The CCTV footage has become very crucial in this matter and it has shown us exactly what happened and how it was conducted. The investigation is on the reverse and forward aspects."
Earlier on Mr. Munga disclosed that Rotich left the note at their home before fleeing in a bid to escape to a neighboring Country.
Though the DCIO could not reveal details of the note, he hinted that it corroborated multiple claims by the athlete's kin, that Tirop was a victim of domestic violence.
The note hinted that Mr. Rotich owned up to killing Ms. Tirop, saying their relationship was full of fights, and he had decided to end the life of the athlete and is now subjected to forensic analysis.
"The confession note is also being subjected to forensic analysis. The public will know in due course because all the evidence we will be adduced in court," he stated.
The other two suspects that were arrested with Mr. Rotich have been released and they will now help in the investigation process as witnesses.
"We have released the two other suspects whom we had arrested with Mr. Rotich and they are now state witnesses. They are valuable to in the case when they are witnesses unlike if they are charged." Mr. Munga Said.
"The murder weapons are blood-stained and they are being subjected to more analysis. We need a water-tight case that is why nothing is being left to chance," said the detective.
Mr. Munga said according to their investigation, it was clear the suspect had intentions to kill his estranged lover and toxicological analysis might also give them a clue into the murder.
The Eldoret High court on Thursday ordered a mental assessment test on Mr. Rotich the prime suspect in the murder of the athlete and his wife, Agnes Jebet Tirop before standing trial.
The police were ordered by Deputy Registrar Diana Milimoto to take Mr. Rotich to the Moi Teaching and Referral Hospital (MTRH) on Monday to undergo a mental assessment to ascertain whether he is fit to stand trial.
Court order was issued following an application by prosecution counsel led by David Fedha, Principal Prosecution Counsel acting for the Office of Director of Public Prosecutions (ODPP).
"Following the application by the prosecution, I am directing the accused person be escorted for mental assessment at MTRH on Monday," ordered Ms. Milimo.
Tirop was found dead in her home in Iten, Elgeyo Marakwet County on 13 October 2021; she had multiple stab wounds in her neck and abdomen. Authorities believe a domestic altercation occurred and Tirop was stabbed, as they also found her car windows had been shattered. A search began for Tirop's husband, Emmanuel Rotich when he went missing after calling his family crying and asking for God's forgiveness for something he had done. He then was involved in a lengthy high-speed chase, trying to flee the country, when he ultimately rammed his getaway vehicle into a lorry near Mombasa. He was subsequently arrested and questioned about Tirop's death.
Around 1,000 people, and she was buried in her hometown.