Michael Vick's dog scandal was NFL's biggest scandal ever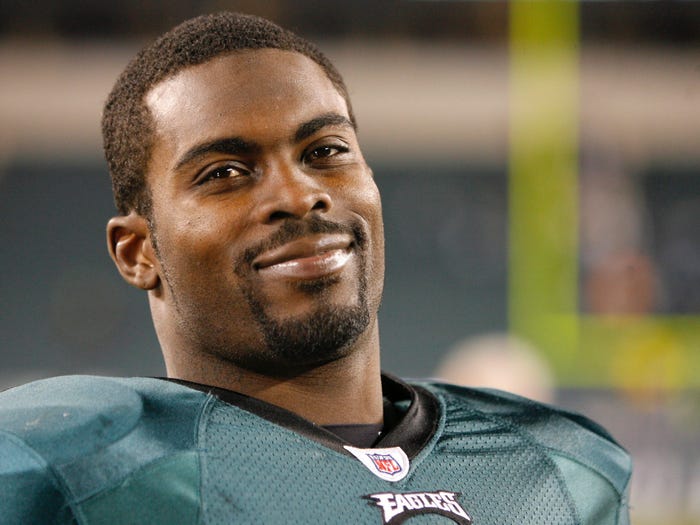 Michael Vick's dog scandal surpassed the big messes athletes make to stand out as the most horrible act he committed. He was at the time a quarterback for Atlanta Falcons.  His inhuman interest in dog-fighting and monstrous execution as a punishment tainted his image despite being a high-flying NFL player.
Michael Vick NFL Career
Just before the dog scandal kicked in, he made a name for himself at Virginia Tech College. It is his impressive attacks as a quarterback that the Atlanta Falcons spotted his talent and offered him a place in NFL.
In 2001, he joined Atlanta Falcons as a draft but proved his mettle to the team in 2002. Vic started 15 games and left passes for 2,936 yards and 16 touchdowns. He further had 777 rushing yards and eight touchdowns on the ground.
This was the year he made his first Pro Bowl as the Falcons finished with a 9-6-1 record and earned a trip to the playoffs. Impressed by his performance, the Falcons kept him and played for four more seasons – including two Pro Bowl appearances.
Vick played 13 NFL seasons, a time when he also held illegal dog-fighting exhibitions.
Michael Vick Dog-fighting Scandal
Have you ever heard that fate is unforgiving and it hits when you least expect it? If you haven't, Vick's dog scandal revelation came at a time when he was scheduled to address the Congress. This was in 2007. He was to speak to the U.S Congress on increasing funding for after-school programs.
But, the day of reckoning never gives you a chance to atone. It hits harder than an earthquake especially for an athlete celebrity like Vick.  And when the rumor first broke of his engagement in bruising dog-fighting, his chance to address the Congress went up in smoke.
Vick went into hiding immediately reports of the dog scandal surfaced. He made headlines from one newspaper to another; from one media outlet to another.
It was reported that at least 50 dogs were involved in the fighting held in a ring and huge bets were placed on them. In fact, Vick's dogs were part of the dog-fighting ring and he reportedly punished them brutally for losing a fight.
And an excerpt from a 19-page indictment, he always paid bets when he lost. However, he was also the chief executor of dogs that performed dismally.
In June 2007, Vick, together with three other accused people pleaded not guilty to these charges. He later pleaded guilty in August and was sentenced in December to 23 months in prison.
NFL had already suspended him and he served his full term until July 2009 when he came out a reformed person. He was now an animal activist.
Why Did Michael Vick Run Dog-fighting Ring?
The biggest question people asked was why did Vick turn to an illegal venture yet he was successful? In his conversation with Falcons owner Arthur Blank, the quarterback said he did it all for thrill and never thought he would get caught.
But, his confession and apology to Falcons boss and his coach Bobby Petrino came after denial and lying. Flank recalls that when reports of Vick's involvement in the dog scandal emerged, he asked him but he lied.
Vick told Flank that he was not involved in the scandal. The NFL team owner went for his holiday but came back to get more details about the incident. It is then he realized Vick lied to him.
"I felt deeply disappointed and betrayed — both personally and for the franchise — when Michael's shadow life came to light," Blank states.
The disgraced player would later admit that he lied because he was ashamed of what he was involved in.
What Happened To The Dogs?
A total of 47 dogs were rescued after Vick's arrest. They were split into eight organizations and were taken to foster homes for a full recovery. The dogs needed adjustment to their new surroundings after being in the ring for years fighting.
However, 22 dogs from the 47 that were rescued were sent to a sanctuary in Utah because of their 'difficult cases'. They made a full recovery and were later adopted. Sadly, the adopted dogs died a few years later. There were only 11 surviving dogs in 2019.
Did Michael Vick Get A Second Chance In NFL?
After serving his 23-month sentence in federal prison, Philadelphia Eagles gave Vick a second chance. He was playing for the team as he continued with his animal advocacy campaign.