How Alexander Zverev won Nitto ATP Finals title against Medvedev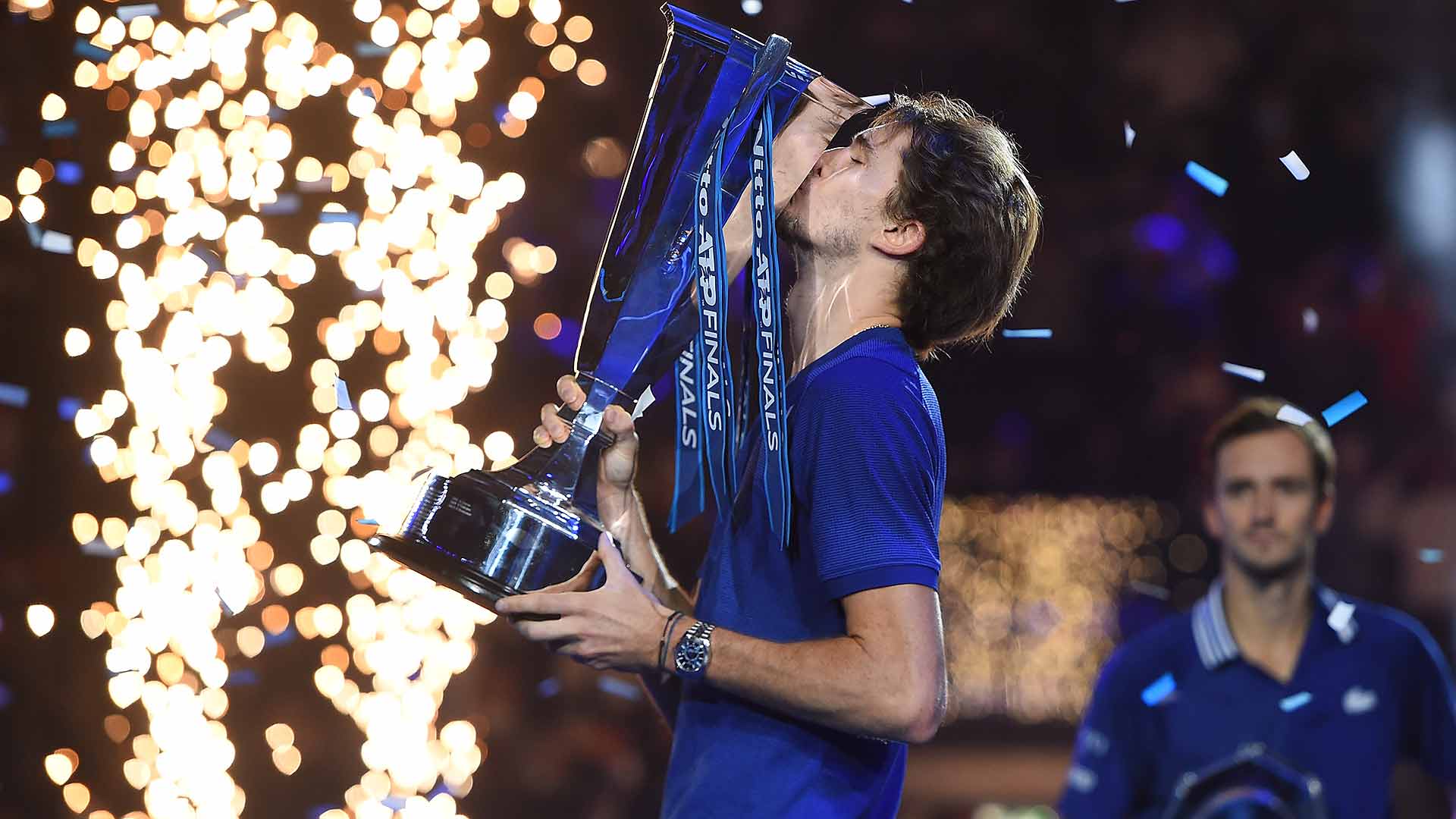 Alexander Zverev is the man of the moment after reigning supreme in Turin, Italy after winning the Nitto ATP Finals title. He beat Daniil Medvedev to fly back home a champion.
Zverev beat Medvedev in the ATP Finals 6-4, 6-4 ending his 2021 season in style. The win brings to a total of 59 tour-level wins this season.
World No.3 established his dominance against the 25-year-old Russian immediately after the match started. Medvedev put up a fierce game against a strong competitor on the other side.
How Did Zverev Beat Medvedev?
After 75 minutes with two rounds of world-class tennis, Medvedev threw in the towel – it was a win for the German player. He made powerful starts with tactful and powerful groundstrokes that reduced his competitor's angles to return the ball.
He maintained this show throughout the first set thereby securing 89 per cent of his spots. All this raised pressure for Medvedev who did everything to match Zverev's performance.
Zverev Speaks Post Match
Speaking post-match he said that it is great winning against Medvedev who he previously lost to in five ATP Finals games.
"It was great," he noted. "I won the [Nitto ATP] Finals, in the final against someone I had lost five times in a row, so I had to play one of my best matches. I am happy about that and happy to go on holiday with this win."
Zverev, 24, played in a similar style as he did in London 2018 when he first won the ATP Finals title. He beat the indomitable Novac Djokovic to bag victory.
The third seed says it feels good ending the year on such a high adding it is thrilling.
"It is special, and I am super thrilled and happy right now. There is no better way to end the season than winning here. I am incredibly happy and I am already looking forward to next year."
Medvedev Concedes Defeat
Medvedev beat Zverev at the ATP Cup and Rolex Paris Masters in 2021 congratulated the latter for a great game. However, he said it was sad not winning as he expected.
"First, congrats to Alex Zverev. Too good today.  Sad not to win today but proud of my season.  Look forward to coming back to Flag of Italy next year again!" he tweeted.
Zverev Beating Novac Djokovic At ATP Finals
The ATP Finals 2021 saw Djokovic sail through to the semi-final on Saturday but lost to Zverev. He walked off for a fifth time.
Djokovic recently revealed why he never won a fifth ATP Finals title since 2015. This is despite the fact that he won four consecutive titles between 2012 and 2014.
Why Djokovic Never Won ATP Finals Since 2015
Speaking to the press pre-match the Nitto ATP Finals in Italy recently, he disclosed that it all has to do with energy levels. He explained that he has never made it past the finals and semi-finals because he is usually drained.
"Since 2015, I did not win the title, played one finals, and a couple of semi-finals," he told the press. "It could be just the amount of energy that you spend during the season that you maybe don't have enough left in the tank for that final push."
Being the last tournament of the year, it stretches the body's spirit to handle the pressure coming with the tournament. Djokovic kicked off the ATP Finals with a first match win against Norwegian player Casper Ruud. He beat Rudd 7-4, 6-2 to sail through past the opening match.
He then battled it out with Russian player Andrey Rublev his 'Center Court' group on Wednesday. And this year's finals were star-studded with the best in the tennis world. Greek Stefanos Tsitsipas, Cameron Norrie, C Rudd, Andy Rublev among others played in Italy.
Djokovic Beat Both Zverev And Medvedev In Paris Masters Last Month
Though he lost in Italy, Djokovic recently lifted the Paris Master title after flooring Daniil Medvedev. Intriguingly, the Serbian trained with Medvedev ahead of the Paris Masters clash, taking many by surprise.
Since their debacle in New York last month, Djokovic has stayed off the court. He was a no-show in the Indian Wells tournament. He withdrew from the tournament.
The four-time Grand Slam winner showed a lot of respect for Medvedev who denied him a fifth Grand Slam title. Didier Deschamps, France's World Cup-winning head coach joined the duo after practice and posed for a photo with them.