World record? Yes it's possible – Ferdinand Omanyala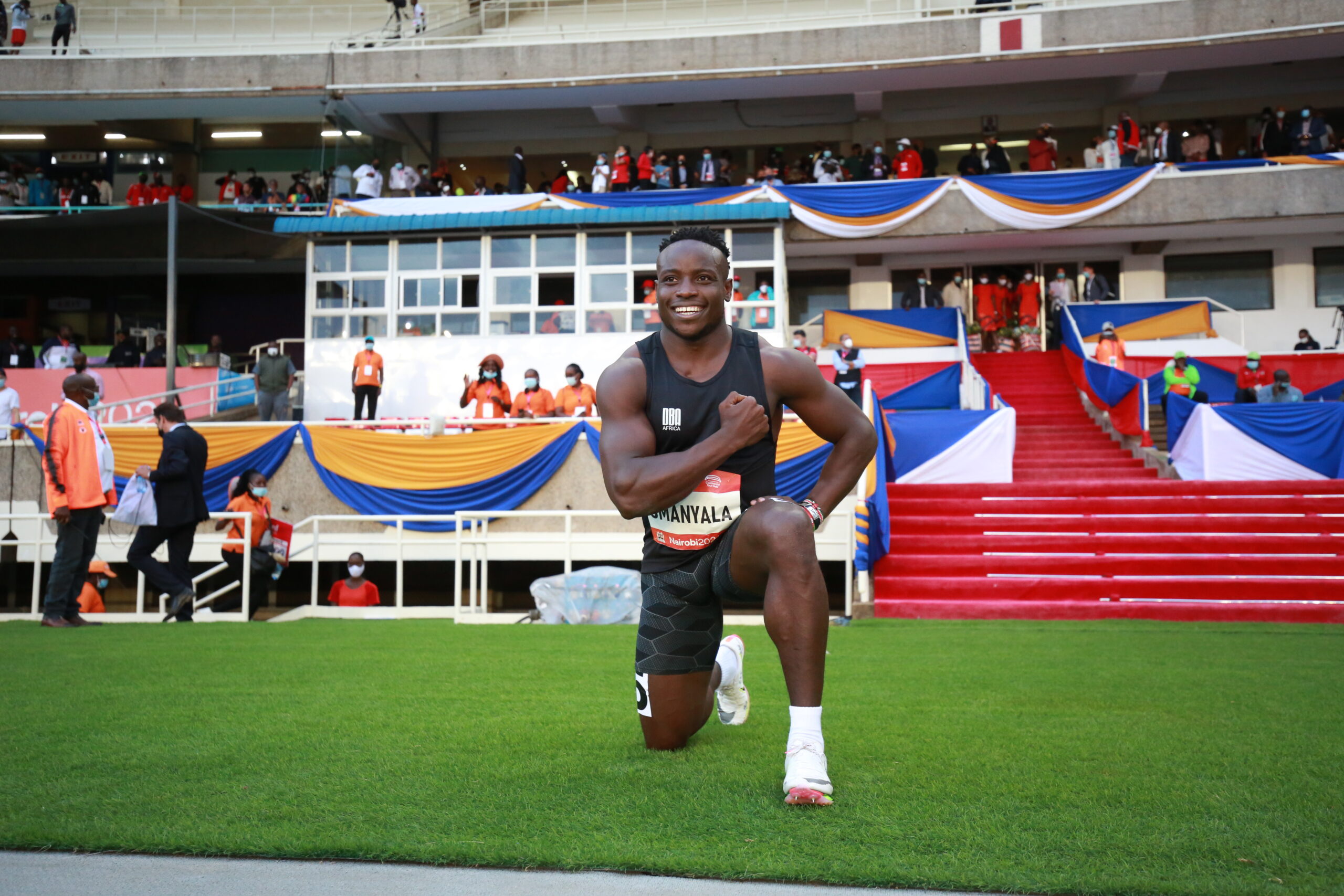 That he can shave off 0.20secs off his personal best to set a new World Record is a mammoth task does not bother African record holder Ferdinand Omanyala. Currently on holiday with his family in Mombasa, the Kenyan sprint sensation has set lofty targets for himself ahead of the new season.
Inspired by Eliud Kipchoge's rallying call that 'No human' is limited, Omanyala says he is well able to go for Usain Bolt's world fastest time over 100m set in 2009.
"Come close or lower it?" a confident Omanyala queried upon being asked whether he can come close to Bolt's time, with the Jamaican regarded as the greatest sprinter of all time.
"I believe that there is no limitation to greatness. I am inspired by Eliud Kipchoge and his Ineos run and I believe that if I put in the work, I can go even lower than my current Personal Best. I believe in breaking barriers and if I can push myself to achieve this, then why not go for it," posed Omanyala.
The 26-year old University Student ran the fastest ever time on Kenyan and African soil when he finished second at the Kip Keino Classic last month to clock 9.77secs, the second fastest time in the world this year and the eighth fastest of all time.
The race was a culmination of what has been a surprise year for Omanyala who started off by qualifying for the Tokyo Olympic Games with a new Personal Best time of 10.02secs which also ranked as the new national record.
In Tokyo, he equalled his own record and set a new one by running 10.01secs in the semi-finals but could not make a historic place in the last eight for the final.
He continued in his imperious form by becoming the first ever Kenyan to run below 10seconds when he clocked a new national record of 9.86secs at the International Josko Running Meeting in Andorf, Austria in August.
His run at the Kasarani Stadium, a track he says he previously didn't like, placed him high up there among track celebrities. Even President Uhuru Kenyatta was at hand to celebrate his victory and invited him to the VIP dias for a handshake after clocking his mind blowing time.
"It was a great honor for me to be with the president and get the appreciation he accorded me. I was even told that he had come specifically to watch the race and I felt really honored," Omanyala says.
Reflecting back on his season, the sprinter is in awe at how things have unfolded.
"I could say it has been a surprise year because things have been happening one after the other. Most of these things were not in plan but all the same, I am thankful for everything. It has been a season of success that has taught me a lot and now it is a challenge to keep working and remaining on top," says the sprinter.
His new found success has come with immense fame and as the new season starts, so will the scrutiny begin. Now as he has set himself apart as one of the finest sprinters around, there will definitely be increased expectation on his shoulder heading into the new season.
But, will he crumble under pressure?
"I don't believe so," Omanyala says. He adds; "There is no pressure on me and I believe I can handle everything that comes my way. For me it's just to keep working on what I have been working on and racing even better. Whatever people say or think is up to them. As for me, I am doing my own thing."
Omanyala resumes training in November to prepare for the new season with the African and World Championships as well as the Commonwealth Games among the things waiting for him on his plate.
"I plan to run in all the three Major Championships and also various meets as well and my plan is to medal in all. I believe it is a huge challenge but I am for it and I will work hard to ensure that I am better. Most of the times when my season ends well, the new one always starts on a high,"
"Of course there are areas that I need to work on and improve and biggest of them all is my start. If I can improve my first 40m of the race then I believe I can gradually reduce my time," he added.
There is already a scramble for his signature having parted ways with managers DBA Africa as well as legal representatives Sno Legal, but for Omanyala, the side steps do not worry him at all and he believes he will be in great shape; body and mind, for the new season.