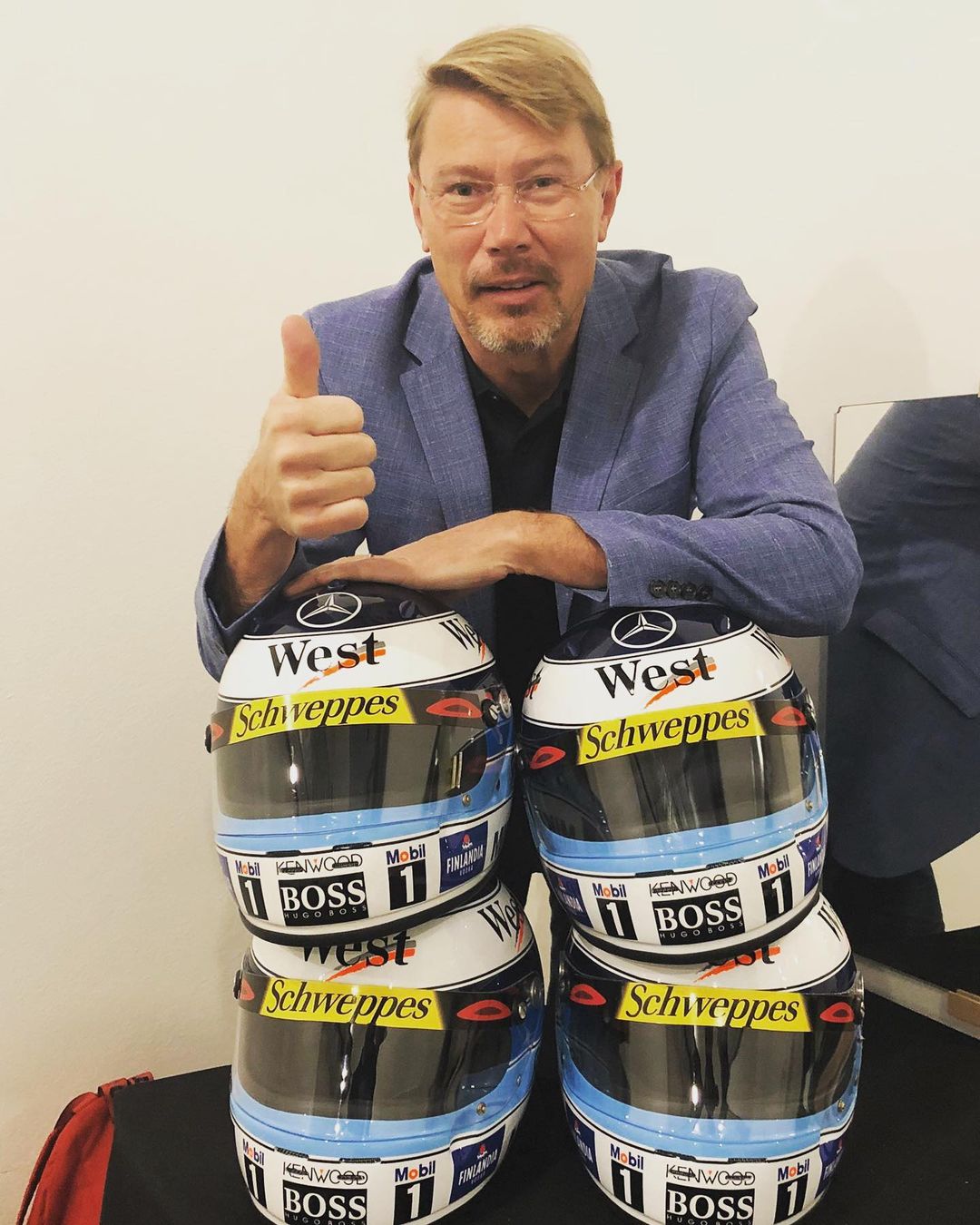 Mika Hakkinen a finish former race driver and a two-time F1 world champion has joined Valtteri Bottas for the 2022 race of champions.
Through an Instagram post, Hakkinen confirmed the news, posting a picture of himself with four of his instantly recognizable crash helmets and captioning: "Getting ready for Race of Champions together with Valtteri Bottas."
He will team up with Bottas for Team Finland in the Race of Champions Nations Cup before facing the host superstar names for individual bragging rights in February next year.
Bottas recently participated in the Turkish Grand Prix where he qualified 2nd behind teammate Hamilton but started on pole after Hamilton incurred a grid penalty. He comfortably led most of the race from Verstappen until his pitstop. After pitting for new inters he easily passed Leclerc's Ferrari and went on to achieve his first victory of the year, over 14 seconds ahead of 2nd placed Verstappen.
The event is making its comeback over the winter switching stadium venues to purpose-made ice tracks on the frozen Baltic Sea at Pite Havsbad.
Häkkinen announced his retirement from competitive motorsport in November 2007. Saying that the decision "was not an easy one", but added that "racing is still in my blood and this decision does not mean that this will prevent me from racing for pleasure".
In November 2008, it was announced that Häkkinen would start a new career in driver management and would work alongside Didier Coton in his firm Aces Associate Group. Häkkinen contested his fifth Arctic Rally event in January 2009 driving a Mitsubishi Lancer Evolution IX alongside co-driver Ilkka Kivimaki and finished 19th overall.
In August 2019, Häkkinen raced in the Suzuka 10 hours, the fourth round of the 2019 intercontinental GT challenge driving a McLaren 720s GT3 alongside two-time Super Formula champion Hiroki Ishura and Japanese Formula 3 racer Katsuaki Kubota, with Planex Smacam Racing.
The Race was last held at the Foro Sol in Mexico, becoming the third Race of Champions to be held in North America.
The Race is held at the end/start of each year, featuring some of the world's best racing and rally drivers. It is the only competition in the world where stars from Formula One, World Rally. Championship, IndyCar, NASCAR, Sportscars, and Touring Cars compete against each other, going head-to-head in identical cars.
The race was first organized in 1988 by former rally driver Michele Mouton and Fredrik Johnsson, IMP (International Media Productions) President. Originally the event was a competition between the world's best rally drivers but has since expanded to include top competitors from most of the world's premier motorsport disciplines, including motorcycle racing.
The top individual overall in The Race of Champions is given the title "Champion of Champions", and receives the Henri Toivonen Memorial trophy. The ROC Nations' Cup was added in 1999 and now features teams of two drivers who compete for their country.
Benito Iván Guerra Latapí won the 2019 Race defeating French driver Loic Duval winner of the 2013 24 Hours of Le Mans and the 2013 WEC, in the final. On his way to the final match against Duval, Guerra Jr. defeated drivers like Sebastian Vettel, Pierre Gasly, Daniel Suarez, Esteban Gutierrez, among others.