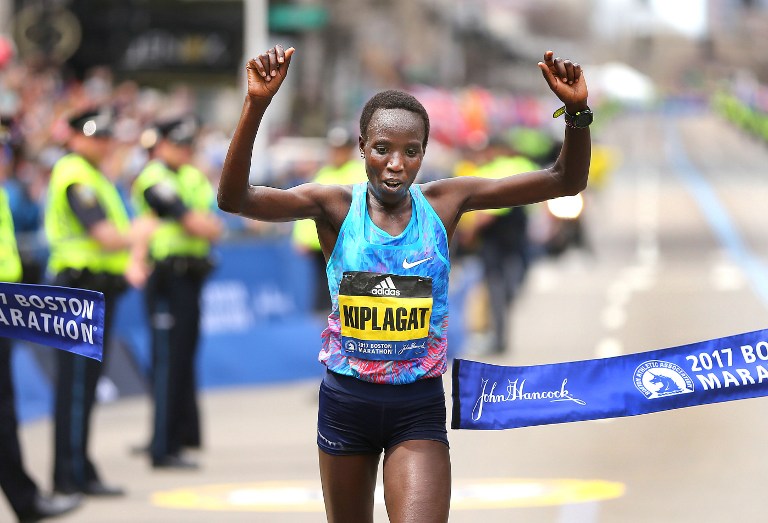 Boston Marathon is making it's comeback on Monday and Kenya's Edna Kiplagat and Ethiopia's Lelisa Desisa are among the former champions returning to race as the World Athletics Elite Platinum Label road race.
The marathon is happening 910 days after the cancellation and postponement due to the COVID-19 pandemic, this year's race being the 125th edition will be held outside its traditional Patriots' Day date which is always held on April.
Kiplagat made her victory in 2017 but two years later she finished runner-up to Worknesh Degefa and later the same year finished in the fourth position at the world athletic championship that was held in Doha marking her last marathon.
Joining Kiplagat and Desisa in returning to the race as a former champion are the USA's 2018 winner Desiree Linden, who drops back down in distance after breaking the world 50km best with 2:59:54 in Oregon in April, plus Kenya's 2015 winner Caroline Rotich and Ethiopia's 2016 champion Atsede Baysa.
This year's marathon will feature 13 women boasting sub-2:23 Personal best and 12 men with personal bests under 2:07 on the start lists. With Kiplagat,the two time world champion leading the list with her 2012 Personal best of 2:19:50 and Ethiopia's Asefa Mengstu, who ran 2:04:06 in Dubai in 2018.
Caroline Chepkoech the former world 5km record-holder who has a half-marathon Personal best of 1:05:07 from 2018, makes her marathon debut through this year's Boston Marathon.
World champion Desisa will be going for a hat-trick in the mens race in Boston after his wins in 2013 and 2015. He returns to the race for the seventh time, having also claimed two runner-up finishes, in 2016 and 2019.
Desisa in a statement said Boston Marathon has become his second home and he's making a comeback to chase his third victory on Monday.
"Boston has become my second home and I truly cherish my time when I am there," said Desisa, who ran his personal best of 2:04:45 in 2013 and raced at the Olympic Games in Tokyo in August but did not finish.
"I return to compete still chasing my third victory in the Boston Marathon. I look forward to putting on a good show for you on Marathon Monday!"
Mengstu, meanwhile, makes his Boston debut and will be looking to build on the third-place finish he claimed at the Chicago Marathon in 2019. He went on to place seventh in Tokyo in 2020 but did not finish his most recent marathon, in Milan in May.
Covid 19 Protocol.
As a way curbing the spread of covid-19 at the event the organizers have limited the field to 20,000 runners. Race entrants are required to provide proof of COVID vaccination or take an on-site COVID test that yields a negative result before the race Participants are then issued a bracelet that must be worn through completion of the race, as proof of compliance. Runners must comply with local face masks requirements, and while using race transportation, but masks are not required during the marathon.
Marathon Course
The marathon distance is officially 42.195 kilometres as sanctioned by World Athletics. The start is in the town of Hopkinton and the first 6 miles (9.7 km) are downhill through Ashland and into the city of Framingham. Leaving Framingham, the runners enter the town of Natick, before passing through the "Scream Tunnel" at mile 12. This area is lined by young women from the nearby Wellesley College who request kisses from runners, a tradition that has been in place for more than 100 years. At mile 15, there is a large downhill section, followed by a 0.75-mile (1.21 km) climb at mile 16 crossing the Yankee Division Highway. The runners take a right turn onto Commonwealth Avenue in Newton before starting the first of the four Newton Hills.
The first hill is a steep 1,200-yard (1,100 m) climb, the second about 0.25 miles (0.40 km), the third a steep 800 yards (730 m) before the runners start the infamous "Heartbreak Hill" at just after mile 20. At half a mile long and with a 3.3% percent incline, it is not especially difficult, but due to the hill being 20 miles (32 km) into the race, it is still feared as the runners' legs are usually tired at this point.The course is mostly downhill to the end, and passes through Boston College before entering Cleveland Circle and Kenmore Square, where there are many spectators.The final mile has a slight incline, before it flattens off to finish on Boylston Street.