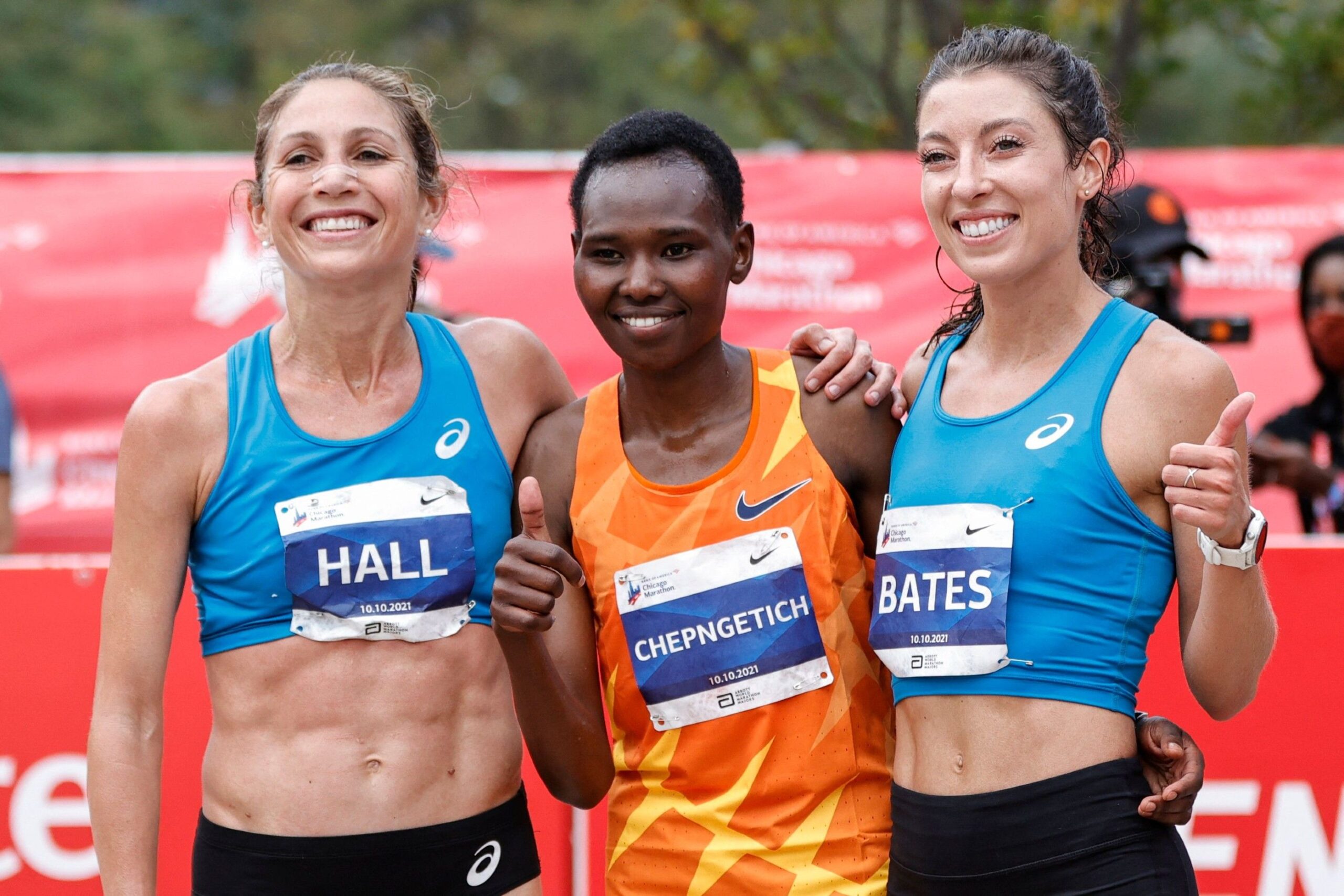 Ruth Chepngetich put the disappointment of the Tokyo Olympics behind her back, running an assured race to clinch the 2021`Chicago Marathon title on Sunday.
Chepngetich endured a difficult campaign at the Olympic Games where she raced despite having an injury, and ended up finishing outside the medal brackets.
However in Chicago, she commanded the race well to emerge victorious.
Setting off at a storming pace, the early stages of this year's race had Chepngetich on schedule to smash that with a sub-2:12 predicted finishing time as she followed her pacemaker through 5km in 15:37.
The 2019 world champion, who ran in the Tokyo Olympic marathon in August but was unable to finish, remained well ahead of world record pace as she passed 10km in 31:22 and 15km in 47:15, and by that point she was a minute ahead of Kiplagat, with Hall a further two and a half minutes back.
But with her pacemaker having stopped at around eight miles and with some gusty winds now against her, Chepngetich's pace began to drop. No longer on world record schedule, the 27-year-old – who ran a world half marathon record of 1:04:02 in Istanbul in April  – went through half way in 1:07:34, a minute and 16 seconds ahead of Kiplagat.
Although tiring, Chepngetich maintained that lead and had extended it to three minutes by 35km, running a 1:56:05 split, and by this point Bates had passed Hall to sit in third place.
As Kiplagat started to struggle, Bates' consistency paid off as the 2019 Chicago fourth place finisher moved into second and Hall into third. Although Bates was closing the gap,
Chepngetich's rapid start left her with more than enough to claim a clear win as she crossed the finish line with 2:22:31 on the clock, with Bates taking more than a minute off her PB to claim the runner-up spot and a tiring 2020 London Marathon runner-up Hall holding on clock 2:27:19 for third.
"The race was good but it was not easy because I pushed alone from 13km until the finish line," Chepngetich – who sits fourth on the women's marathon all-time list with the 2:17:08 PB she set when winning in Dubai in 2019 – told NBC. "But the weather was nice. I just believed in myself, I was confident and I just pushed myself. I told god to give me the strength to finish the race.
"I didn't look back. I just pushed forward and focused on the finish line. I was feeling strong but I could feel it in my legs."
Bates, who ran a negative split with 1:12:27 for her first half and 1:11:53 for her second, said: "I started out very conservative, I didn't want to go out too fast because of the heat and everything.
"Everybody was so far ahead that I wasn't sure if I was going catch anyone, so I was just running my own race and ended up reeling some people in and taking second today, so I'm thrilled."
Meanwhile, Ethiopia's Seifu Tura claimed the biggest win of his career, coming to victory in the men's race.
After 25km was passed in 1:14:42 and 30km in 1:30:06, the pace picked up again and Tura, Galen Rupp and Eric Kiptanui broke away to create an advantage of half a minute on fourth-placed Suzuki at 35km.
After looking like he wanted Rupp or Kiptanui to take a turn at the front, Tura – winner of the 2018 Milan and Shanghai marathons – decided to make a move and was nine seconds ahead of Rupp at 40km, which he passed in 1:59:44.
Untroubled in the closing stages, Tura had increased that margin to 23 seconds by the finish to build on his sixth place in Chicago in 2019, denying Rupp – who clocked 2:06:35 – a second Chicago Marathon victory after his win in 2017.
Kiptanui was third in 2:06:51, with Suzuki fourth in 2:08:50 and Tamru completing the top five in 2:09:39.
"When I came here in 2019 I hadn't really been preparing for this race, I was due to run another race but ended up racing here," Tura told NBC, speaking through an interpreter. "This time I prepared for more than three months and if it wasn't for the weather being warm, my goal had been to improve my personal best. I am very happy to have won in Chicago."
-Additional info courtesy of World Athletics