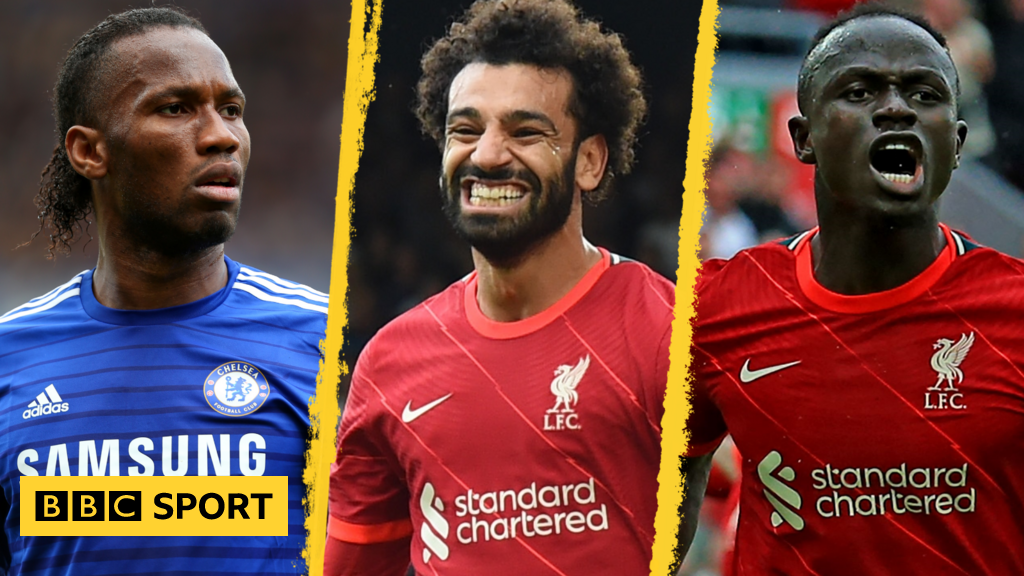 Recently the African continent continues to produce players who play at the biggest stage especially the English Premier League.
Although the League has been dominated mostly by players from other continents such as Europe and South America few Africans who snatch the chance to impress at that stage don't disappoint.
African players playing football in Europe have earned praises, for their impressive runs and brilliance as well as their physical capabilities.
It is good to note that for an African player to play in the English top-flight he has to be great and won the scout's hearts, these players are renowned back in their respective countries and the continent at a large and the world beyond.
African forwards in the Premier League have continued to impress scoring a lot of goals and here we take you a ride in ranking these footballers with the most goals in the Premier League.
1. Mohamed Salah – 104 goals
The Egyptian is arguably the current best player in Premier League this season. With 104 goals in 166 Premier League appearances Mohamed Salah has equaled Chelsea's legend Didier Drogba's tally and is yet to take it even further. Salah is currently in contract negotiations with Liverpool to renew his terms at Anfield.
Mohamed Salah has been instrumental to the Jurgen Klopp team since he switched from AS Roma to the English side, his prolific prowess, goal-scoring skills and sprinting have left many wondering why he fails to win the male most coveted prize Ballon d'Or.
He has 42 assists in the same number of appearances and sure you can't rule him out he is an active player and more is in offing.
Salah has won two premier leagues titles, One with former club Chelsea and another with Liverpool, the 29-year-old was also pivotal to their Champions League triumph title in 2019 when they beat their fellow Premier League club Tottenham spurs in Madrid.
2. Didier Drogba -104 goals
The Ivory Coast international was the first player to reach 100 goals and above. He is considered the most prolific African goalscorer to ever grace the Premier League.
He was certainly the most impressive player from the continent during his time with Chelsea in England.
In 254 game appearances, the Chelsea legend put behind the net 104 goals all for Chelsea and won 4 Premier League titles and UEFA Champions League trophy.
He also won the golden boot in the league twice and is a four-time African player of the year.
3. Sadio Mane – 100 goals
The Senegalese international first made his debut in Premier League competition when he was signed by Southampton back in 2014 from RB Salzburg.
While at the Saints, the Liverpool winger won a fanbase scoring 25 goals in 75 appearances for the club and since moving to Liverpool Sadio Mane has proved beyond doubt that he is one of the best players in the game.
This past weekend was so special to Sadio Mane who racked up his 100 Premier League goals in a total of 237 appearances. Sadio Mane just as Mohamed Salah played an important role in Liverpool's win of the Premier League title and UEFA Champions League too.
Still, an active player the 29-year-old will be looking to continue adding more goals in his basket as he still plays an important role in Liverpool's final third alongside Mohamed Salah and Roberto Firmino.
4. Emmanuel Adebayor – 97 goals
Emmanuel Adebayor was a prolific talisman who during his time he managed to play for several clubs in the English top-flight league.
He is one of Togo's best players. He helped his team qualify for the 2006 World Cup in Germany and got his first taste of the game when he was signed by Arsenal in the same year.
After that point, Adebayor went on to play for clubs like Manchester City, Tottenham Hotspur, and Crystal Palace scoring a total of 97 goals. The striker also played for Real Madrid in between his English experience, owing to his immense talent.
5. Riyad Mahrez – 67 goals
The winger is by far the greatest Algerian player to ever play in the Premier League.
He is the highest goalscorer from the country and the fifth highest goalscorer in the league from Africa. The winger first came to England by signing for Leicester City in 2014 and then proceeded to sign for Manchester City in 2018.
Mahrez has won the Premier League thrice and has scored 67 goals during that time. He was a major factor in Leicester City's fairytale journey to lifting the title back in 2015/16 and is continuing to add more goals to his tally with Manchester City.