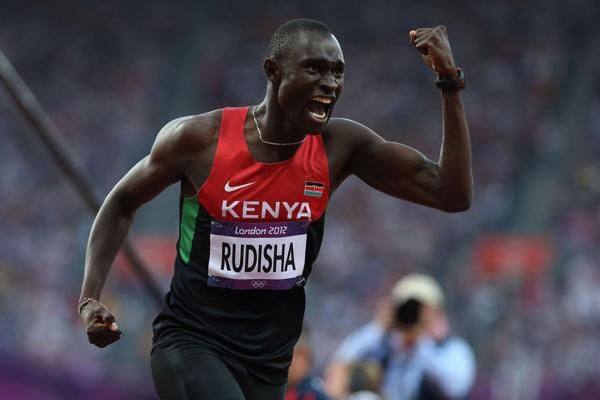 Not much is seen of two-time 800m world champion (2011 and 2015) David Lekuto Rudisha in 2021 many wondering what became of him.
His fans expected that he would be part of team Kenya in the Tokyo 2020 Olympic Games but he wasn't.
This notwithstanding, the 32-year-old double Olympic gold medalist (2012 and 2016) is proud of his decade-long career.
The 800, world record holder owes his success to Brother Colm O'Connell from Elgeyo Marakwet. It is O'Connell who discovered his talent when he was 15 years old and nurtured it.
But, this is not all. The towering Rudisha from Maasailand in the South Rift draws inspiration from his father, Daniel Rudisha. Daniel won a silver medal at the 1968 Olympics in the 4×400m relay.
Interestingly, Rudisha's mother Naomi Rudisha was a 400 m hurdler.
"Knowing my father was an athlete really influenced my life in a certain way that I wanted to be like my father," he says.
Why Rudisha Owes His Career Success To Coach O'Connell
Interestingly, O'Connell is a native of Mellow Island and joined St Patrick's High School – Iten in 1976 as a teacher. He became the school head in 1986 and is credited for shaping the lives of athletic giants from Rift Valley.
The likes of Olympic medalist Wilson Kipketer, Wilson K Boit, Mike Kosgei, Peter Rono among others passed through his hands.
O'Connell first met Rudisha in the early 2000s as a primary schoolboy who was representing his school in Trans Mara for the provincials. Rudisha chose to pursue his secondary education at Francis Kimuron High School in Elgeyo Marakwet in a bid to train with other elites.
As years passed by, Rudisha's star in athletics blew up and he chose O'Connell as his coach. He stuck with him even as he transitioned from Junior World Championships in 2007.
Rudisha's Impressive Stats And Wins
O'Connell is the man who pushed him to compete in the 800m from the 400m he was used to.  In 2006, he became the new Junior World Champion in 800m.
This was the beginning of his winning streak.  IAAF named him the World Athlete of the Year in 2010.
Before this, he broke the African record in September 2009 in Rieti, Italy posting 1.42.01. His last race before the London 2012 Olympics was in Belgium – KBC Night of Athletics – where he posted a new 800m record of 1.41.51.
Why Is 2012 London Olympics Is Special To Rudisha?
The transition from 400m to 800m tested Rudisha's zeal on the tracks but he did not falter. And his reward came in the 2012 Summer Olympic Games where he won a gold medal in the race.
Rudisha says the Zenith of his racing career is during the London 2012 Olympics. He watches his performance repeatedly. It was dubbed the Greatest 80om race ever.  He became the first athlete to complete the 800m run in 1.41!
"I also admire. This is one of the races I watch myself running and I just remember everything. It is just as fresh like yesterday."
O'Connell admits that Rudisha was all out for a win in the 2012 Olympics. He was physically, emotionally, and mentally set for a major win which he scooped in a heartbeat.
What Is Rudisha's Secret To Success?
Two things stand out for Rudisha; mental and physical strength. He says that they are a prerequisite to making good judgment in every competition. He adds that speed at the start and maintaining it all through is another important factor.
In the last 200m, 'giving everything' is what secures him major victories.
Why Is Mental Health So Important For Rudisha?
During his active days on the tracks, Rudisha says he always carried with him the importance of a good state of mental health.
The 800m champion opines that sports are very demanding and mental illnesses can easily take a toll on an athlete. For instance, anxiety by fans on why he is not running or why he 'retired' is something he handles with caution.
This, he offers, can plunge a runner into the abyss of mental-related diseases. He lives O'Connell's words that mental health is as important as fast legs.
What Next For Rudisha?
After a strenuous four-year recovery from knee surgery to correct a fracture, Rudisha racing career remains uncertain.
After the Rio 2016 Olympics, Rudisha sustained a serious knee fracture which kept him off competitive racing for four years.
In July, his agent Michel Boeting said that the double Olympic 800m champion would miss out on Tokyo 2020 Olympics. Many people expected Rudisha to defend his victory by clinching a third win.
His future in athletics remains uncertain – if we not to rule out his retirement at this point. In 2017, he suffered a horrific car crash, had lower back injuries and marital problems too that kept him out of track.