History has been documented in the football books, as the Italy set a new world record for the longest unbeaten international runs of all time.
Italy have been arguably the most impressive team at Euro 2020 to date with Roberto Mancini having overseen quite the renaissance for the Azzurri.
Mancini arrived following the nation's failure to qualify for the 2018 World Cup and has had a transformative impact upon the side
The Azzurri drew 0-0 with Switzerland in Basel in World Cup 2022 qualification to go a World record 36 games unbeaten.
Although the results could have been more positive had Jorginho had Jorginho converted from the penalty spot in the 52nd minute after Domenico Berardi had been fouled, but the Chelsea midfielder was thwarted by home goalkeeper Yann Sommer.
Italy had equaled the all-time record by drawing 1-1 with Bulgaria at home three days earlier.
The last time Roberto Mancini's men lost a game was way back on September 10, 2018 when they were defeated 1-0 by Portugal in a UEFA Nations League clash.
Italy's unbeaten run also included a 11-match winning streak.
But the highlight of the journey was winning Euro 2020 as Italy defeated England at Wembley on penalties after a 1-1 draw.
Italy who failed to qualify for the world cup 2018 has good chances of qualification, topping the Group C with 11 points from five games, four games ahead of second placed Swiss.
Their last defeat came on September 10, 2018, in the group stage of the UEFA Nations League in 2018 against Portugal.
It has to be noted that along with Italy, Algeria are the other national side that are on an unbeaten run. The reigning African Nations Cup winners are currently on a 29-match unbeaten streak.
However, some in Brazil insist their run actually stretched to 36 matches, wanting to include the 2-2 draw with Romania's B team in September 1995.
If that is included, then the Selecao went unbeaten for 36 games from 1993 to 1996.
Either way, Italy are in the all-time history books of football and have the opportunity to put the issue beyond doubt against Lithuania on Wednesday in another World Cup qualifier.
So which nations have the longest unbeaten international runs along with Italy and Algeria? 
1.Italy – 36 matches
Italy surpassed their own previous best record by going 36 games without a defeat. their last defeat came in September 2018 against Portugal in a UEFA Nations League game.
Since then, Roberto Mancini's side have not lost a single match and are only four short of matching the all-time unbeaten record.
Italy drew against Bulgaria on September 3, 2021 in the FIFA World Cup Qualifiers to equal the records of 35 unbeaten matches of Spain and Brazil.
Federico Chiesa scored the only goal for the Azzurri to achieve the milestone. They are now only one win/draw short of making a new record.
Moreover, their record is the longest active unbeaten run followed by Algeria, who have not lost their last 27 games.
2. Spain – 35 matches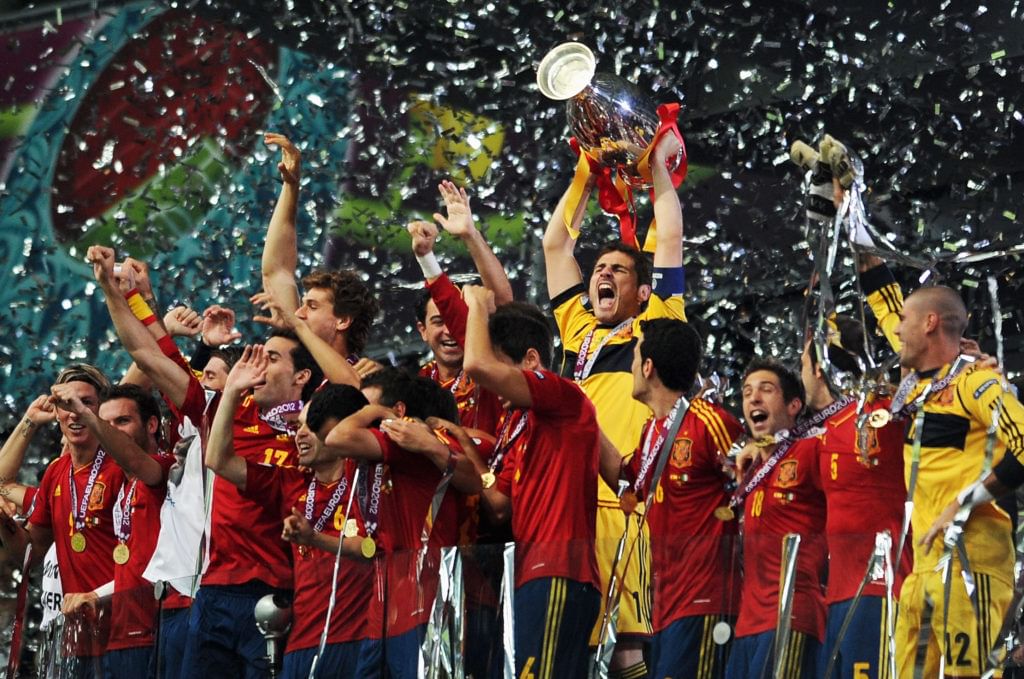 Spain's team of the late 2000s is regarded as one of the strongest international teams of all time. Spain are level with Brazil at the top with a streak of 35 games unbeaten. La Roja did not lose a game between 2007-2009.
This golden generation of Spanish football saw players like Fernando Torres, Andres Iniesta, David Villa, Xavi and more come to the fore.
Also Read: Chaotic scenes in Brazil, Lingard, Italy record -Sunday's biggest stories
In this period, Spain won the 2008 UEFA Euro by defeating Germany in the final. A shock defeat to the United States of America in the 2009 Confederations Cup ended the streak.
However, Spain picked up their form again and won 27 of the following 28 games. This run had the 2010 FIFA World Cup and 2012 UEFA Euro triumphs.
3. Brazil – 35 matches
This iconic team holds the record of joint longest unbeaten run in international football. The streak ran for three years, between 1993-1996.
In the course of this run, Brazil won the 1994 FIFA World Cup by defeating Italy on penalties in a memorable final. The streak came to an end against Mexico.
Brazil's charge was eventually halted in January 1996, over two years after their previous loss – when Mário Zagallo's side were beaten 2-0 by Mexico in the Gold Cup.
Brazil lost to the CONCACAF member nation in the Gold Cup in 1996. Brazil were the reigning World Champions and participated in the tournament as a guest team.
Next on the list is Argentina, who went 31 games without suffering defeat from 1991 to 1993. The star of the show during this period was Gabriel Batistuta, who scored goals galore as the Albiceleste won back-to-back Copa America. Argentina were finally beaten by Colombia in World Cup 1994 qualification.
France also went 30 without loss from 1994 to 1996 as they began their preparation for what would be a first World Cup victory on home soil in 1998.
Algeria are currently, as of September 2021, on a long unbeaten run. They have gone 28 without defeat – no national team from Africa has ever done better.
West Germany (1978-1981) went 23 matches unbeaten and won Euro 1980 during that period. France also embarked on a 23-game undefeated sequence between 2010 and 2012 but had no silverware to show for it.
The longest unbeaten runs in national football
| Team | Matches | Tenure |
| --- | --- | --- |
| Italy | 36 | 2018-present |
| Brazil | 35 | 1993-1996 |
| Spain | 35 | 2007-2009 |
| Argentina | 31 | 1991-1993 |
| Italy | 30 | 1935-1939 |
| France | 30 | 1994-1996 |
| Algeria | 29 | 2018-present |
| West Germany | 23 | 1978-1981 |
| France | 23 | 2010-2012 |