'The genius is not lost'- world reacts on Messi's performance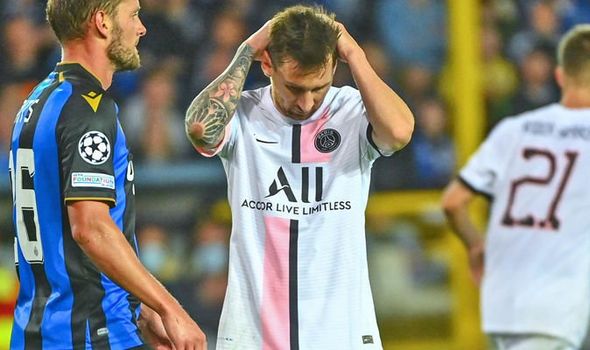 It was Lionel Messi's first 90 minutes to feature for the Paris Saint Germain club yesterday night when they took on Club Brugge in Belgium.
Paris Saint Germain were unlucky to carry the day as they were held 1-1 draw by the hosting club who looked sharp and piled more pressure to the French football club.
PSG were absolutely woeful for much of the game and the hosts actually attempted more shots on goal.
Despite PSG having three lethal front-men featuring Messi, Neymar and Mbappe none of them saw the net although Kylian Mbappe set for Ander Herrera goal but they were quickly pegged back by a leveller through Hans Vanaken and were unable to find a solution to gain a proper grip on the game without Marco Verratti and Idrissa Gueye in their midfield.
Lionel Messi performance has since been criticized by several publication from France, Argentina and Spain despite the former Barca striker hitting the goal post with a lovely curling effort in the first half, however, that was as good as it got for him.
What has been said
France main sports paper L'Equipe, after the game had their own view about the Argentine performance rating him at 5/10, and as one of PSG's highest scores.
They said; "What is there to say about his first entire match with PSG? A shot off the bar, two big chances missed and two passes that were nearly assists. La Pulga, who was given a lot of freedom, had a certain influence. But he missed physical sharpness to always be precisive with his final gesture. We already knew the Argentine didn't defend. Ever."
On the other end Le Parisien reserved their comments and gave their verdict on Messi's communication and partnership with his former Barcelona colleague Neymar and how they fared through out the game.
"It's clear that even if the genius is not lost, it's not reborn with a simple snap of the fingers. The Brazilian was the only one in the trio to track back into defensive areas. He also found a smart pass for his former colleague at Barca who, in other times, would undoubtedly have scored. But like his curling shut from the left repelled by the bar, his shot in the 71st minute was saved by Simon Mignolet. La Pulga missed his European debut under his new colors." they wrote.
Ouest France was more upbeat over his display, giving him 6/10.
"Discreet during the first 20 minutes, he offered an excellent pass for Mbappe to make it 2-0. Afterwards, he found the bar with a curling shot from the left. Then he shot against Mignolet after 68 minutes. He was the most dangerous of the Parisian attackers but was unsuccessful in scoring his first goal with PSG."
The overall consensus in France was that while Messi made a debut of some promise, PSG as a whole must function better.
The Spanish view
Naturally, there was great interest in Messi's first PSG match from Spain, where Marca said: "This partnership works already" of his combination with Mbappe. The paper said of his first-half shot off the bar: "Messi's usual… but now at PSG, he fired it off the bar."
According to Mundo Deportivo Messi, Neymar and Mbappe played with great mobility from the first minute. The Argentine, in his first start with PSG, crashed a spectacular shot off the crossbar gradually gaining prominence in the game.
Argentine View
They say home is the best and at his homeland Ole- an Argentine national daily sports newspaper published in Buenos Aires kept a close look at their boy's full performance in Brugge.
It said: "Despite the result, the Rosario native had a good performance in Brugge. He played the 90 minutes, he was comfortable coming in from the right to the Centre, combining with Mbappe, Neymar and Mauro Icardi (who came on for the Frenchman). His clearest chance? A shot onto the bar in the first half."
Messi might be waiting on his first PSG goal, but his start has been promising.
In conclusion, Mauricio Pochettino should now find a way on how his team should always find the best from Lionel Messi sooner than later bearing in Mind of the enormous amount in wages Messi takes home.
PSG will play their next game in Ligue 1 fixture against Lyon at the Parc des Princes on Sunday and if the 34-year-old fails to have an impact, serious questions will be asked.