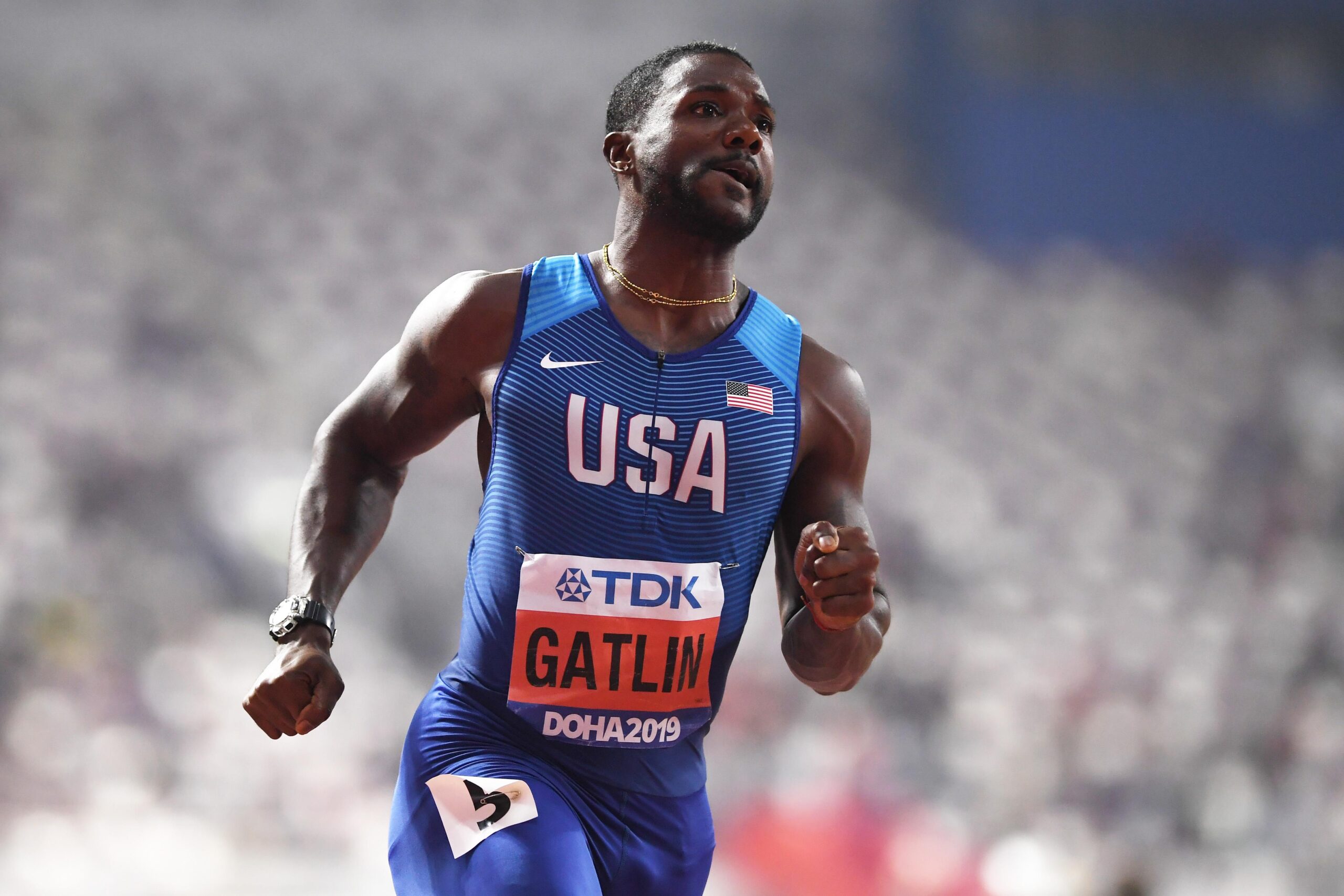 American sprinter Justin Gatlin is edging closer to hanging his boots in athletics but he carries rich memories of it all.
Gatlin, a five-time Olympic medalist, and a 12-time World Championship star has seen it all in the tracks. In his more than two-decade-long career, he has his low and high moments forming the core of his life.
Best Days
Since his birth in 1982 and love for athletics in his teenage years, Gatlin knew not that he would on day bag an Olympic medal.
In the 2004 Summer Olympic Games in Athens, Gatlin scooped a gold medal in the 100 meters run. It was the beginning of a lustrous career in his other races – 60 meters, 200 meters, and 400 meters.
In 2005 and 2017, the 40-year-old Brooklyn-born sprinter kept a new record in the World Championships for 100 meters. In 2005, he became a World Champion in the 200 meters.
Besides his huge success in 100, 200, and 400 meters, he was a reigning champion 60 meters in 2003 and 2012. He won the World Indoor Champion.
Relays Success
Gatlin,40,  is the 2019 World Champion in the 4 x 100 meters relay. He has two gold medals for the relays he won in 2015 and 2018.
To add to his bag of awards, he is a three-time Diamond League Champion in the 100 meters. And he scooped the three titles in a row –in 2013, 2014, 2015.
Over his entire sprinting career, Gatlin's personal best is 9.74 seconds.
Gatlin's Lowest Moment In His Career
While Gatlin's victories on the tracks come in triple digits, he is a man who weathered dark moments in his life.
He vividly recalls one night when he was driving home in North Carolina and a call from his coach and mother came through.
It was in July 2006 – then he was a bubbly 24-year-old millionaire whose dream was about to be cut short. He received news of a two-year ban over doping.
The news shattered him to the point that he was unable to drive. He pulled up at the side of the road and asked a friend to come to drive him home.
He lived in North Carolina where he trained but he could not believe that his drug test returned positive. To the best of his knowledge, he had never doped, at least not consciously.
And, this was the second time that he tested positive for doping. It only meant one thing; a lifetime ban from the track and this devastated him.
In 2001, he first tested positive for doping while running for the University of Tennessee. But, the trace levels of a stimulant found in his blood were from a prescription he took due to attention deficit disorder.
He was on this medication since childhood. Gatlin successfully appealed a two-year ban and finally convinced the U.S. Anti-Doping Agency (USADA) that it was never intentional. He was, however, handed a one-year ban.
Second Positive Doping Test
For a second time, all Gatlin screamed over the phone to his mother was "I'm dead…it's over". The American sprinter was left with no choice other than to appeal this decision.
During hearings with USADA, Gatlin defended himself accusing his massage therapist Christopher Whetstine of prescribing drugs with banned stimulants. This specific drug acted up his testosterone when he was on the tracks but he had no knowledge about it.
However, Whetstine denied claims that he was sabotaging Gatlin's athletics career.
A lot of people questioned why he still worked with Trevor Graham who was his coach. Graham's record as a coach was disdainful, dogged by allegations that he gave performance-enhancing drugs to his trainees.
A classic example is former Olympic star Marion Jones whose entire career went down the drain disgracefully.
Gatlin's Battle With Depression
A final verdict by USADA was an eight-year ban taking to account his first doping offense. Nevertheless, he was lucky enough that it was reduced to four years due to his 'innocence' and cooperating with federal agents to nail Graham.
Gatlin's four-year ban thrust him into a battle with depression. His denial of everything happening quickly degenerated into mental illness.
He devalued his life, did not see his point of existence. Drinking and driving under influence became his thing in a bid to find solace but even this wasn't enough to keep him sane.
Eventually, Gatlin got his acts together having spent a fortune with his celebrity lifestyle. It took years for him to come to terms and it was not until 2010 that he returned to the tracks with inspiration from Usain Bolt.