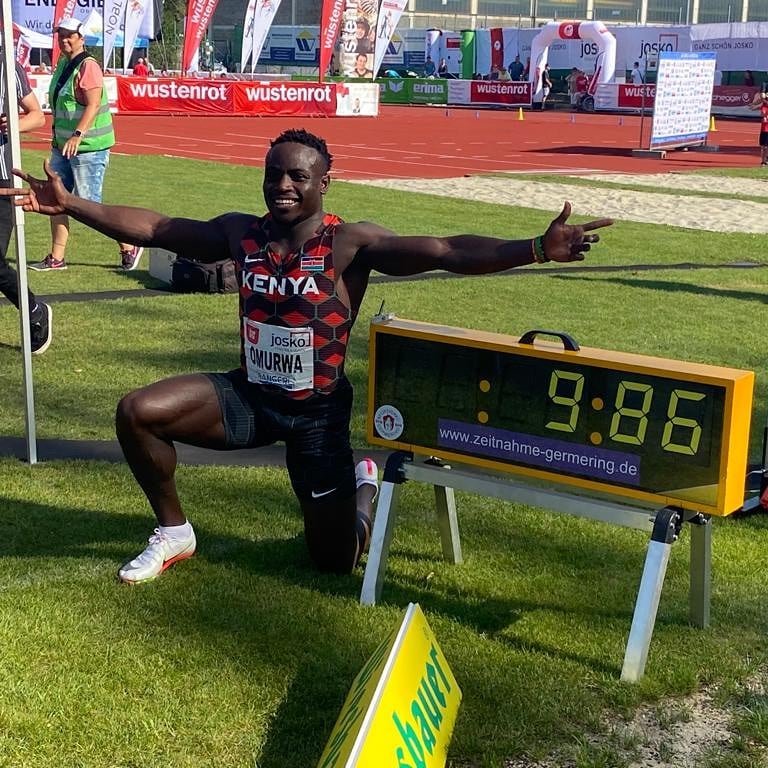 Ferdinand Omanyala is the new king of sprinting. As a matter of fact, his new title as the new African record holder fascinates him to reach greater heights in life.
In addition to his sterling performances on the tracks, he is the world's 8th fastest man of all time in the 100 meters.
Kip Keino Classic Record Breaker
Omanyala capped his sprinting fortune at the Kip Keino Classic held in Nairobi last weekend. He re-wrote history by clocking 9.77 seconds for the 100 meters.
It was not a mean feat! He brought it down from 10.02 seconds which booked him a fourth-place
in the Brussels Diamond League 2021.
Kip Keino Classic held in Kasarani was his last sprint for the season and it was impressive to the core. It was the culmination of relentless moments of pushing for more in the track over the last month.
August Record Breakers
In August, Omanyala became the new African sprinting sensation after posting 10.09 at the Lahti Motonet Grand Prix! The 25-year-old Kenyan born broke a record set 27 years ago despite the rainy weather.
In Austria, he kept a 9.86 seconds record sprint and he couldn't keep calm.
At the White City games, Oulu, Omanyala hit 10.06 seconds. So, for him to clock 100 at Kasarani at a personal best of 9.77, it is a huge success that stunned President Uhuru Kenyatta.
Meeting President Uhuru Kenyatta
Omanyala later met the President after the monumental race. And it was both a defining and humbling moment for him having elbowed out America's five-time Olympic medalist Justin Gatlin.
He is happy that he ended the season on such a high note coupled with "monumental success".
"9.77, new African record holder, 2nd fastest time this year, 8th fastest time ever! I am so glad that I got to end the season with such monumental milestones.
"This season has been a great one, every single time I have set my foot on the track, I have witnessed the power of my hard work, determination, resilience, prayers, and your support. I am blessed!" he posted on his social media handles.
How Did Omanyala Join Athletics?
Interestingly, Omanyala was never into athletics. He loved rugby and played it at Friends School Kamusinga. He later traveled to Nairobi for the Under 20 Kenya Sevens trials but it never worked.
When he joined the University of Nairobi in 2015, he tried his foot in the Rugby Kenya Cup but found it "heated".
Omanyala decided to go for a lower level and joined the Championships by playing for Mount Kenya University.
It is during his stint at the championships that a thought came to his mind.
"I realized I was very fast. When I get hold of the ball, I would hear people falling behind me," he narrates in a past interview.
A friend had also spotted this rare talent and urged him to consider joining athletics. He downloaded the athletics calendar and headed to Mumias where he won his first-ever entry race at 20 years.
Omanyala returned to Nairobi for his studies and met his coach coincidentally. He was training at the University of Nairobi grounds and they clicked.
In 2016, he attempted trials for the Rio 2016 Olympics in Eldoret but missed by 0.2 seconds. He posted 10.37 seconds against Kenya's threshold of 10.16 seconds.
But, this is the shot he needed to get to stardom and five years later, he is the man ruling the African track in sprinting.
What Makes Omanyala A Successful Sprinter?
Omanyala attributes his success to hard work, discipline, and practice. He says growth is painful but with consistency, the end result is as sweet as wine.
He says his biggest lesson is that competition only makes things better contrary to belief that it is a self-destruction tool.
"What I have learned in my journey as an athlete, is that competition does not wear your body out, it only makes you better. Every time you step on the track, you get a chance to measure the strength of your training technique against the industry standards.
"You get a first-hand opportunity to elevate your craft, grow and get to the next level. Push your boundaries, make moves, go for it!"
He adds that growth never comes with comfort – the two never exist.
"Growth can't exist in comfort, push yourself, go for it, you can do it, you owe it to yourself."
you deserve it! And this lesson is part of the reason why he is now a celebrated sportsman in the country.