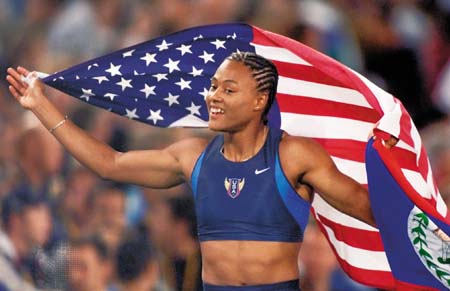 A story is told of a one-time veteran field and track athlete that is Belizean-American Marion Jones.
The story has mixed feelings, mostly ending in sadness and leaving more questions than answers.
A month and a half since the lapse of the Tokyo 2020 Summer Olympics evokes memories of legendary athletes.
And the Texas-based resident is one of those who you can't help but ask "where is she?"
Marion Jones Basketball, Athletics Love Affair
What happened to Marion Jones is a popular question among athletic fans. For any athletics enthusiast, nothing was fascinating than watching Jones do her thing on the track.
The 46-year-old would by now be a celebrated retiree but, this is not the case. She is a disgraced athlete whose life knocked her over and washed away her field and track stardom in an instant.
During the 2000 Summer Olympics in Sydney, Australia, Jones won three gold medals and two bronze medals. It was her moment to shine after a daunting decade – in the 90s – when she was a high school senior sprinter.
Her first bid for the 1992 U.S Olympics failed as she narrowly missed making it to the U.S team. Jones turned down a slot in the relay team.
She decided to keep athletics at bay and headed to the University of North Carolina as a point guard basketball player. She was so good that she captained the team to the 1994 NCAA Women's Championship.
Three years later, her love for the track superseded that for the court and she was back to relaying. It was a beautiful start as she won a gold medal in the 1997 World Championships 4×100 meters relay.
For the next two years, her focus was winning more titles and defending her record.
Marion Jones 2000 Sydney Olympics
Then, the 2000 Summer Olympic Games in Sydney, Australia came and it was her final moment to shine. Jones bagged a three gold medal 100, 200, and 4×400 meters relay.
She then won a bronze medal in the long-jump 4×100 relay.
Her huge victory in the Olympics spurred doping talks but she never tested positive at the time. She continued with her athletics career but with just minimal wins after 2000.
In the 2004 Athens Olympics, Jones got not medal.
When Did The Rain Start Beating Marion Jones?
In between the peak of her career, Jones got into two marriages with athletes who had tested positive for doping.
Jones was first married to C.J Hunter before the Sydney Olympic games. They would later break up in 2002.
She moved on with Tim Montgomery amid a rising wave on her alleged doping which she vehemently denied.
In late 2004, BALCO founder and steroids mastermind Victor Conte told ABC's popular 20/20 show that he had given Jones PEDs on four occasions. In his account, it was before the 2000 Sydney Olympic Games and after that.
Jones denied these claims and was put to task to defend herself which she did by perjuring herself.
However, the heat was too much for her in light of her affair with the indicted athletes and with Balco's revelation. Jones caved in and confessed to lying to a grand jury she never doped.
This was the final nail to her coffin. Her confession not only opened disgrace to her career but jail gates in Texas. She was sentenced to six months in prison for perjury, a sentence she served from March 2008.
She was sent to Federal Medical Center, Carswell prison in Fort Worth where she served until September 2008.
Marion Jones Stripped Her Olympic Medals
Two months after her confession that she used PED's, the International Olympic Committee (IOC) stripped her of all Olympic medals. IOC also expunged her performances stats.
Her release from jail ruined her entire track career. She only had one last option which was WNBA with Tusla Shock which she played for in the 2010 season. That was the last of her.
Today, she runs her business in Texas as a personal trainer with Camp Gladiator whose headquarters are in Austin.
When she looks back, she regrets the decisions she made then. She believes she would still have made huge wins without doping.