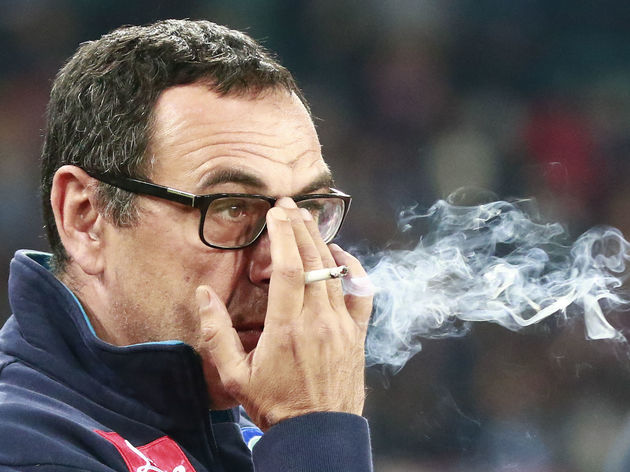 Lazio manager Maurizio Sarri is famed not only for his style of football but for his tendency to spark up a cigarette in the middle of a match.
The Italian coach has on number of occasions seen chewing on a cigarette butt as he prowled his technical area.
Images of the boss smoking during games while in charge of Napoli regularly circulated, while his nicotine chewing habits in England often doing the rounds on social media.
In 2019, the Mirror reported that Sarri was taking something close to 80 cigarettes a day, which you don't need us to tell you is not good for his health.
This would mean that if he is awake for an average of 16 hours a day he would have to smoke around five cigarettes an hour, which is not only unhealthy but extremely expensive.
We've taken a look at Sarri's recent history to see how his smoking habits have evolved over the years.
Smoking freely
Maurizio Sarri was notorious of this behaviour often he was seen puffing away on the touchline for a good number of years at Empoli and Napoli.
He wasn't the first to do so. Fellow Italian bosses Gianluca Vialli and Walter Mazzarri – formerly of Watford – are known to enjoy a mid-game smoke, while the likes of Sam Allardyce and Arsene Wenger have also lit up in the dugout in years gone by.
Touchline ban
After a number of years where Sarri and his countrymen had been seen smoking on the touchline during games, the practice was eventually banned.
Napoli immediately built Sarri his own smoking area inside the ground, though Italy's ban on smoking in public buildings had been existent two years longer than the UK's, this did not include inside stadia.
But not in the stands
Sarri was sent off from the touchline in a contest with AC Milan in 2016 and used it as an excellent opportunity to enjoy the game alongside his other great passion.
After taking up his seat in the stands, he sparked up in the latter stages of the second half, as his side drew 1-1 with the Rossoneri.
Train travel
Sarri reportedly travelled to an away match at Bologna, a 500km north of Naples on the train as opposed to flying with the rest of his team.
Not only does he have a reported fear of flying, but he prefers to travel on the train as it allows him to have a mid-journey smoke or two.
Leipzig (A)
After learning of Sarri's particular habits and a request from his club, RB Leipzig constructed a separate room even featuring a fresh concrete wall inside the Napoli changing room so Sarri could enjoy a cigarette inside the stadium.
It sure helped, as Napoli won the match 2-0, though a 3-1 defeat at home in the first leg meant Leipzig progressed to the Europa League last 16 on away goals.
"Sarri is a passionate smoker, that's really incredible," said captain Marek Hamsik. "I have never seen anyone who smokes so much. Thank God he has to hold back during games!"
Five packs a day
The manager worked wonders after losing Gonzalo Higuain, turning diminutive winger Dries mertens into a lone centre-forward and the Belgian revealed the true extent of Sarri's smoking habits.
"When I finish playing I'll never be a coach, it's too much stress," he said when asked about his future last year.
"Is Sarri stressed? I'd say so! Five packs of cigarettes a day, what can you say?!"
Chelsea's smoking area
As Chelsea's interest in Sarri began to build, reports grew that club officials had been tasked with locating a room inside the ground in which Sarri could enjoy his habit.
The Daily Mirror first reported that a smoking room would be built for the inbound manager.
"British attitude"
And then, it was The Sun's turn to comment on the matter, as they shared owner Roman Abramovich's say.
They reported that Abramovich wanted Sarri to adopt a "British attitude" in the job, which included quitting smoking and wearing a suit on the touchline. He's yet to wear a suit…
Picking up the baton
Keen not to let his new supporters down after the departure of one of their greatest managers of recent years, Carlo Ancelotti wasn't taking any chances.
He was pictured prior to a pre-season friendly against Carpi having a quick cigarette alongside members of his backroom staff.
Chewing butts
During his first Premier League game in charge Chelsea's 3-0 win away at Huddersfield Sarri ignored the typical methods of nicotine replacement to go with his own.
He wasn't wearing patches or chewing gum but was incredibly spotted chewing away on cigarette butts on the touchline.
And it's not even the first time he's done it.
"If I smoked the filter as well, then I'd really have a problem," he said in November 2017 after being caught chewing a butt on camera during a Napoli victory over AC Milan.
A packet to hand
After being seen chewing cigarettes during the season opener, Sarri caused another social media stir as he was spotted with a packet in his hand during the victory over Arsenal in his second Premier League game in charge.
Cravings
In the pulsating 3-2 victory over Arsenal, Sarri watched his side struggle their way to half-time as Arsenal could have scored a good number more and he admitted it was perfect time for a cigarette.
"The 15 minutes at the end of the first half was horrible," he said. "I enjoyed the match for 75 minutes, not in the other 15. In the other 15 it was better to smoke, I think."
Vows to quit
That prompted press conference questioning regarding his smoking habits, and he revealed he is officially giving up during the game at least.
"I will smoke in the evening, not during the match," he explained. "I am going to stop. Just for one or two years, then I will start again."
Journalists then asked if he felt the need for a cigarette at half-time, immediately after Arsenal's period of dominance.
"No, no, I just needed the first half to end! I needed half-time," he said.
Winners never quit
Sarri may have lasted only one season at Stamford Bridge, and his start to life at Juventus may have been scuppered by contracting pneumonia, but winners never quit. Literally.