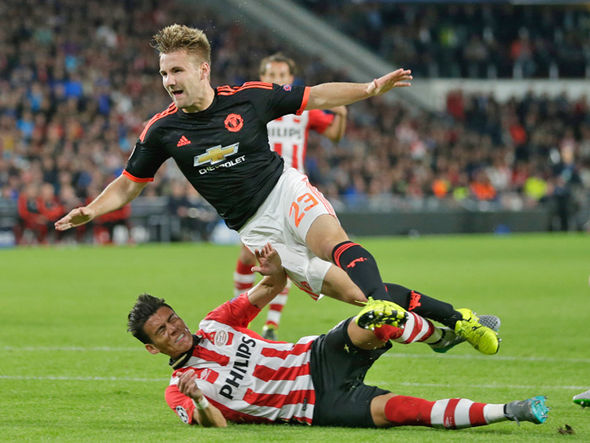 Injury is the worst thing you can ever think of wishing any player. Injuries have ruined a start to a form for many players across the globe.
Several promising careers have been prematurely ruined by injuries, causing scenarios that are hard to see and talk about with some quitting the game.
Nonetheless not all players who have had the bad side after suffering injuries. we have positive stories of players who have conquered the threat to script brave careers after battling injuries.
Here are six of those stories that saw footballers coming back from career-threatening injuries against the odds.
1. Luke Shaw
Absolutely none of football fans saw his comeback. many deemed him impossible when images of Luke Shaw's leg following the Champions League match against PSV Eindhoven circulated around the internet.
However, after struggles, Shaw made a name after back-to-back impressive seasons with United after 2019.
On the back of a prolific season that saw him become the backbone of United's attack from the left, Shaw made it to England's Euro squad. Scoring a goal in the finals, Shaw scripted one of the most heroic injury comebacks in recent times.
2. Ruud van Nistelrooy
Manchester United really played a gamble when they signed Ruud van Nistelrooy from PSV Eindhoven. The striker averaged more than a goal per match with PSV Eindhoven, yet ruptured his right ACL before joining the Red Devils.
However, Sir Alex Ferguson put his faith in the striker and signed him the following season. Although the injury concerns were always there, van Nistelrooy converted himself as one of the most clinical finishers of his time – first for United and then for Real Madrid.
3. Xavi
Anyone who saw Xavi consistently play 50 plus matches every season would not believe about a horrible ACL tear that he suffered in 2006.
The then 25-year-old midfielder, striving to be a midfield superstar, was on the verge of missing out on a full season in the aftermath of tearing the ligament of his left knee
However, the midfielder approaching his peak was on the bench for the victorious 2006 Champions League final and flew to Germany with La Roja for the World Cup.
Pep Guardiola's arrival in 2008 saw him develop into one of the best midfielders ever, going on to win every single major tournament for club and country thereafter.
4. Aaron Ramsey
Aaron Ramsey made his impactful presence felt in the Emirates Arena as a 20-year-old and created a name for himself as a playmaker.
However, he went through a horrible leg injury that steered him off the pitch for nine long months.
Although it seemed like he was for a short duration, Ramsey's leg injury was a serious one that could have barred him from hitting the pitch ever again.
However, with proper rehabilitation and exposure at Nottingham Forest and Cardiff City, Ramsey made his way back to the Arsenal squad stronger than ever. The Welshman is currently with Juventus after leaving the Gunners in 2019.
5. Petr Cech
Most football fans associate rugby-style headgear when Petr Cech is mentioned.
However, the legendary goalkeeper did not start wearing it as a fashion statement. It was the saving grace that allowed him to continue playing football.
After a horrible skull fracture that made him undergo near-death condition in 2006, Cech started wearing the headgear to protect his head.
Much of what Cech achieved as a goalkeeper came after the incident, as he evidently made a comeback winning a Champions League with Chelsea in addition to multiple domestic titles as well as keeping most clean sheets in the Premier League.
His redemption story is as inspiring as it gets.
6. Santi Cazorla
Not many footballers can make comebacks from injuries like he did.
There was a time when Santi Cazorla was termed a magician in Arsenal's red and white kit.
However, series of injuries always kept him in and out of the ground, until a serious one sidelined him for more than a year and a half.
Cazorla needed to undergo eight ankle surgeries to treat the Achilles tendon injury. Doctors considered it to be almost impossible for him to return to the football pitch ever again.
However, Cazorla returned to Villarreal in a grand fashion, leading them to an impressive finish in the 2019/20 season. In addition, the veteran made it to the Spanish national team's squad yet again, before departing to his current club Al Sadd in Qatar Stars League.