Forget Quitting! Lewis Hamilton On Retirement, Dealing With Racists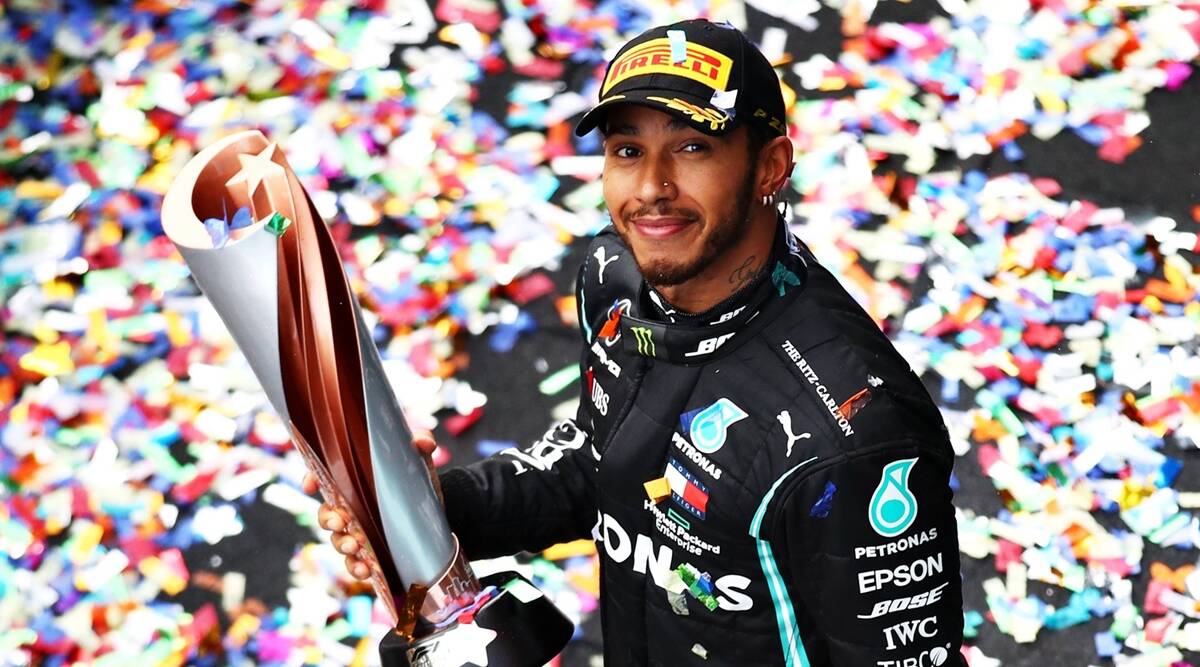 There are two things that made Seven-time F1 World Champion Lewis Hamilton who he is; family and determination.
Without the support of his father, he would never have made it. He got the shots he needed from family and this was enough to make him go for what he was built for.
Hamilton's Father Sacrifice For His Racing Career
The Stevenage, Hertfordshire-born British racing driver grew up in the care of his mother and father – at different stages in life after their separation.
He stayed with his mother after she separated from his father and would later move to his father's house where they lived together with his stepmother Linda and half-brother Nicolas.
Hamilton was 12 by then. His interest in racing was already rife having flirted with victory using a remote-controlled car his father bought him when he was five. And this would be the first time he was bullied for being a black kid who won the national BRCA championship at six years against the adult competition.
When his father discovered his son's prowess in racing, he pledged to support him fully. He made a major sacrifice by taking a redundancy as an IT manager and left for a contractor's job joust to attend his son's aces.
Hamilton's father doubled up as a dishwasher and salesman to make both money and time for his son. He would later set up his IT firm and became Hamilton's manager for years until 2010.
British Formula Renault
Hamilton's racing career began as a British Formula Renault driver in 2001. His first race was the British Formula Renault Winter Series which he finished fifth.
He stuck with Manor for one more year and won his first-ever championship and participated in the British Formula 3 Championships. But, he got a puncture and crashed on the same day.
McLaren Team
Hamilton's journey from F3 to GP2 and eventually to F1 was marred by highs and lows. He, however, remained steadfast from 2002 through to 2007 when he joined F1 with McLaren as the first and only black driver.
His first season was dotted by a winning streak which gave way to the signing of a five-year multi-pond contract with McLaren. His name rose through the echelons of Formula One World Championships.
Hamilton won five championships with a record of ten podium finishes
He left the team for Mercedes in 2013 thereby replacing the legendary Michael Schumacher who was retiring.
Hamilton Success With Mercedes Team
At Mercedes where he still is currently, Hamilton has made a life-long career with major successive major wins. For instance, in the 2014 season when the regulations changed with the imposition of hybrid-turbocharged engines; Hamilton won 11 races out of 19 for Mercedes.
Hamilton's driving skills are impeccable. The skillset he has on the track is second to none and his aggressiveness is coupled with a bout of professional fairness.
The Formula One website describes him as "invariably a fierce but fair fighter." During his stint at McLaren between 2007-2012, he projected ruthlessness in his driving but with lots of caution. Teammates at McLaren could not comprehend how he always used less fuel with his bullet speeds on the tracks.
Hamilton's grasp of braking in corners and accelerating modestly while his wheels loose grip is still a marvel. Besides, he is top-rated in driving in wet conditions.
Hamilton's Battle With Racist Remarks
Hamilton's biggest challenge in the last three decades as a racing driver is discrimination. It started when he was barely 12 years old forcing him to take up karate classes to keep off bullies.
But, being a pro and celebrated black Formula One driver, racists' remarks come fast and furious. However, they never stopped his winning streak.
If anything, he thrived to become the Mercedes king ruling the world with his impressive driving skills.
Besides the glamour and pomp surrounding his life, Hamilton has a daunting life wading off racists thoughts pinned on him by critics. His life is a big lesson to everyone's success in whichever field in life.
He learned how to keep his cool even when naysayer gets to his neck, thanks to a bestseller 'The Four Agreements" by Don Miguel Ruiz.
One of the lessons he has publicly shared from the book is learning not to take things personally.
"There's an element in there (Four Agreements) where it says don't take anything personally, so when someone says something about you, it's not actually about you, it's how they feel about themselves," he states.
What Would Make Hamilton Quit
With such a successful career, many do not see what's left for Hamilton. He sees it differently, nevertheless. For him, racing is his life and not a single day doesn't enjoy it.
So, he says the day he will step out and feel he is not enjoy racing at all, it will be the day he will call it quits in the tracks.