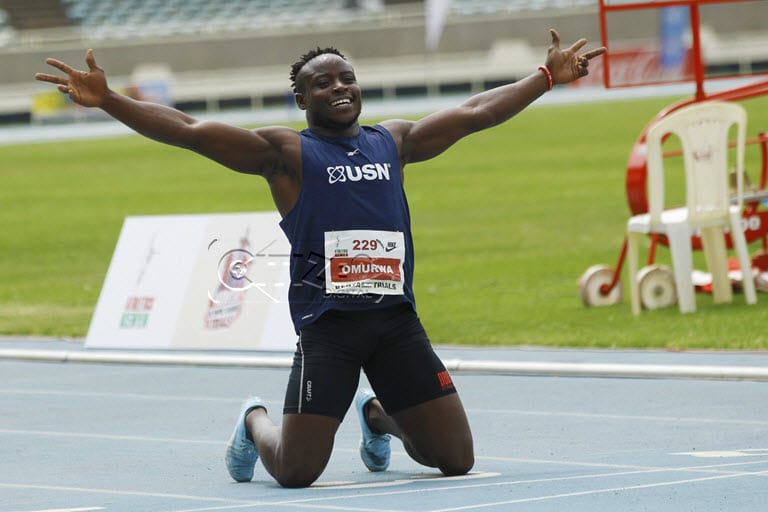 Ferdinand Omanyala on Saturday evening set his 5th new national record clocking 9.76s time at the Kip Keino Classic that was held at Moi International Sports Centre, Kasarani .
Speaking after the race Omanyala said he have conquered Africa and now his mission and focus is to set a world record.
"I have conquered Africa, next I'm going for the World record," Omanyala said.
"I promised my fans a good show and I'm happy I delivered," he added.
Omanyala won the national title on 100 m in 2019 setting a national record of 10.01 seconds in the 100 meters in winning a meeting at Yabatech Sport Complex, Lagos (NGR) on 30 March 2021.At the 2020 Summer Games 100 metres semi final he set a new national record of 10.00 seconds.
Following a doping offence in 2017 Omanyala received a 14 month suspension. He tested positive for the prohibited substance betamethasone, after under going treatment for his back injury which he got during training
The American Trayvon Bromwel finished in the first position clocking 9.76s while Justin Gatlin finished in the third position recording 10.02s.
Bromell returned to form in 2021, recording a personal best and world leading time of 9.77 seconds in the 100m. He won the 2021 Olympic Trials ahead of Ronnie Baker and Fred Kerley.
At the 2020 Summer Olympics in Tokyo, Bromell failed to make the 100m final after coming in third in his semi-final, one millisecond behind second-place finisher Enoch Adegoke of Nigeria with both runners being assigned an official time of 10.00 seconds.
Fred Kerley,US Olympic 100m silver medallist – became the first man to better 20 seconds on Kenyan soil as he won in a personal best of 19.76.
During the 2021 US Olympic Trials 200m Final Kerley ran a 19.90 his first sub-20 in the 200m. With this performance, Fred Kerley becomes the 3rd athlete to join the "Sub 10s, 20s, 44s club for the 100m, 200m & 400m sprints". The other 2 being the 400m World Record holder Wayde van Niekerk & Michael Norman.
Justin Gatlin was among the first people to pay tribute to Omanyala for his stellar performance.
"He used the hometown support really well. I believe Omanyala will be a force to reckon with," he said.
Gatlin At the 2020 US Olympic Trials finished 2nd in his first heat and third in the semifinals to earn a spot in the final. During the final he came up with a hamstring injury and limped across the finish line in last place, ending his chances of qualifying for the Tokyo Olympics. He is the oldest man to win the 100m after qualifying for Tokyo 2020 Olympics that were held in Japan.
The Kip Keino Classic is a track and field meeting held at the in Nairobi, Kenya and named after Olympian Kipchoge Keino. The inaugural edition took place in 2020 as part of the inaugural World Athletics Continental Tour and now 2021