Having had less time on the pitch at the Euro's , Jadon Sancho the new summer Signing for Manchester United from Borussia Dortmund will be looking to prove a point soon as the Premier League resumes. The 21 year Old was not lucky on the Final day after Missing A spot-Kick at the Euros in Wembley that saw him alongside Bukayo Saka And Marcus Rashford fall Victims of Racial abuse.
Italy won against England after both nations ended a dramatic 1-1 to the extra time. But while this is not enough Jadon Sancho's performance will be summed up to the penalty Kick he missed, that is what he will be remembered for, that fateful miss on Saturday.
There's no doubt that international and domestic football are two separate worlds that intertwine every two years, but the contrast between Sancho the Borrusia Dortmund player moving to Manchester United and Sancho the England player couldn't be more different.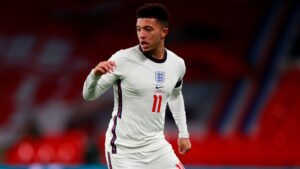 On the one hand you have a player that has already scored 50 goals and 64 assists for one of the biggest clubs in the world and shown his talent against the very best opponents on countless occasions and on the other you have a back-up bench warmer that struggled to muster the composure or confidence to score a penalty.
This, of course, all comes back to Gareth Southgate. Heralded as the manager with the Midas touch, few questioned the England manager's methods as it saw him march his team to the final. But now, as the smoke clears from a horrid final, there are certainly issues to pick up on.
There's no doubt that Southgate didn't rate Sancho as highly as he did other forward options in his squad.
Few would have bet against the England manager dropping his tried and tested partnership of Harry Kane and Raheem Sterling, but his first or second pick off the bench told us everything we needed to know.
Whether it was a star for Phil Foden and Bukayo Saka or a substitute appearance for England favorite Jack Grealish, it became abundantly clear that Sancho was largely surplus to demand at Euro 2020.
Indeed, aside from a rare start against Ukraine in a game England were expected to stroll through, Sancho was on the pitch for Southgate's team for just seven minutes of the tournament.
For a player that has won German Cups and helped drag his team to within two points of a league title, that indifference to his talent must have cut deep for Sancho. After all he achieved at Dortmund and with his proposed high-profile move to Man Utd, the young winger was supposed to be a jewel in England's crown this summer. But instead he was overlooked like some trialist that was called up to make up the numbers.
Players don't often make career decisions based on the inclinations of their international manager, but Sancho must surely be looking at this coming season for Man Utd with renewed purpose. If Southgate and perhaps much of England still don't know who he is, then they'll certainly learn all about his talents at Old Trafford after the summer.