The USA Gymnastic Simone Biles on Tuesday surrendered her gold medal tittle to the Team Russia after developing a medical complications during the ongoing Tokyo 2020 Olympics in Tokyo Japan.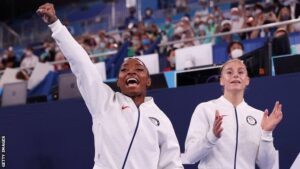 The Gymnastic surrendered at time when the team USA were expecting her to dominate the event since she has an unbeaten record since 2011.
The USA Gymnastics confirmed her withdrawal in a statement adding that she is now under medication and she'll be regularly examined for future competitions.
"Simone Biles has withdrawn from the team final competition due to a medical issue. She will be assessed daily to determine medical clearance for future competitions."
According to The International Gymnastic Federation Bile will still receive the Silver medal but will not be able to participate in the remaining team events.
Speaking after  her exit from the  competition, which cleared the way for Team USA's Russian rivals to claim a direct gold in a dramatic upset, the 24-year-old revealed that it came as a result of her personal mental health.
'It is very unfortunate that it has to happen at this stage because I definitely wanted this Olympics to go a little bit better but again, we'll take it one day at a time and we're going to see how the rest goes.' Said Biles.
This is a major setback for team USA forcing them to finish the rest of the competition without her, severely hampering their bid to claim a third straight Olympic title.
In The Records
At the 2016 Summer Olympics in Rio de Janeiro, Biles won individual gold medals in all-around, vault and floor; bronze in balance beam; and gold as part of the United States team, dubbed the "Final Five". Biles is also a five-time World all-around champion (2013–2015, 2018–2019), five-time World floor exercise champion (2013–2015, 2018–2019), three-time World balance beam champion (2014–2015, 2019), two-time World vault champion (2018–2019), a seven-time United States national all-around champion (2013–2016, 2018–2019, 2021), and a member of the gold medal-winning American teams at the 2014, 2015, 2018, and 2019 World Artistic Gymnastics Championships. Additionally, she is a three-time World silver medalist (2013 and 2014 on vault, 2018 on uneven bars) and a three-time World bronze medalist (2015 on vault, 2013 and 2018 on balance beam).