Japan's Wolf Aaron has won the Judo Gold medal in the men's under-100 kg class making the countries Gold medal count to eight in the sports event in the ongoing Tokyo 2020 Olympics
The 25 Year old Wolf became the first Japanese to win the Olympic title in the weight division since men's head coach Kosei Inoue in 2000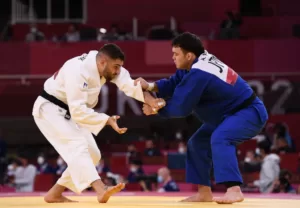 He successfully qualified to represent Japan at the 2020 Summer Olympics after winning All-Japan Open Weight Judo Championships on April 29, 2019.
Cho Gu-ham from south Korea won silver, while the bronze medals went to Jorge Fonseca of Portugal and Niiaz Iliasov of the Russian Olympic Committee.
Earlier on Japan's Shori Hamada also won the gold medal at Tokyo's Nippon Budokan on Thursday in the women's under-78 kg category, beating Madeleine Malonga of France in the final with a quick Ippon Ivory.
She has also participated at the 2018 World Judo Championships, winning a gold medal. In the 2019 world championships, she won silver, losing in the final contest.
In 2021, she won the silver medal in her event at the 2021 Judo World Masters held in Doha, Qatar.
The total of eight gold judo medals won at these Olympic Games is the highest score the in history, equalling their tally from Athens 2004. And with HARASAWA Hisayosh (+100kg) and SONE Akira (+78kg ) competing tomorrow in the Nippon Budokan, the world may not have to wait long for a new record to be set.
Covid-19 State In Japan
Upto now the number of Covid-19 cases linked to the Tokyo 2020 Olympic Games has risen to 198, according to Tokyo 2020 organizers on Thursday after four new cases were reported from Tokyo Olympic Village making the number to 24.
Three of the new cases were identified as athletes and were all residents of the village while other new cases were identified as Games personnel and contractors.
Tokyo itself reported a record day of new Covid-19 cases Wednesday, adding more than 3,000 new infections, according to the Tokyo Metropolitan Government.
The Tokyo 2020 Olympic Games launched on Friday 23 July with the opening ceremony, which began at 12.00pm UK time – although the sporting action actually kicked off a couple of days earlier.
It all comes to an end on Sunday 8 August, with the Olympics officially lasting a total of 17 days.
The closing ceremony will also take place at 12.00pm in the UK, and is set to end around 3.00pm, after the