Andrew Amonde of the Kenya Rugby has called it a day after a long-time service in with Shujaa since 2012.
The 37 year old announced is retiring shortly after the win of 22-0 over Ireland on Wednesday morning in the ongoing Tokyo 2020 Olympics in Japan this being his second time in olympics.
The World Rugby Sevens termed Amonde as a tremendous Servant to Kenya Rugby Sevens.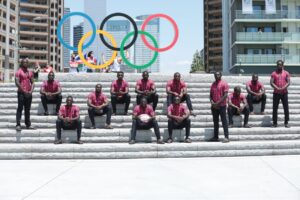 Speaking after his retiring brief Amonde said this was going to be his last tournament
"From the beginning this was going to be my last tournament… it was very hard to come here and say that this was my last tournament playing for Kenya Sevens," Said Amonde
Amonde will not play at the cup which is the main knock-out which he says he was planning to get to.
"It's a tough one that I'm not going to play in the Main Cup, because that's (Main Cup knockout stage) what I was planning to get to…" Added Amonde.
Before joining the Shujaa Rugby sevens he was a journalist, Television Producer by profession but later resigned for the Rugby.
"I was moved by the captain's pain, and, along with colleagues Alex Isaboke (Capital FM) and Bismarck Mutahi (The Standard Group), we dropped our journalist tags, put on the patriotic hats and paid tribute to a great captain."
Kenya Sevens in Olympics.
Kenya Sevens' hopes of advancing to the quarter-finals of the rugby event ended on Tuesday after they went down 7-12 to Ireland in their final Pool C match of the Tokyo Olympic Games.
Shujaa needed a huge win having lost their first two matches against the US and South Africa on Monday.
However, it was not to be as they failed to secure the win in an underwhelming performance at the Tokyo Olympic Stadium.
Innocent Simiyu's charges finished last in Pool C on three points with South Africa, the US and Ireland occupying the top three positions.
Australia and Canada advanced to the quarter-finals as the two best third-placed finishers. Kenya will now play Japan in the placing matches for positions 9-12 at 11am.
Defending champions Fiji swept past Britain in a re-run of 2016 Olympic final to set up a Cup quarter-final against Australia.