Paris Saint-Germain have finally secured the services of Spain great Sergio Ramos. The Ligue 1 club announced on Thursday that they have completed a free transfer after Ramos left Spanish giants Real Madrid.
Sergio Ramos's 16-year stint at Real Madrid came to an end last month as he left the La Liga side after failing to reach an agreement over a contract extension. Ramos was an influential figure at Real as he led them to 4 Champions League and 5 La Liga trophies.
Free since the end of his contract at Real Madrid, the 35-year-old central defender has signed a two-year contract in favor of the Parisian club. He joins PSG after they finished second last season behind champions Lille in Ligue 1 and were knocked out in the Champions League semi-finals by Manchester City.
His arrival at Paris Saint-Germain just formalized, the Spanish central defender Sergio Ramos expressed his joy and his ambitions on the club's website and social networks.
It was an open secret, it's now official. Sergio Ramos is a Paris Saint-Germain player. Something to delight the player with a record as long as an arm for whom PSG is "the best place to continue dreaming, the best club to continue to win" Ramos tweeted in French before adding: "We will give everything to go to the end," he promised in the tweet.
The 2010 world champion who was absent at Euro 2020 because of his physical condition said a little more on the PSG website.
"It is a club that is part of the gratin in Europe, it is a club that works a lot to succeed, with a great history, said Ramos. It is a young club but which does not stop growing. great players in the squad, it's a chance for me to grow personally and professionally. "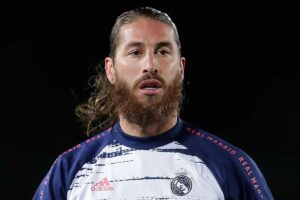 Sergio Ramos also wishes to reassure those who might think that he arrives in Paris on conquered ground:
"I start again each season with the same motivation, I question myself each time to start from scratch and have the same determination each time times, and the same desire to win. That's what I'm going to do here too. I want to accomplish things with a lot of humility, with a lot of work, with a lot of effort and with a lot of commitment. is what I think defines me best. "
"Bringing experience and maturity"
And to add: "I think that I can bring experience and maturity. I am a worker, I like to be constant and to have the sense of the sacrifice. This is what I realized during all my career, and I'll try to give the best of myself to try to bring back as many titles here. " And all if possible: "We are in a club that wants to win everything, Ramos recalls. Afterwards, football is not an exact science, there are always details that make a match lose or end wins,  But you have to give your best to have peace of mind, give everything on the pitch, that's also what defines this team and this club, you always have to think big. give and earn."