While many of Manchester United's squad have returned to training ahead of the new season, several Reds are still on their holidays.
Paul Pogba is vacating in Miami as he enjoys some time away from the football pitch amid the fallout from France's shock Euro 2020 exit.
Didier Deschamps' side were beaten by Switzerland in the last 16, despite being heavy favorites to win the competition after their 2018 World Cup triumph.
Victor Lindelof and Bruno Fernandes have uploaded footage to Instagram of them enjoying some well-earned family time, and others are on more active breaks.
Scott McTominay has been sampling the golf courses of Marbella. Paul Pogba is out in Miami, meeting several famous faces.
The French star was pictured with Nigerian rapper Burna Boy over the weekend and now he's been snapped in the company of one of football's all-time greats, in Brazilian icon Ronaldinho.
A week after the surprise elimination of the France team in the round of 16 of the Euro, The French international rubbed shoulders with beautiful people. The middle has indeed immortalized his meeting with Ronaldinho, unforgettable Brazilian playmaker of PSG and Barça, in an establishment in the city of Florida.
The Brazilian star also shared a snapshot of the meeting with other well-known footballers. Blaise Matuidi, former partner of Pogba in the France team and now a player of Inter Miami, was also in the game as was Argentine midfielder Paulo Dybala, Pogba's former teammate at Juventus (2015-2016).
Pogba posted the photo of the smiling pair on Instagram, alongside a caption reading: "So much joy in one photo."
The Manchester number six has previously described Ronaldinho as one of his childhood idols, saying he had posters of him on his bedroom walls as a youngster.
The Brazilian has also been complimentary to Paul in the past, tipping him as a successor to him as winner of the sport's top individual prize.
"He (Pogba) can win the Ballon d'Or, without a doubt. I see Pogba as a friend, I don't see myself as his idol," Ronaldinho said in 2018.
"He is young, talented and he has the ability to play anywhere. He can play in a free role, defensive, as a runner or attacking. He has the characteristics of a player who can fill any position. He can make history."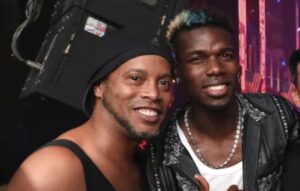 The ex-Milan and Paris Saint-Germain star who was too close to signing for Manchester United during the reign of Legendary Sir Alex Fergusson retired in 2015 after a trophy-laden career.
One of only eight players to have won the World Cup, Champions League and Ballon d'Or, he is an inspiration to footballers across the globe;
Bruno Fernandes: "I have a lot of players I like to see. For example, in my first few years, the player I think is the one everyone liked and always will like is Ronaldinho. For me, he is the player with the capacity to take you and put you in front of the TV, and you will stay for hours. For hours! Because he had that energy and happiness. He was happy in everything he did. You enjoy it when you see guys playing like that, so for the first few years Ronaldinho was my favourite player."
Fred: "For any Brazilian kid growing up when I was growing up, Ronaldinho was your idol. Not just kids, actually. He was an idol for all Brazilians. Always will be. For me, he's the best player in the history of the game. I know there are players who have had better careers. Look at Zinedine Zidane, for example. His career was better, but in terms of purely footballing talent, Ronaldinho was better. He was more skilful. He was a top player who loved to party, and that made him an idol to all Brazilians."
Marcus Rashford: "I would like to have played with Ronaldinho. In terms of creativeness and the stuff he used to be able to do on the pitch was unbelievable. It would be an honour to play with him."
Jesse Lingard: "When I watched videos of Ronaldinho, he's always smiling no matter what. It's the love of the game. I remember meeting him in America a few years ago, he said to me: 'No matter what, always enjoy football, always play with a smile on your face.' After that, I constantly do that. It's mad watching videos of him, then actually meeting him and it felt mad for him to actually have that advice for me. You take that on board from one of the all-time greats.
Andreas Pereira: "Of course, Brazil has a lot of players but I always enjoyed watching Kaka and Ronaldinho, because they played in more or less my position. When I used to watch Ronaldinho with his dribbling skills and the way he played, I was a fan of that."