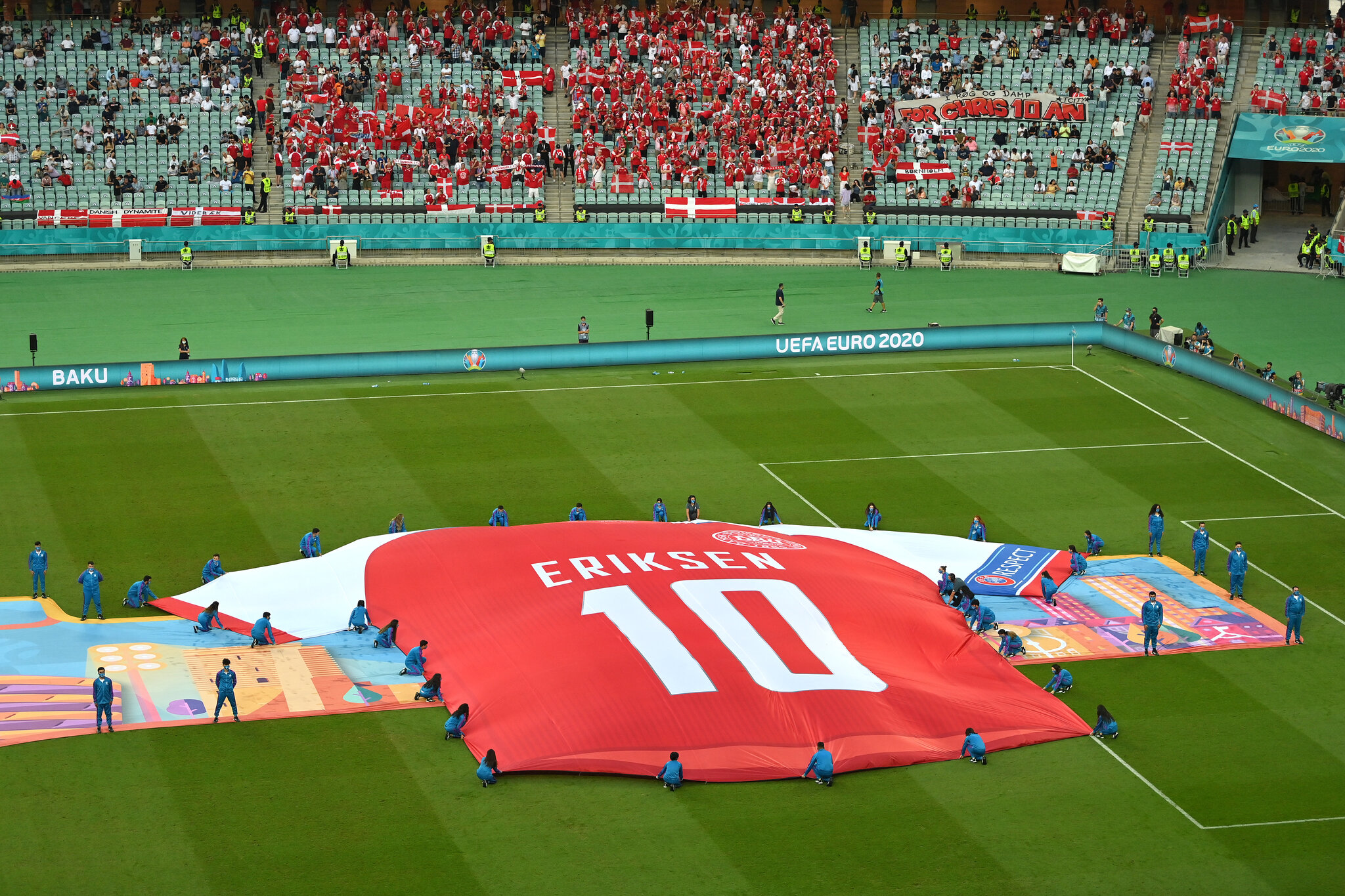 Red Denmark Flags, Danish cheerful songs, colorful fans, all these defined the first Denmark match at Copenhagen when the Danish team faced Finland in their EURO 2020 opener.
With a squad rich in good attackers from Leipzig's Yusuf Poulsen 'Yurary', Barcelona's Martin Braithwaite, youngster Mikel Damsgaard and their talisman Inter Millan midfielder Christian Eriksen who has more goals for Denmark than any other current squad member and fourth in the list of top goal scorers in the history of Denmark with 36 goals in 109 appearances.
Eriksen was surely looking to add to his records more goals in this tournament, especially after having a splendid season with Italian side Inter and even lifting the Scudetto.
Their first match was against their neighbors Finland, and Denmark fans were surely excited to see their talisman perform on a big stage once again. For the first 40 minutes of the match, Denmark looked threatening and everything was going their way, but all hell broke loose when Eriksen fell and collapsed near the touchline just as Hojbjerg was giving him a pass that resulted from a throw-in.
The match stopped for almost 20 minutes as paramedics attended to the midfielder and everyone was in shock of what is going to happen next. Eriksen was announced to have suffered cardiac arrest and his tournament was pretty much over.
The Danish teammates picked themselves up and continued with the rest of the match albeit without Christian and with fears and stress mounting over their heads. They lost the match by a goal to nil.
The whole world was now united with Eriksen with messages of goodwill pouring over from across the globe, politicians, athletes, basketball players, artists, actors, celebrities, and even the royal families of the United Kingdom and Denmark stood with the family of the 29-year-old. Even Fabrice Muamba, the player who suffered Cardiac arrest in 2013 in an FA Cup tie between Tottenham Hotspurs and Bolton Wanderers sent a message of goodwill to Eriksen encouraging him that he will come over the turbulent times.
While Eriksen was recovering, Denmark had a big group match against World's number one Belgium, a loss in this match and Denmark would be knocked out of the EURO 2020 at the group stage.
When the match Kicked off in Copenhagen, the whole stadium gave their respect to the injured Eriksen including the players and fans of Belgium.
Leipzig Forward Yussuf Poulsen opened the scoring chat for Denmark after just 2 minutes of play, and the Danish supporters loved what they were seeing but their celebrations lasted only for sometimes as second-half goals from Thorgan Hazard and Kevin De Bruyne gave Belgium all the three points. At this point, all the hopes the Danish had of progressing to the knockout stages of the EUROS without their talisman Eriksen had diminished, although they still had one more match to play for pride.
The Danish third group match was against World Cup quarter-finalists Russia and Denmark had to play for pride in front of their home supporters. Goals of Mikel Damsgaard (38), Yussuf Poulsen (59), Andreas Christensen (79) and Joakim Maehle (82) gave Denmark victory over Russia. The other group match saw Belgium defeat Finland by 2 goals to nil and this surprisingly meant Denmark was above Finland because of the goal difference and had qualified for the Round-16 of the EURO 2020. Wild celebrations and chants roared in Copenhagen as belief and persistence were turned to results.
The whole world was in disbelief as to how Denmark, under all the circumstances had made it into the knockout stages of the EURO 2020.
Denmark was tied with Wales to battle it out in the round of 16. Two goals from Kasper Dolberg and goals from Maehle and Braithwaite gave Denmark a staggering 4-0 win over Wales. This was by far their best performance and the Danish had just scored eight goals in two matches and conceding only one.
The quarter-finals saw Denmark play it out with another ambitious and persistent side, Czech Republic.  It was not an easy match for Denmark and despite two first-half goals from Delaney and Dolberg, the Danish had to do an extra job in defense in the second half if they were to progress to the semifinals of the EUROS. The Czech Republic managed to squeeze one goal past the Kjaer-led defense but it was not enough to knock out the united, hopeful Denmark. The Danes won the tie 2-1, and advanced to the semifinals, a stage no one expected Denmark to reach after their first match of the tournament.
Despite falling to England in the semifinals, the Danes surely made their Talisman Christian Eriksen proud with how they have performed the entire tournament. It is their story of hope and unity that made them honor every win they managed to their main man who has since been discharged from hospital. This is the story founders of sports wanted to achieve, to unite the people through sports. VIVA DANISH DYNAMITE.