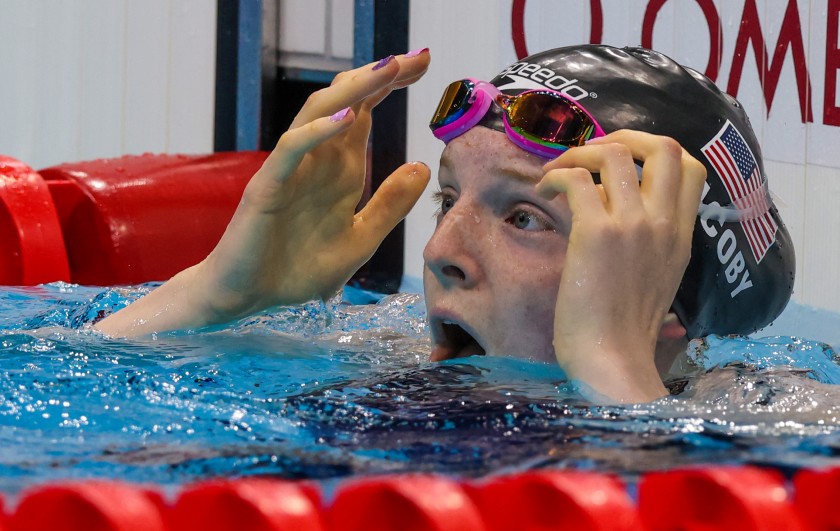 The swimming icon marked the first U.S female swimmer to win gold at the Tokyo Olympics. This was with no doubt a remarkable performance that was celebrated by many.
The win came as a shock to the high school student who hails from Alaska as she could not believe it. She is as well the first Alaskan swimmer to win a gold medal at the Olympics.
Lydia Jacoby outshined her teammate Lilly King, who was fully determined to defend her gold from the previous Rio Olympics.
The Tokyo gold medalist has had supportive parents who according to reports are both boat captains. They help Lydia learn swimming at a tender age.
However, the parents did not have in mind that their young one would one day make history or rather bag a gold medal.
Jacoby impressed many after she graciously finished ahead of Tatjana Schoenmaker who hails from South Africa and Lilly King.
It was a moment of disbelief for Lydia and the camera did the honours of capturing her face that expressed shock.
It is surely a big achievement to win a gold medal at the age of 17 and Jacoby was congratulated by her fellow competitors, who understood what it meant for her.
After the competition, Jacoby expressed herself and this is what she had to say about the win;
I was definitely racing for a medal. I knew I had it in me," Jacoby said. She went on, "I wasn't really expecting a gold medal, so when I looked up and saw the scoreboard it was insane."
Jacoby won the swimming competition clocking a time of 1 minute 4.95 seconds. She was impressed by the immense support that came from fans that were watching from her hometown, Seward.
Continuation
Before Jacoby's win, team USA had recorded a not so impressive performance. The team had secured two bronze medals. Regan Smith and Ryan Murphy who were both placed third in the 100-meter backstroke bagged the medals for the team.
The winner's last two strokes augured well with supporters in Alaska and they could not hide their joy.
The second, Tatjana of South Africa won the silver medal. She clocked a time of 1:05:22. Additionally, the reigning champion, Lilly King got the bronze medal with a time of 1:05:54.
Lilly King, later on, expressed her views after the competition. She hailed Jacoby and also said that she was proud to bag bronze for her country.
"We love to keep that gold in the USA family. So this kid just had the swim of her life and I'm so proud to be her teammate, and proud to get bronze for my country" Lilly King said.
After the shocking win by Jacoby, a video went viral on Twitter. People in Alaska cheered heavily.
According to reports, people were running and jumping as they cheer the 17-year-old on.
Moreover, the swimming scholar's parents who were also at another watch party in Orlando also could not hide their joy.
All eyes will now be at Jacoby's hometown to see and capture moments of the people of Seward as they welcome the champion back home.
Lydia Jacoby's biography
Known by her full byline Lydia Alice Jacoby, the swimmer was born on February 29, 2004. She is an American competitive swimmer specializing in breaststroke and individual medley events.
The freshest win is the gold medal in the 100-meter breaststroke at the 2020 Summer Olympics as previously mentioned.
She was born and raised in Alaska, she got to the international competitive swimming scene in 2020 and 2021.
Her best times are in the 100-meter and 200-meter breaststroke events that put her in the rankings with former Olympic gold medalists and world record holders in the events.
Interestingly, Jacoby was the first swimmer from Alaska to qualify for the Olympic Games.
She qualified for the 2020 Summer Olympics in the 100-meter breaststroke which she just bagged a gold medal for the USA.
Jacoby first qualified for the U.S. Olympic Trials in late 2018 when she was 14 years old. This first qualification was in the 100-meter breaststroke.
The swimming sensation swam her qualifying time at the USA Swimming Winter Nationals swim meet in Greensboro, North Carolina.
Additionally, that same year, Jacoby won titles in the 100-yard breaststroke and 200-yard individual medley at the Alaska High School State Championships.
Her time of 2:09.31 in the 200-yard individual medley won her the state title in that event for girl's high school swimming.
When she clocked a time of 1:03.11 in the 100-yard breaststroke, that won her the girl's high school state title in that event as well as setting a new Alaska state record.
It was all hail to Lydia Jacoby, 17-year-old swimmer who won Gold in the Women's 100m breaststroke final.