The British swimmer Adam Peaty has retained his tittle after winning the team GB's gold medal  in the 100m Breaststroke final at at the Tokyo Aquatics Centre in Tokyo,Japan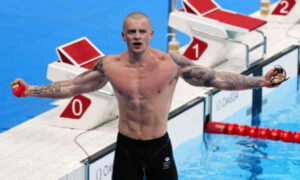 Speaking after the completion of the competition, Peaty told reporters that he knew he was going to win and he wasn't about the time.
"I knew it was going to be a race tonight," Peaty told Eurosport's Greg Rutherford afterwards.
"It wasn't about the time. Tonight I know in my blood and my bones no one has worked harder."
Peaty won the world record in Rio 2016 at a record time of 57.13 seconds and since then he has continued to shine in his career,holding 35 gold medals, eight silvers and two bronzes to his name and it has extended to Tokyo 2020 Olympics with time record of 57.37 seconds but still insists it's not his best record time.
"It's not an arrogant thing, it's just a mindset that we've built up," Said Peaty
Peaty added that he's going to improve on his time after the Olympics.
"I want to go out there and do what I do. And if I do perform, then I don't think many people would get close."
He was competing alongside his rivals Arno Kamminga from Netherlands and Italy's Nicolo Martinenghi.
The 25 year old Kamminga who is also a former life guard from Katwijk, won himself a silver medal.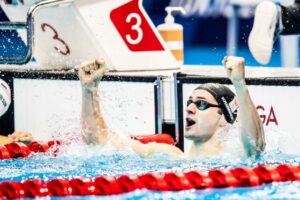 'It has not yet sunk in, I'm speechless. I knew I was capable of it… but you have to actually do it.' Said Kamminga.
Kamminga is now the third Dutch man to win an individual swimming medal, following Wieger Monsonides (1960) and Pieter van den Hoogenband (2000 and 2004), the current Dutch chef De mission
Nicolo Martinenghi finished in the third position.
Awards And Honour
Peaty received the FINA award for Best Male Swimming Performance of 2015 after he won 3 gold medals at the World Championships in Kazan.In 2016, he was again honoured by FINA for the best male Olympic swimming performance of the year award after breaking the 100m breaststroke world record at the 2016 Olympics.
Peaty has won the Ligue Européenne de Natation Award for best male swimmer for three times in four years for his performances in 2016, 2017 and 2019.
Peaty was named Male World Swimmer of the Year by Swimming World Magazine in 2015 and 2018. He also won Male European Swimmer of the Year for 6 consecutive years from 2014 to 2019
Peaty was appointed Member of the Order of the British Empire  in the 2017 New Year Honours for services to swimming. He received the award from the Duke of Cambridge at Buckingham Palace on 11 October 2017.