Geoffrey Kamworor's absence in the 10,000m was hugely felt as Kenya missed out on the first opportunity to win a medal at this year's Olympic Games in Tokyo Japan. Kenya's best placed athlete was Rodgers Kwemoi who finished seventh in a race won by Ethiopia's Selemon Barega.
Barega put on a blistering run in the final lap of the race to clinch his first major title in a time of 27mins, 43.22secs while Uganda's Joshua Cheptegei and Jacob Kiplimo came in second and third for silver and bronze respectively.
"It's very well known that we have been winners for the 10,000m competition. Since Kenenisa won the last time, we have been unable to achieve a gold medal. I am very proud. It means a lot to me. Even in the future I want to make history like my previous colleagues," Barega who will also run in the 5,000m said after the race.
Kenya's Kwemoi said he struggled in the race as he was battling a bout of H-Pylori and was also struggling with a hamstring strain.
"I was very prepared to push in the final lap but when I tried, I completely couldn't move. I wanted to have the treatment for the H-Pylori in Nairobi before we left but I was told to wait till after the Olympics because the medicine is too strong. It is sad to miss out on a medal but I felt I did well with the circumstances," said Kwemoi after the race.
He clocked 27mins, 50.06secs in his seventh place finish while Rhonex Kipruto, the man who replaced Kamworor was ninth in 27mins 52.78secs. Kenya's third representative in the race Weldon Langat finished 20th.
Kipruto and Kwemoi stuck by the leading pack in most of the race until the field disintegrated with about five laps to go. Uganda's Stephen Kissa who did not finish the race had opened up a huge gap to try and pump up the pace from early on.
He later admitted after the race that it was a tactic by the Ugandans to keep the pace high. However, Kiplimo and Cheptegei later said it was excessively high with the weather conditions in Tokyo and decided not to chase.
With two laps to go, the Ugandan duo looked all but set to compete for the top two as they stepped up with Barega in their shadow while Kwemoi struggled to keep up.
In the final 300m, the Kenyan completely fell off the medal slots as Cheptegei, Kiplimo, Barega as well as compatriot Berihu Aregawi stomped upfront.
Ultimately, it was Barega who would prove decisive with his final kick, running off from the outside to put in a scintillating final kick synonymous of the Ethiopians to go on and win the race. Cheptegei who was the pre-race favourite just but managed to lead a Ugandan 2-3 finish with Aregawi coming in fourth.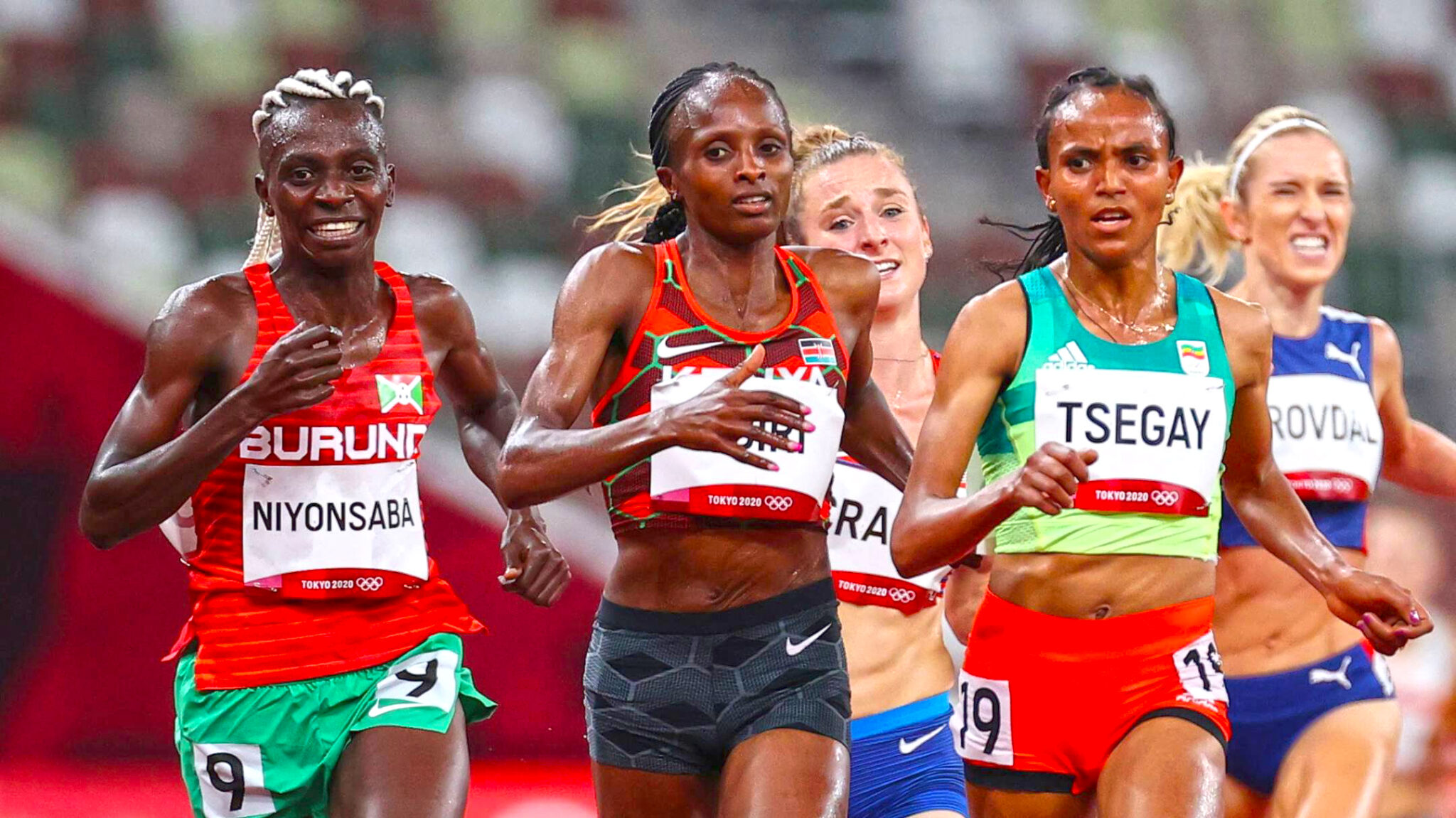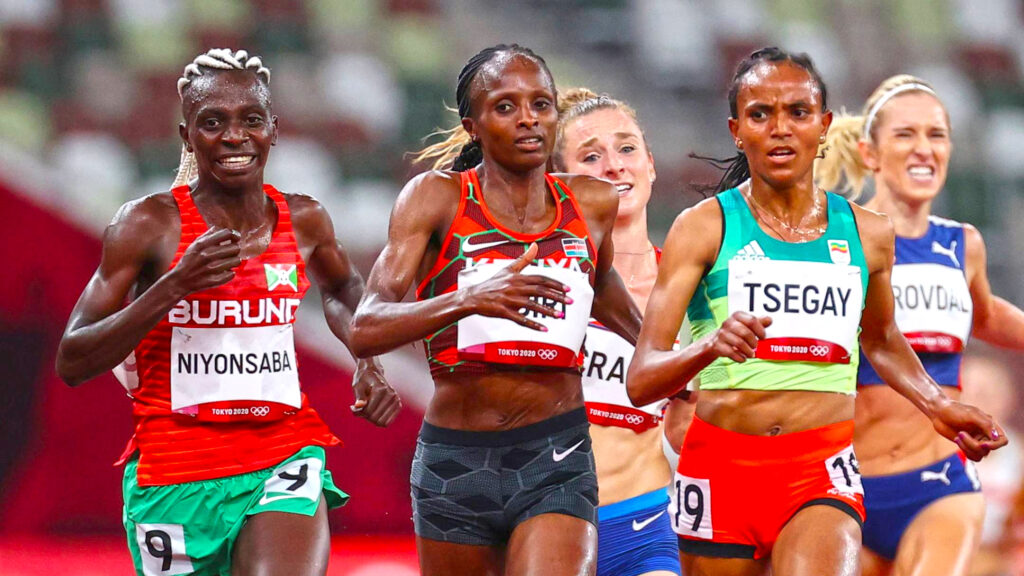 Earlier on, Kenya's trio of Hellen Obiri, Agnes Tirop and Lilian Kasait all booked a place in Monday's women's 5,000m final.
Tirop finished second in her heat behind Sifan Hassan while Kasait was fifth in the same heat picking up the last available slot. Obiri also finished second in her heat behind Ethiopia's Gudaf Tsegay.
In her heat, Obiri put up a good finishing kick in the final 50m to wade off a surging group of four to cross the line in 14:55.77 with Ethiopian Gudaf winning in 14:55.74.
"I was just running to ensure that I get into the qualifying slots as well as conserve my energy because you don't want to make a mistake of using too much energy in the heats. I feel okay, I feel comfortable and I am ready to attack the final on Monday. I am also happy because all three of us have made the final and we can work as a team to try and get medals for Kenya," Obiri said after the race.
In the first heat, Hassan, one of the favourites in the final stuck to the back of the group all race, only to sprint up with 300m to go and win the heat in a fast time of 14:47.89.
Tirop finished second in a time of 14:48.01, sticking to Sifan's wing to ensure she went through. With no pressure, Kasait secured fifth place in 14:50.36, faster than Gudaf's winning time from the second heat.