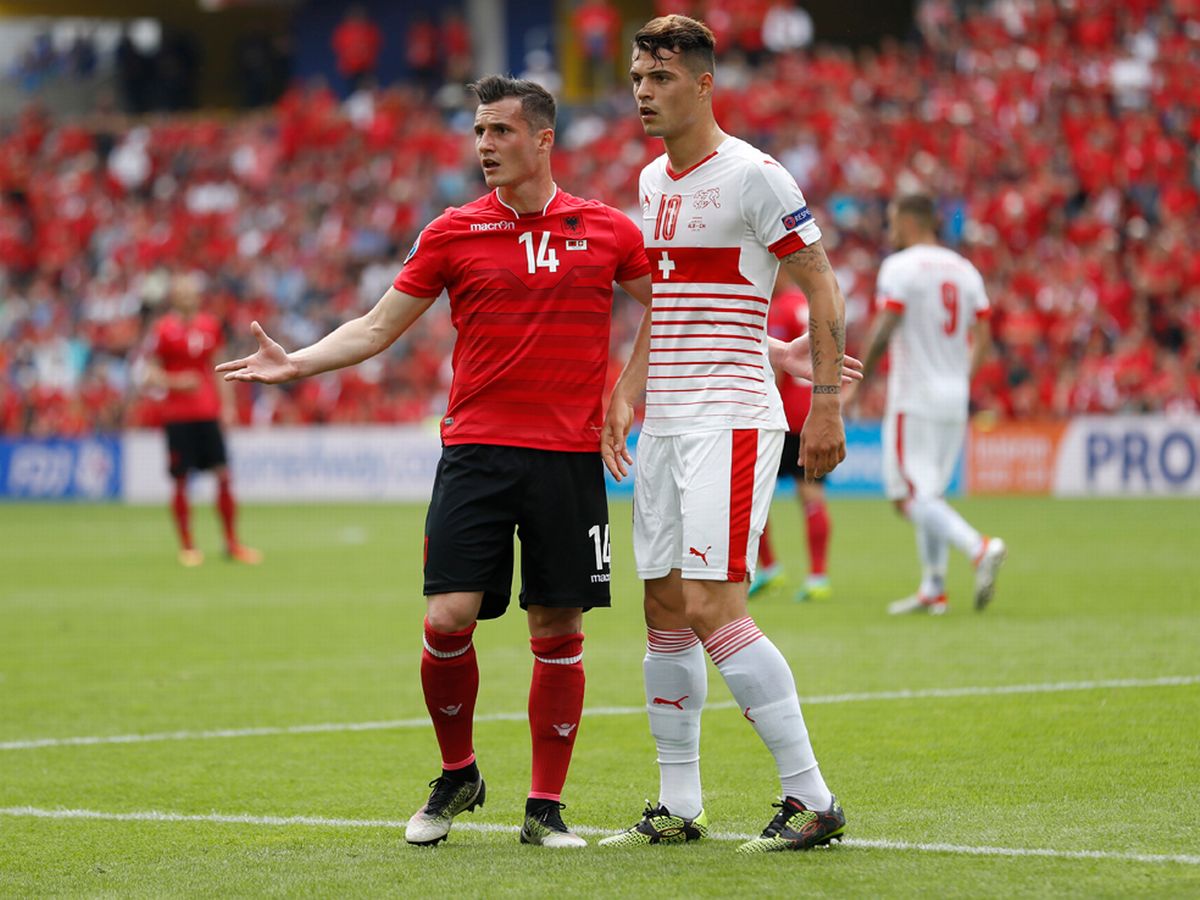 No country without a team taking part in the 2020 UEFA European Championship is following the tournament quite as passionately as Albania, who you can argue are the 25th team in the showpiece. This is because there are nine footballers of Albanian ethnicity or origin in the squads of Switzerland and North Macedonia.
If we broaden the scope to European national teams who aren't at this year's Euros, you'll find ethnic Albanian footballers in Kosovo, a state born in 2008 and inhabited almost completely by Albanians, and Montenegro, whose current vice-captain is Kosovo-born ethnic Albanian Fatos Beqiraj. Ethnic Albanian footballers such as Panagiotis Kone have also played for Greece, whose northwestern region of Chameria once housed many more Albanians than those living there today.
Four out of the five aforementioned states border Albania and Albanians have lived in them for centuries. But the de facto separation from the motherland dates back to the 1913 Treaty of London that followed the First Balkan War. It delineated the borders of Albania and its neighbors, leaving many Albanians outside the country and partitioning them predominantly between North Macedonia, Montenegro, Serbia which until 2008 included Kosovo as an autonomous region and Greece.
As for Switzerland, it hosts one of the largest Albanian diasporas, particularly from Kosovo. Emigration to Switzerland began in the 1960s for work and intensified following the 1998-1999 Kosovo war fought by the forces of what was left of Yugoslavia (Serbia and Montenegro) and the Kosovo Albanian rebel group is known as the Kosovo Liberation Army. At the 2016 European Championships, the Swiss national team counted six ethnic Albanian footballers.
The multi-ethnic conformation of the Balkans creates paradoxical situations in which players of the same ethnicity find themselves facing each other when representing their national teams, as happened in the semifinal of the 2018-2019 Uefa Nations League's Path D between North Macedonia and Kosovo.
Brother vs brother
This has caused situations where members of the same family, some born in the same country, choose to represent different national teams. The most iconic case is that of the Xhaka brothers, Granit and Taulant, both born in Switzerland to Kosovo-born ethnic Albanian parents. Granit chose Switzerland, while Taulant opted to play for Albania after playing in all the Swiss youth national team setups. They faced each other at the 2016 European Championship. There is also their younger cousin Agon, who chose Kosovo, which makes it three Xhakas playing for three different national teams.
As for Taulant, it was Granit who convinced his older brother to choose Albania so that he didn't make the same mistake as him.
At the time Granit opted to play for Switzerland, international football governing body FIFA and UEFA did not recognize the Kosovo national team. This only happened in 2016, with FIFA going as far as to allow players of Kosovan descent to change national teams, even in cases where they had already debuted in the senior national team of another country, which is against FIFA rules.
Despite this, no one can question Granit's love for Kosovo and Albania. In football, he represents another country, but in his heart there is always Albania."
Granit Xhaka addressed this in a letter to Kosovans. "Believe me, if it were just my decision, I would be without the slightest doubt where you want me," he wrote in 2016.
He went on to say that nobody should doubt his family's love for Albania, as "my brother plays to the sound of the [Albanian] national anthem and the waving of the red and black flag, for which thousands of Albanians fought and sacrificed their lives over the centuries."
Twin nations
If finding footballers of the same ethnicity in different national teams is something common throughout Africa, the case of Kosovo and Albania is perhaps unique. They are two neighboring states almost entirely populated by Albanians, in which the same language is spoken (with some normal regional differences) and the same traditions are shared.
The strong bond that binds these nations is tested in certain incidents. There is a 'clash' between them, because they are obviously looking for more or less the same players,  And Kosovo doesn't want to be the academy of Albania. They don't like the Albanian FA to contact Kosovar players.
But regardless of which nation they represent, most players of Albanian descent love the country. Before the 2018 FIFA World Cup qualifiers matches between North Macedonia and Albania, ethnic Albanians who played for North Macedonia sang the Albanian national anthem.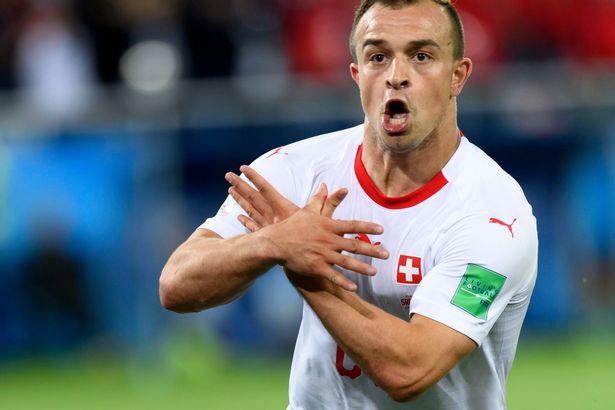 Schalke 04 defender Shkodran Mustafi made the two-handed gesture that signifies the double-headed eagle on Albania's flag after he won the 2014 World Cup with Germany. Liverpool's Xherdan Shaqiri and Granit Xhaka did the same when they scored against Serbia at the 2018 World Cup. The gesture is also associated with Albanian ethnicity as Albanians call themselves Shqiptar (son of eagle) and their country Shqipëri (land of eagles).
It's no wonder that Albania is following this tournament with such keen interest. The bond that binds it with players of Albanian descent is never severed, regardless of what national team jersey they wear.