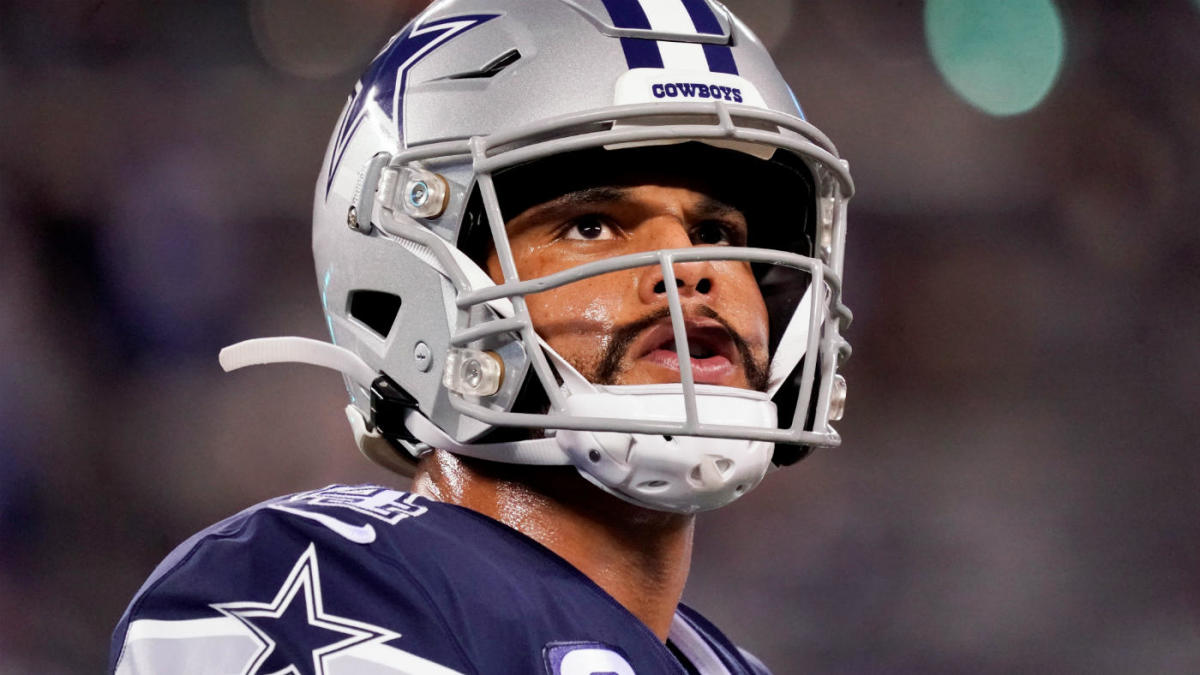 Dak Prescott Biography
Dak Prescott is an American football quarterback. He is known by his full byline; Rayne Dakota Prescott. He was born on 29
th
July 1993, in Sulphur, Louisiana, United States.
His parents are Peggy Prescott and Nathaniel Prescott. He as well has siblings namely; Jace, Tad, Natalie and Elliott Prescott.
Dak has a height of 1.88 m.
Prescott is a quarterback for the Dallas Cowboys of the National Football League (NFL). Having begun playing a college level, Dak played for the Mississippi State Bulldogs. He was selected by the Cowboys in the fourth round of the 2016 NFL Draft.
Dak Prescott became the Cowboys' starting quarterback. However, he was intended to serve as a backup in his rookie season.
He earned recognition during the year for his on-field success. That was in the inclusion of helping the team clinch the top sees in their conference.
Dak has a special talent that has been celebrated worldwide. His prowess in the field has left many inspired. In addition, he has bagged several awards for his achievements.
The football quarterback sensation has set several rookie records. He was named the NFL Offensive Rookie of the Year. Moreover, he earned a Pro Bowl selection.
Prescott has a career passer rating of 97.3 currently. Therefore, he is ranked 7th all-time, tied with Tom Brady.
College Career
In his college career, Dak was redshirted as a true freshman with Mississippi State in 2011. In 2012, he played in 12 games. He completed 18 of 29 passes for 194 yards with four touchdowns and no interceptions.
The big talent also scored four rushing touchdowns, with 110 yards on 32 carries. In the 2013 season, he began as the backup to Russell again. However, he took over as the starter after Russell suffered a concussion.
Dak Prescott played in 11 games, completing 156 of 267 passes for 1,940 yards with 10 touchdowns and seven interceptions. He also ran for 829 yards on 134 carries with 13 touchdowns.
Professional career
The Dallas Cowboys selected Prescott in the fourth round (135th overall) in 2016. That was after a plan to have a young quarterback to develop behind Tony Romo.
Dak was signed to a 4-year deal. When he joined the Dallas Cowboys for their rookie minicamp. He was issued #10 since veteran wide receiver Devin Street occupied his college number 15. During the first week of rookie minicamp, he decided to switch to #4 in honour of his mother, whose birthday is on September 4.
He is the first Dallas Cowboys quarterback in history to wear #4. Dak played more tournaments in 2016 and made a positive impact.
In 2017, he started his second professional season with 268 passing yards. He as well had a touchdown in the 19-3 victory over the New York Giants.
He followed that up with his first setback of the season with a 42–17 loss to the Denver Broncos, where he was 30-of-50 for 238 passing yards, two touchdowns, and two interceptions.
Dak Prescott began his third professional season in 2018. He passed for 170 yards in a 16-8 loss to the Carolina Panthers.
However, in the next game, he helped lead the Cowboys to their first win of the 2018 season with 160 passing yards and a touchdown against the New York Giants.
Career progression
Season after season, Dak made impressive results. In the 2019 season, he had an opener against the New York Giants. Prescott threw 25 times for 405 yards and four touchdowns in the 35-17 win.
2020 began large for Dak. That is because The Cowboys placed a franchise tag on him in March. It was worth $31.4 million for the 2020 season. He signed the tender in June.
Week 1 against the Los Angeles Rams on NBC Sunday Night Football, Prescott threw for 266 yards and a touchdown and rushed for 30 yards as the Cowboys lost 17–20.
In 2021, The Cowboys placed another exclusive franchise tag on Dak. He signed a four-year contract extension. It was worth $160 million with $126 million guaranteed. The deal included a $66 million signing bonus, the highest in NFL history.
Dak Prescott net worth
As reported by Celebrity Net Worth, Prescott has a net worth of a whopping $ 40 million. The massive franchise tags that the Cowboys offered him made a contribution to his mouthwatering net worth.
Dak Prescott salary
Celebrity Net Worth also reveals that Dak has a salary of $42 million as of 2021. However, reports do not indicate his previous years' salary.
Dak Prescott endorsements
Prescott reportedly earns five times his on-field salary from his endorsement deals with Adidas, Pepsi and other brands.
Other brands that have endorsed him include Nicholas Air, Beats by Dr Dre, AT&T, DirecTV, and card company Panini America.
Dak Prescott family
The football quarterback is reportedly in a relationship with Natalie Buffett. He has not sired any kids yet.
Dak Prescott Foundation and Charity work
Prescott helped establish 'Faith Fight Finish – The Foundation'. The foundation focuses on fighting cancer and offering assistance to those facing life-challenging hardships; in honour of Dak's Mom, Peggy.