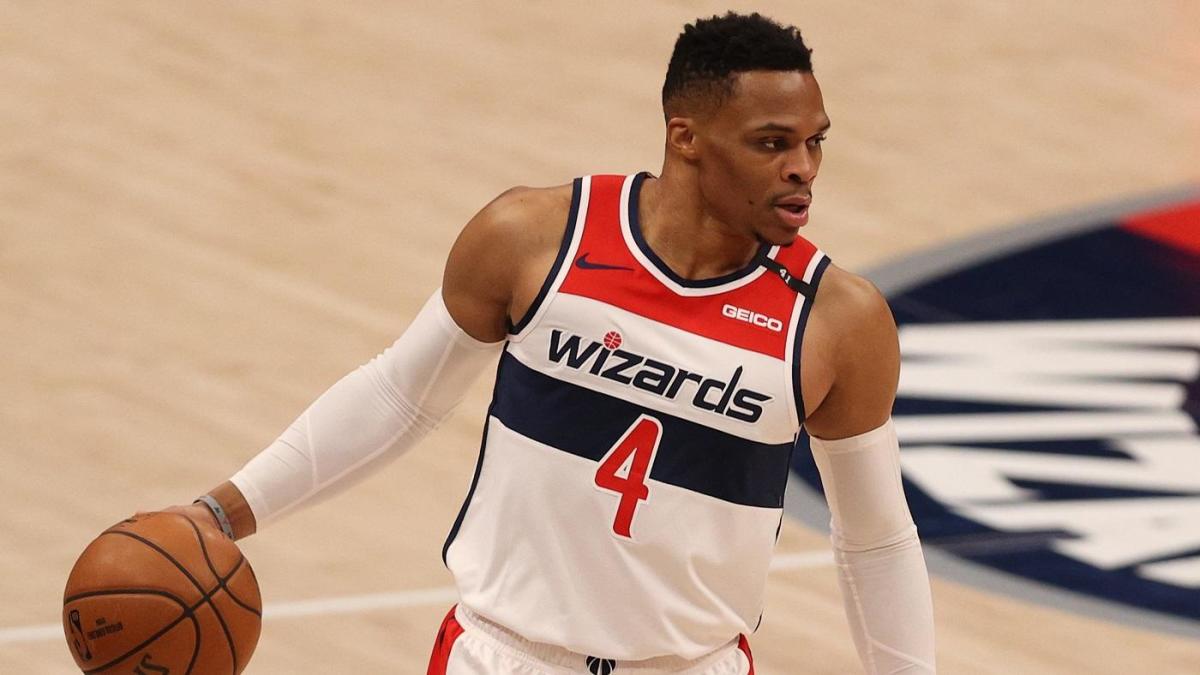 Russell Westbrook III biography
Russell Westbrook is an American professional basketball player. He was born on 12
th
November 1988, in Long Beach, California, United States.
His parents are Shannon Horton and Russell Westbrook. He also has a sibling named; Raynard Westbrook.
Russell is a player for the Washington Wizards of the National Basketball Association (NBA). He is a nine-time NBA All-Star.
Westbrook also earned the NBA Most Valuable Player Award for the 2016-2017 season. Apart from that, Russell Westbrook is also a nine-time All-NBA Team member. He led the league in scoring in 2014-2015 and 2016-2017.
The basketball icon won back to back NBA All-Star Game Most Valuable Player awards in 2015 and 2016. In addition, in 2017, he won the league MVP award.
Therefore, he became one of two players in NBA history to average a triple-double for a season. Prior to him was Oscar Robertson in the year 1962.
Russell Westbrook set a record for the most triple-doubles in a season, with 42.
He went on to average a triple-double the following two seasons as well as lead the league in assists and become the first player to lead the league in points and assists in multiple seasons.
Russell Westbrook's Professional Career
Russell Westbrook was selected 4th overall in the 2008 NBA draft. The selection was done by Seattle SuperSonics. He thus relocated to Oklahoma City. Six days later, he became the Thunder.
Westbrook signed with the team on July 5, 2008. On March 2, 2009, Westbrook recorded his first career triple-double with 17 points, 10 rebounds and 10 assists.
For the 2011- NBA All-Star Game, Russell was selected by the NBA head coaches to be a Western Conference reserve.
This was his first all-star appearance. Westbrook finished the season with averages of 21.9 points, 8.2 assists, 4.6 rebounds, and 1.9 steals. He was named to the All-NBA Second Team for the first time.
Unfortunately, Westbrook developed an injury prior to the start of the 2013-2014 season. Russell had a second surgery on his right knee. This was a setback to his return to basketball.
He missed his first two games. On December 25, 2013, Westbrook recorded 14 points, 13 rebounds, and 10 assists as Oklahoma City beat the New York Knicks 123–94.
At the beginning of the 2015-2016 season, Russell Westbrook and Kevin Durant both dropped 40 points. That was against Orlando Magic on October 30.
Therefore, they became the first teammates in the NBA history to do so multiple times.
Westbrook signed a three-year $85.7 million contract extension with the Thunder. He made several achievements at that season.
In the Thunder's second game of 2016–17, Westbrook recorded his 38th career regular-season triple-double with 51 points, 13 rebounds and 10 assists in a 113–110 overtime win over the Phoenix Suns.
On September 29, 2017, Westbrook signed a five-year, $205 million contract extension with the Thunder.
The deal started with the 2018–19 season and delivered Westbrook the biggest guaranteed contract in NBA history—six seasons and $233 million through 2022–23.
In the 2018-19 season, Westbrook missed the preseason and the first two regular-season games after having a procedure in September 2018 to deal with inflammation in his right knee.
Later on, Westbrook continued with his basketball career in different fields.
Russell Westbrook's net worth
As reported by Celebrity Net Worth, Russell is worth $170 million. He has reportedly earned his wealth from his NBA salary and various endorsements and brand deals.
"With his contract worth $206,794,070, Westbrook stands 12th on the World's Highest-Paid Athletes' 2020 list. He signed the five-year $207 million extensions in 2017, which is the league's biggest contract yet."
Russell Westbrook's salary
Reports indicate that Westbrook earns $41.38 million per year.
Russell Westbrook's endorsement deals
Westbrook has several endorsement deals with global brands. The most outstanding one is a deal with Nike's Jordan Brand. He reportedly had an extension with the brand for ten years in 2017.
Russell also owns five car dealerships in Los Angeles which are worth millions. He also has dealt with PepsiCo and Samsung.
Russell Westbrook's family
Russell Westbrook is married to Nina Earl. The two have sired children namely; Noah Russell, Skye and Jordyn Westbrook.
Russell Westbrook Foundation and Charity work
As a way of giving back to society, Russell has supported various charity courses. They include HIV/AIDS, Autism, children, health, hunger and LGBT support.
He is also the founder of 'Why Not? Foundation' whose main objective is to empower children and inspire their lives.