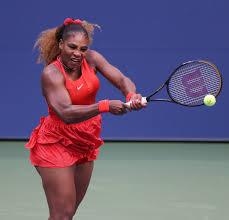 Serena Williams: Biography
Serena Jameka Williams is a world iconic tennis player born on September 26, 1981, in Saginaw, Michigan in the United States of America. Her parents are Richard Williams and Oracene Price.
Serena was born besides 7 other siblings who include; Venus Williams, Yetunde Price, Lyndrea Price, Dylan Starr Williams, Isha Price, Richard Williams III, and Ronner Williams.
Serena has made a commendable performance thereby winning 23 Grand Slam Singles titles, more than any other woman or man during the open era.
Serena has an estimated net worth of $225 million, whereby she earns more than $8 million a year through her tennis career.
Williams first learned tennis from her father on the public courts in Los Angeles. After a thorough practice, she became a professional player in the year 1995, one year after her sister Venus.
On the contrary to many's predictions that the sister Venus would be the first Williams sister to win a Grand Slam singles title, Serena accomplished the feat as the first one when she won the 1999 U.S. Open.
"At the 2000 Olympic Games in Sydney, Australia, Serena and Venus won gold medals in the doubles event. After several years of inconsistent play, Serena asserted herself in 2002 and won the French Open, the U.S. Open, and Wimbledon, defeating Venus in the finals of each tournament."
William's inspirational career life has been recorded in several books, one of which has written titled 'My Life: Queen of the Court'. Another book was released after her Australian Open Victory in 2009, titled 'On the Line' among others.
Serena Williams: Net worth
Serena is one of the highest-paid Olympics players in the world. The celebrated tennis heiress has estimated earnings of $8 million per year, with an estimate of $225 million net worth.
"Williams has drawn a total of US $93,634,967 as prize money from the WTA Tour, much more than any other female tennis player. Approximately, she earns more than $8 million a year through her tennis career.
She also has an estimated net worth of $225 million."
Serena Williams: Endorsements
Williams is undoubtedly one of the most influential players, comes with many gigs in the marketing sector thus bagging many endorsements deal.
She has Nike as her sponsors among others who include Wilson, Gatorade, Aston Martin, Delta airlines, Pepsi, JP Morgan Chase, Beats by Dre headphones, IBM, Intel, etc.
"Williams is also the Chief Sporting Officer for Aston Martin. She penned the contract back in June 2015."
Serena Williams: Salary
As per reports, the tennis ace earns around $8 million from tennis. According to Forbes, her earnings of $93 million in prize money is twice as much as any other female tennis player.
Serena Williams: Business Ventures
Like many other people, Serena has showcased an interest in various business-oriented ventures, one of them being the S by Serena clothing line and a capital firm known as Serena Ventures which was launched in the year 2014.
The mission of Serena Ventures is to give opportunities to founders across an array of industries. It invests in companies that embrace diverse leadership. Individual empowerment, creativity, and also opportunity.
"The American also her money pooled in the American football team Miami Dolphins and in the UFC."
Serena Williams: Family
They say love is a beautiful thing and this is well showcased by Serena's beautiful family. Williams got married in the year 2017 to the love of her life named Alexis Ohanian who is the co-founder of Reddit Company.
The two were blessed with a daughter Alexis Olympia. They wedded in Florida, USA.
Serena Williams: Assets and Lifestyle
Among the things that Serena possesses include West Palm Beach Home, Diamond Chandelier, Bentley Continental, Mercedes Gls, the Paris apartment, and Blackberry Bold 9700.
For a heroin-like Serena, a luxury life is expected by many. She has therefore left many mouths watered by her home at Beverly Hills which is worth $6.7 million. The home is 6000 square feet and has incredibly gorgeous interiors.
Serena Williams: Social Media Followers
Williams is one of those celebrities who has a mass following on social media handles. She has 13 million followers on her Instagram page dubbed 'Serena Williams' with 1,680 posts.
She has over 10.8 million on Twitter and 7 million on Facebook.