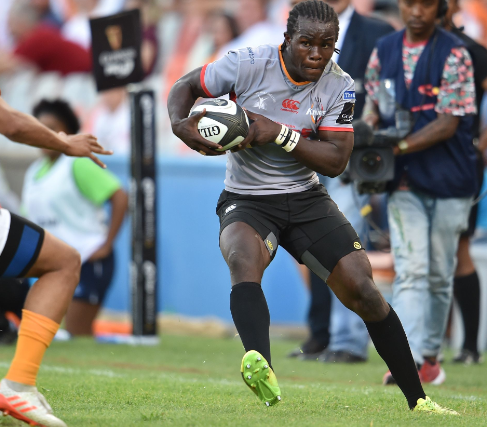 After more than seven weeks in lockdown, Southern Kings' speedster Yaw Penxe is itching to get back onto the field, but until then dressing up for training and being as creative as possible with home-based sessions will have to do to keep up his fitness levels.
Penxe, who scored an impressive eight tries in the 2018/2019 Pro14 season which placed him in the top-10 on the try-scorers list, had a rapid rise to professional rugby.
At the age of 19, he ran out for the Junior Springboks in the World Rugby Under-20 Championship and the Southern Kings in Super Rugby, before making his mark as a Guinness Pro14 try-scoring machine, and he is relishing his dream life.
However, with a larger than life personality and at his happiest when he is in the company of friends and teammates, Penxe admits lockdown has tested him.
"It is pretty tough being in lockdown, although the first few weeks on Level 5 were the most challenging," said Penxe.
"It has been really refreshing to go out for a run in the mornings on level four, so that has been great from a mental perspective."
"Having to train at home has certainly brought out some creativity. I have basically used the whole house to train, and I have even done dips from the couch.
"The strangest thing I have done to make things fun has been dressing up in funny clothing for some sessions, which some of my teammates have found quite funny on our chat group.
"Obviously the type of training we are able to do at home differs vastly from playing rugby, especially in terms of the contact one takes on the field, but our current programme will definitely make it easier to get back into rugby mode when we can resume training and playing."
Reflecting on his journey to senior rugby, the talented 23-year-old said playing for the Junior Springboks in the World Rugby Under-20 Championship in Georgia in 2017 was a vital stepping stone in launching his senior career.
"It was a big switch from playing in the SA Rugby Under-19 Championship to representing the Junior Springboks, and that experience really equipped me well for senior rugby," he said.
"It was another jump from that level to professional rugby, and looking back I thoroughly enjoyed the path to this level.
"Representing my country in the World Rugby Under-20 Championship is one of my career highlights, along with making my Vodacom Super Rugby debut against the Emirates Lions and scoring the match-winning try in the Guinness Pro14 against Edinburgh in Port Elizabeth last season."
Penxe spoke highly of the Pro14 competition and said he has been enjoying his rugby thoroughly.
"It is really exciting to play in the Guinness Pro14," he said.
"It is different from the domestic competitions mainly because of the conditions. The northern hemisphere weather is more conducive to tight tactical rugby, so as a winger you have to be prepared for a string of box kicks."
Looking at back at the Isuzu Southern Kings' 2019/20 Guinness Pro14 season, Penxe said there were encouraging aspects that they could build on.
"We had a few close calls this season, playing well for 60 minutes and then we would drop off in the end," Penxe said.
"We spoke about carrying through that form for 80 minutes before lockdown as we had another eight games lined up with a few of them at home. So that is something we will definitely continue to work on when we get back together as a team.
"Another encouraging aspect was the number of young players that grabbed the chance to prove their worth, so we have a good base to build from going forward."
In partnership with ANA and Sports Leo